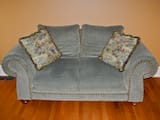 We're moving! So we have a ton of stuff for sale. Why? So that we don't have to move it… Plus our new place will be a lot smaller so we won't have the space for all this. it's great stuff otherwise.
Here's what we have:
Matching Love Seats $500 OBO for the pair
Solid Wood Five Piece Bedroom Set $900 OBO
Palliser Platform Bed & Serta Gold Mattress Set $500 OBO
You can view the full details (and photos) on UsedCalgary and on Kijiji.
If you know of anyone that might be interested in this stuff, please share this article with them (you can email it, share it on Facebook, Twitter, etc.) using the link on the right. Thanks!
Update –
As of today, we also have 2 Airport Express Wireless Routers for sale @ $65 each or $120 for the pair…
Full details (and photos) are on these links at: UsedCalgary and Kijiji.
Update –
The two Airport Expresses are now sold, as of yesterday. All the furniture is still available though.