While walking through Chinatown back in , I came across a sign on the sidewalk that caught my attention.
Most businesses try very hard to get more people through their doors, but this business really wanted to dissuade you from ever entering! (I know it's an adult video store, but still.) When I went up close to read what their sign said, I couldn't help but laugh…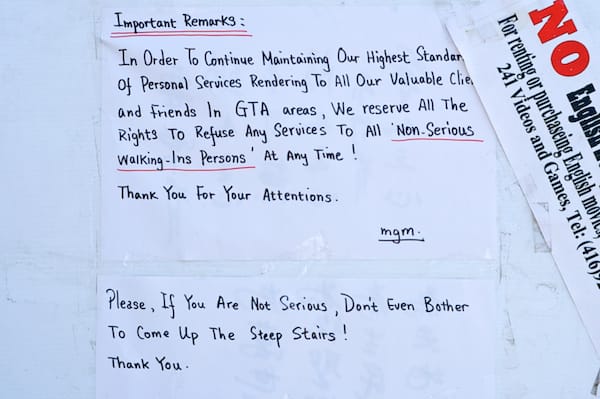 Important Remarks:

In Order To Continue Maintaining Our Highest Standards Of Personal Services Rendering To All Our Valuable Clients and Friends In GTA areas, We reserve All The Rights To Refuse Any Services To All 'Non-Serious Walking-Ins Persons' At Any Time!

Thank You For Your Attentions.

mgm.

Please, If You Are Not Serious, don't Even Bother To Come Up The Steep Stairs!

Thank You.
What exactly is a non-serious person anyways? I'm confused.
And why is almost every word capitalized?
I've come across a number of funny signs in the past – a sign about a lost pigeon; a sign advertising no ordinary special; a help-wanted sign discriminating against all males; a hilarious warning printed on the back of a mall stroller; an advertising campaign from Osaka, Japan using an English profanity "for decorative purposes"; and most recently, a sign from downtown Toronto with horrendous, but very obvious grammar mistakes…
Anyways, if you're not serious, don't even bother to come up the steep stairs! LOL!