On , Guernsey's Auction House will be auctioning off Anthony Pugliese's pop culture collection at The Palms Resort and Casino in Las Vegas. it's expected that the auction will net more than $5 million, with items like the gun used to kill Lee Harvey Oswald (JFK's assassin), the sword from the Oscar-winning movie Bravehart, the jacket worn by John Lennon in the Imagine video, a Superman costume, Tom Hanks' helmet from Saving Private Ryan, The Wicked Witch's hat from The Wizard of Oz, and even Elvis' ram shaped, jewel encrusted gold necklace…
This reminds me – I came across an amazing, very moving performance of John Lennon's Imagine on YouTube the other day. Check it out – you'll be glad you did: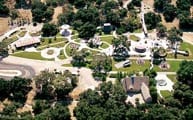 And in similar news, Michael Jackson's 2800 acre Neverland Ranch will go up for Auction on unless he can come up with the outstanding balance of $24.5 million by then…
There's lots of interesting links in this blog article – check them out!