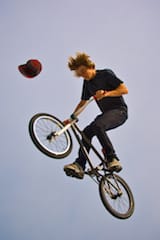 First we went to Weaselhead Flats near Glenmore Park. In all the years I've been in Calgary, I've never been there before – what a gorgeous place! You can view my photos on Flickr as well as Josh's photos on Flickr by clicking on the links.
After a while the mosquitos started getting to us so we decided to head over to the Shaw Millennium Skateboard Park in Downtown Calgary and take some photos there.
What a great way to spend the day! Thanks again Josh!