We've been living in Sunnyside since last – Kensington is just a short walk away and downtown Calgary is just across the river. it's great to have so many restaurants close by. After passing by the Broken Plate in Kensington so many times, we finally decided to go try it out last Wednesday night for dinner.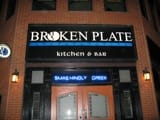 We (three of us) got there at around 7:30pm or so and the restaurant seemed to be pretty busy for a Wednesday night. We hadn't made a reservation in advance but were immediately greeted at the door upon arriving and were seated right away. The decor at Broken Plate is very nice; the atmosphere is very pleasant. I'm a big fan of great service and I think that it's just as important as the food – people go out to eat good food but also to be served, at least we do. Bad service (and even indifference) can ruin an otherwise good meal. it's all about the experience… I won't go in to too many details on the service at Broken Plate – there was nothing about the service that really stuck out. (I would have definitely appreciated to know our server's name though…) But just to clarify, I wouldn't say the service was bad and I suppose I could say it was good, though not great. Just very average and very forgettable. (Perhaps that's why it's taken me so long to finally write this review?)
The food at Broken Plate, you could tell, was very fresh. We had dolmades and calamari as appetizers – the dolmades, (though I couldn't help thinking how the ones I make are so much better), were as good as we expected and the calamari was great. I would recommend having the calamari at Broken Plate – the tzatziki sauce was very well made and we couldn't help repeating to each other that the calamari tasted so much better than it looked. Much better than average. (Not that it looked bad.)
For entrees we had the Sword Chicken, 10oz New York Steak and the Rack of Lamb. I very much enjoyed the lamb – the outside was crispy and the flavors were strong while the inside was much more delicate, tender and very juicy. The rosemary infused red wine reduction was also very well done and complimented the lamb perfectly. Both the lamb and steak were cooked exactly as we ordered – medium – and weren't in the slightest bit overdone. (So many places over-do it – it's either rare or well done, with no middle ground.) Kudos to the chef for that! The (sword) chicken souvlaki was also good, juicy and seasoned well. I was a little disappointed with the roasted potatoes though – I've had a lot of really good Greek roasted potatoes and expected that a Greek restaurant would get it done perfectly, but they, unfortunately, left much to be desired. it's too bad. Also, the beets that came with our side vegetables were a little old – probably most people wouldn't notice as much but I definitely noticed that they weren't as fresh as everything else. (I like beets a lot so I ate them anyways, but they tasted a little funny to me.) They were, however, very crunchy and not overdone like is so common…
For the most part, (apart from the beets and the potatoes), I would say that I have no complaints about the quality of the food, the taste, its preparation nor the presentation. The portion sizes were substantial but not exaggerated. It was good food, edging on great, and many things were above average; on-par with what you'd expect from this type of restaurant. (The Baklava Cheesecake, which was much more cheesecake than baklava, was good too.)
In terms of price, I wouldn't say Broken Plate is expensive, but it might be for those on a tight budget. We had a very big meal for three including two appetizers, one dessert, two coffees and a bottle of wine, all which came out to a total of $150. For what you get in terms of portion size and quality, I would say that it's very reasonably priced.
But in terms of value, I think I would have felt much more positive about the experience if the service had been more memorable. By the end of the meal, while I didn't find anything that would make me not go back, I also didn't feel any motivation to go back anytime soon. I had heard good things about Broken Plate and I suppose I was expecting to be blown away, but I was disappointed that I was only satisfied with my meal and with the experience as a whole. There was nothing about it that made me want to tell all my friends… But in case you're wondering about Broken Plate, I would say, yes, it is worth going to, just don't expect to be wowed at all.
Broken Plate (Kensington)
302 10th Street NW
Calgary, AB
+1 (403) 283-6300