The first two weeks in July are Stampede time in Calgary… a crazy time when the whole city dresses up in cowboy attire, even to work. In fact, some employers even insist on it!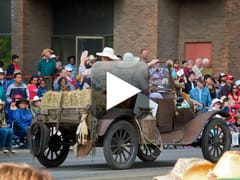 Michelle had off work due to the Stampede parade in downtown Calgary, so we decided to check it out… I took some photos while Michelle shot some videos using her iPhone 3Gs; I then compiled them into this slideshow/video.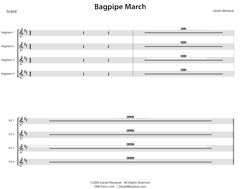 There seemed to be a lot of bagpipe marching bands this year, and that inspired me to compose a bagpipe march… I really hope that in next year's parade, all bagpipe marching bands will play this composition – this is what all marching bagpipe bands should play! ;-)
Michelle had also never been to the Grandstand Show so we decided to do that this year too. We were able to find some last-minute tickets online (via Kijiji) and scored two $100 tickets for only $160 for the pair. Nice! And since the Grandstand Show tickets also included our entrance fee to the Stampede, we decided to go early and make a day of it.
I wanted Michelle to see Terry Stokes the Hypnotist (on the Coca-Cola stage) but we needed to kill a little time before his show so we took a round-trip on the WestJet SkyRide to catch an aerial view of the Stampede grounds. Still needing to kill more time, we came across The Lost Fingers on the Coca-Cola stage – Michelle was reluctant to stay and watch at first (it sounded like "hoe-down music to her) but I think she ended up enjoying it in the end. For me, it was refreshing to hear a (young) band going for a "different" sound. Their versions of Michael Jackson's Billie Jean and of Technotronics' Pump Up the Jam were very entertaining. Nice way to re-do those tunes! (If you're interested, you can view the videos I uploaded to YouTube by clicking on the song titles.)
When it finally came time for the hypnotist show, Michelle had a blast watching Terry Stokes do his thing (her first time) – it was nice to see her enjoying herself so much! :-)
A big part of the Stampede is also the exhibition part – we ended up spending a lot more time than I expected (too much?) checking out the various vendors. That brought us to dinner time, and after dinner we didn't have tons of time before having to make our way to the Grandstand so we killed some time by jumping on the Ferris Wheel as well as on the Himalaya. Maybe not the best idea right after eating, but it was fun. :-) By the time we got off those two rides though, it was time for us to head over to the Chuckwagon races and the Grandstand Show that would immediately follow.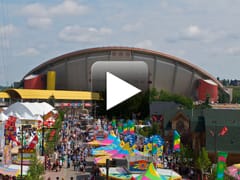 Here's the slideshow/video compilation of our day at the Stampede. The highlight of the day, of course, was the Grandstand Show. If you've never been, I highly recommend it!
Going to the Stampede this year was fun; but I must admit, I'm glad all the cowboy craziness is over now! ;-)