Going for a late night stroll through Kensington, looking for soup with Michelle, we stumbled across the fact that the popular over-priced Vietnamese restaurant, "Indocine Bistro", is no longer and has been replaced by a cheap, North-American-Chinese restaurant, "Wok n' Roll".
The sign outside is black and green and looks cheesy and cheap, but once you step inside and look at the menu, you can tell it wasn't the same graphic designer that designed the menus. The menus are simple, but nice. (Maybe it's because they're black, and I really like black anything.)
Not in the mood for much else, we only had their large Wor Won Ton soup ($10.99) that night, which was easily enough to feed 4-6 adults. Big. The wonton wrapping was too thick, (but our waiter came to our table to acknowledge this fact and explained that when they ordered the wonton wrappers, they realized too late that they were sent the wrong ones), and the filling was just "average". Still, the quantity and quality of all the other ingredients was very good, especially for the price. Overall, it was a slightly-above-average Wor Won Ton Soup by Calgary's standards.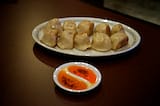 We returned the following night and ordered their Grilled Pork & Vegetable Dumplings (10) which were good (only a notch or two below the ones at "Ginger Beef" in Brentwood), but at $8.99 for ten of them, quite the bargain. For my taste, they lacked just a tad bit more ginger, and some more green onion, but that's me…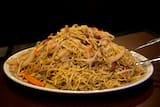 In addition to the dumplings, we also ordered some Cantonese Chow Mein ($10.99) which was a huge serving. Unfortunately, while the chow mein was palatable and did have a "good" taste, it's not at all what one expects with chow mein and though we did finish it, it's surely the worst chow mein we've ever had. The noodles were soft (but not fried), there was no "sauce" and I'm really not a big fan of bean sprouts (filler?) in chow mein.
Since then, we've been back three more times (for a total of five visits) and if I were to summarize Wok n' Roll in only three words, it would be "cheap huge portions". Their appetizer "Platter for Four" (#8 – $12.99) includes four jumbo spring rolls, four grilled dumplings, four turkey-sized chicken wings and enough dry garlic spareribs to fill the plate. I can't stress enough how big the portions are. My favourite dish there (so far) is easily the dry spareribs (which aren't very dry at all, very juicy) and #61 – Pan Fried Prawns with Mixed Vegetables ($13.99) which is very garlic-y and delicious, but most importantly, actually has a lot of prawns (unlike most places that offer "prawn" dishes that are mostly vegetables).
We've spoken to the owner (Kitty) on every visit, and on our last visit, she revealed to us (in related conversation) that she's well aware that her portion sizes are huge, and cheap. To her, she's just charging "a fair price" and says if it's too much food, you can always take it to go. Two dishes are definitely enough for two people to walk away stuffed, maybe even have some left over. (Oh, and she says she's always more than happy to make half-size orders too!) Kitty used to own a larger restaurant in Cochrane and told us that her father used to own "The Golden Inn" in Chinatown and her uncle (now working as her chef) used to be the chef at "Charlie Chan's" in Kensington years ago…
If you're looking for authentic Chinese food, Chinatown is still your best bet – but Wok n' Roll is fully aware that they're a "North-American-Chinese" food restaurant and are intentionally trying to appeal to conservative, Canadian palates… Which for me, makes it a great place to go for cheap eats in a pinch (especially since it's less than a block away from home) but still not an alternative to authentic Chinese restaurants in Chinatown (which are also not always 100% exclusive either – you have to know how/what to order). But if conservative North American Chinese is your thing…
I'm not sure if this is a grand opening promotion, or if Wok n' Roll intends to keep this going indefinitely, but for every $10 you spend, you get $1 in Wok n' Roll money. Since you can use it right away, it's basically 10% off for everyone. Makes their prices even cheaper and seem too good to be true, I know! Check it out and let me know what you think…