Michelle and I used to live right across the street from Da Maria back in early (it was our first place together) – we love the neighbourhood and have lots of great memories there. The St. Clair & Bathurst area… But even though we lived right next door and had a clear view of Da Maria's patio from our kitchen window, it initially took us quite a while to try it out…
I first wrote about Da Maria back in March 2008 in my article "Ten Places to Eat in Toronto":
This place is very small and is busiest as a pizza take-out that operates out of the side/back of the restaurant. The dining room is small, old, intimate and feels very homey. But by old I mean full of character and you get the feeling that there's a lot of history here – it's not run-down by any means. The service is attentive and you feel very comfortable while you're here – almost like a part of their family.

Da Maria is owned and operated by an old Italian couple in their 70's – the place has won numerous awards for the best pizza in Toronto over the years. Michelle and I lived across the street from this place (above the Mr. Sub) and our windows looked out onto their patio. It took us a while to finally try it but once we did, it became a regular place for us. We remember the vegetarian pizza here was so good we couldn't believe there was no meat! For the most part, while they do have an extensive pizza menu, (you have to try the vegetarian pizza), they usually just ask you what you want on your pizza and don't really stick to the menus all that much. The pizza crust is very authentically Italian and I believe they make it with a mix of durum semolina and whole wheat flour. it's different and absolutely delicious.

For what you get, Da Maria is very cheap. The portions are large and the meals are usually more than just one course, though you don't really get that information anywhere on the menu. You definitely won't leave hungry. Another thing to have here is the spaghetti with tomato sauce. They looked at me kind of funny when I asked for a plate of spaghetti once but it's because they serve it mostly as a side dish to their meals and it's not meant to be anything special. Their sauce tastes like there's a lot of TLC put into it but don't get me wrong, it's a very very simple sauce. it's that simplicity, however, that makes it to die for… You can tell that this restaurant has been, and is their life – you won't be disappointed.
A lot of what I wrote back then still holds true today. Da Maria has been in business for more than 45 years now and is still owned and operated by the same couple! it's not a flashy nor trendy place, just honest, traditional Italian food like you'd get from an Italian grandmother… And as I wrote four years ago, it's the simplicity of their food that makes it so good!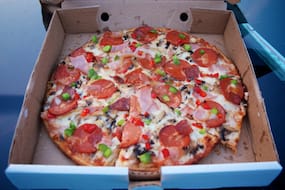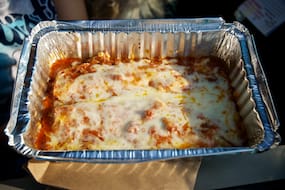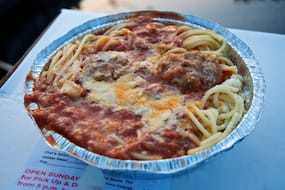 Michelle and I recently went to Da Maria and ordered some take out. Twice, actually… We hadn't been to Da Maria since the day before we moved to Calgary in mid-2006, but the food was definitely as good as we remembered.
I was craving a plate of their spaghetti, so on our first visit we ordered the Spaghetti with Meat Balls ($8) and a 13" medium Super Pizza ($15), which was way too much food for the two of us, but we indulged…
Three days later, still unable to get their delicious spaghetti off my mind, we went back and ordered the spaghetti again, (which comes with bread and butter by the way), as well as the Cannelloni alla Napoletana ($9).
The Cannelloni was very well made and a large enough portion to easily fill anyone up. You have the option of meat-stuffed or ricotta-stuffed cannelloni – Michelle opted for the meat-stuffed cannelloni which was a great choice. The filling was very flavorful with lots of meat (of course) and not at all dry.
Obviously, I'm a big fan of their spaghetti, (and the meatballs are great too), but their pizza is what they're best known for. They are a Pizzeria after all… They make their pizza dough from quality ingredients on a daily basis, and the freshness of their toppings is noticeable in every bite. Definitely recommended.
The food at Da Maria is not trying to be trendy nor particularly unique. If you have an Italian grandmother that cooks for you all the time, you probably won't find anything special about Da Maria. But for the rest of us without Italian grandmothers, Da Maria is a great place to get simple down-to-earth Italian comfort food, at a very reasonable price.
As palatable as the food at Da Maria is, however, our favourite thing about the place is actually the people that work there. it's a family-run business and they always make you feel very welcome, almost like you're a "friend of the family"… It definitely helps that they're quick to remember your name and your favourite items on their menu. They're super friendly, easily likable, great people! And it's not just the septuagenarians (or are they octogenarians?) that are so genuinely inviting but their adult children who help out at the restaurant, too. Luckily, they seem to have inherited the warmth and friendliness of their parents, so when the pizzeria finally passes down into their hands, I'm sure this family business will keep going strong.
Da Maria Pizzeria
572 St. Clair Avenue West
Toronto, ON
+1 (416) 653-1043
DineSafe
Da Maria is the kind of place you feel good about supporting, the kind of place you wish you could come back to every day… Good food, great people!