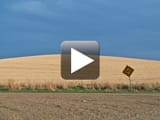 For the Victoria Day long weekend, Michelle and I rented a car and decided to go on a trip to Drumheller, AB. When I went to pick up the car rental on Saturday morning they didn't have any mid-size cars left so we were given a minivan instead. The Grand Caravan had Stow 'n Go seats which folded down and were tucked away into storage compartments in the floor – we converted the back of the van to a "doggy palace" for Lorenzo & Cachita. They had their carriers, a play pad, a large padded bed, lots of toys, a water bowl, etc. But, of course, Cachita stayed in her carrier the entire time we were on the road and Lorenzo kept trying to come sit in the front with us…
in Drumheller was a very warm 32°C – exceptional weather, especially for being May. It was about a 1½ hour drive – when we finally got there, I cautioned Michelle (while telling her not to worry) that there are snakes in Drumheller, just in case. I never expected to see one (it was more of a warning to watch the dogs extra carefully) but sure enough, after crossing the suspension bridge we saw a large Bull Snake on the path, right in front of a family of four… I never knew there were snakes that big in alberta!
We didn't go to the Royal Tyrrell Dinosaur Museum because they don't allow dogs inside and it's not like we could leave Lorenzo & Cachita alone in the car for two hours. (We'll go next time.) Instead, we decided to drive to the ghost town of Wayne, AB (2300+ people used to live there, now only 30). We passed 11 bridges to get there and took photos along the way, which meant Michelle got to brush up on her driving skills ;-) After the 11 bridges and just past Wayne was a three-way intersection with gorgeous fields – the endless blonde fields against the large, deep blue "Alberta Sky" was breath-taking. I was able to take a couple photos and have now set one of them as my desktop wallpaper ;-)
After visiting the Horseshoe Canyon just outside Drumheller, (while the sun was setting), we were going to head to Sylvan Lake but instead, we decided to come home to Calgary for the night with the intention of leaving early in the morning, either north to Sylvan Lake, or south to Waterton National Park (which is on the Alberta/Montana border).
After a three-hour drive to Waterton, which was 28°C on Sunday and 21°C on Monday, we drove through the main streets of the village looking for a place to grab some lunch. There's this place on the main street called "Zum's" that was busy busy busy so we decided to eat there (the Italian place we wanted to eat at was closed at the time). It was probably some of the worst food we've ever had. I can only give them credit for grilling my steak perfectly, but that's about it – they could have at least seasoned it! Anyways, on the subject of food, "Pizza of Waterton" is a much better restaurant – their pizza is actually really good.
We were going to leave Waterton on Sunday and head back to Calgary, but decided to stay the night and sleep in the back of the van (all the hotels were completely booked for the long weekend, of course.) Considering it was the back of a van, it was actually pretty comfortable. (We had a lot of padding with the dog's bed though, and a ton of blankets.) Our kind of camping… ;-)
While in Waterton, we got to see a lot of wild animals – the village was full of deer, we saw mountain goats, sheep… We took the two-hour cruise on the lake which ventures into Glacier National Park (Montana) and saw a bald eagle along the way. Michelle really wanted to see a bear and was lucky enough to get her wish – we saw bears on three separate occasions but our last sighting was by far the best – we saw a momma bear with her two newly born cubs no bigger than Lorenzo or Cachita, sitting by a tree. Unfortunately, the camera battery was dead so I couldn't take any photos of them. Sucks…
Check out the photo slideshow above, and like last time, there's a lot of links for those of you unfamiliar with the area – check them out too.