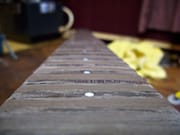 Here's a couple photos of the filled fretboard.

And Here's the fretboard with the excess wood filler removed, sanded down, cleaned and lightly oiled: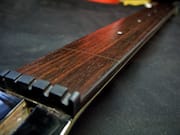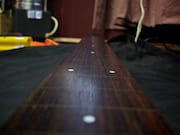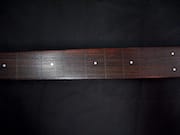 Next, I shaved/sanded down the back of the neck and reshaped it. it's much thinner and faster-feeling now. :-) At this point, I re-assembled the bass and played it for a while to make sure there were no high spots on the fingerboard and to see if I needed to tweak anything else on the neck/fingerboard. The bass sounded great as a fretless, just as I thought it would, and it played exceptionally well too! It was actually really hard to put it down, but at the same time, I was excited about getting it finished too… (Of course, I recorded the bass before any modifications, and also at this point. Next time I record it, it will be with the thick body finish & paint removed, and the bass fully complete…)
In Part III of this article (coming soon), I'll cover the process of sanding the body, dying the parts, decisions about the hardware and electronics, etc. I have a lot more photos to share too.
Update –
My mother and younger brother just looked at the fretboard (after dying) and they could hardly notice the chipped fret lines. "You have to look really close to see it." I suppose it's a combination of me being too much of a perfectionist, and the dye covering the "flaws" really well…
Yes indeed, with the fretboard dyed black now, you really have to be looking for it to notice it :-) Nice! Plus, once the epoxy is on, and the strings in the way, you probably won't even see it at all.