Harbour City Restaurant, Calgary
In Calgary's Chinatown, I've tried out a lot of places but most often go to Regency Palace and Silver Dragon. After passing by it several times, I recently decided to visit Harbour City Restaurant on Centre Street. I had read a couple internet reviews about how good the dim sum is at Harbour City, so I decided to try it for dinner one night. It turned out to be a good night to try it out – they were having a 15% off promotion before they closed their doors to renovate. (it's currently closed now for renovations and will re-open on May 1st.)
We (three of us) arrived early in the evening and it took them a while to come to the front door to seat us, even though they were sitting down watching TV not even 4 feet away from us… But just as we were about to walk away and go somewhere else, they came to seat us. I thought maybe it was too early and they weren't expecting anyone yet but when we were seated we saw that there were four or five other tables already seated. Not a good start at all. Nevertheless, I still wanted to give them a fair chance – often times the service at Chinese restaurants can be terrible but the food can still be quite good.
The decor is very simple (but nice) and the ambience at Harbour City Restaurant was equally pleasant. There is an openness to the restaurant that was a little uncomfortable at first though – hopefully they can address this somehow in their renovations. It also would have been nice if they had played some background music – it would have gone a long way. The front-of-house staff were all dressed in uniform, which was nice, and once we were finally seated they were all attentive and professional.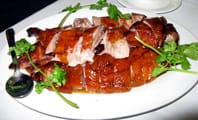 We ordered ½ a BBQ Duck, Ginger Beef, Seafood Chow Mein, Chinese Mushrooms with Baby Bok Choy (not on the menu), and Steamed Rice. All of the food was presented exceptionally well and you could tell that they spend a lot of their efforts on presentation. It was a treat for the eyes for sure. The taste of the dishes, however, was all very weak, almost to the point of being bland – it was almost as though they expected you to pour soy sauce on everything. (And, no, I don't mean more MSG nor salt, I mean more flavor.) The ginger beef was the first to come out. The texture of the beef was very soft and we also noticed that the onions were sweet and very tasty. it's not what you'd expect from the onions at all. The ginger beef was neither too spicy nor too sweet – (it also had hardly any ginger, or none at all) but it would have been exceptional if it only had more flavor… The noodles in the Seafood Chow Mein had a perfect balance of crunchiness and softness to them. The seafood and vegetables were all very good and only the squid was slightly over-cooked. The whole dish, again, would have been a lot better if it only had more flavor. The BBQ Duck was also cooked very well. The outer skin was perfectly crunchy while the meat inside was tender and very juicy. I never thought that BBQ Duck could ever lack flavor though. it's too bad, really. And the Chinese Mushrooms with Baby Bok Choy, (which I always order everywhere I go), was probably the worst here out of anywhere I've been, all because of the lack of flavor.
All the prices at Harbour City Restaurant were very cheap. The ½ BBQ Duck was unusually large for only ½ a duck and was only $15. Our total bill (no drinks, just tea) came out to $55. But I think the lack of flavor is what will keep us from returning. The presentation of the dishes was the best thing about Harbour City Restaurant but unfortunately neither the flavor of their food nor their service came anywhere close. (At these prices though, we'll probably go back one more time just to make sure it wasn't an off night for them in the kitchen.)
Harbour City Restaurant
302 Centre Street South
Calgary, AB
+1 (403) 269-8888
If you're looking for Chinese food in downtown Calgary, I would not recommend Harbour City Restaurant, instead, I would suggest Regency Palace first, for the exceptional taste alone, and Silver Dragon second, for the best overall experience. (I'll be sure to write separate reviews on these two restaurants in the near future.) To be clear, I am not saying to stay away from Harbour City Restaurant, it's not bad. I'm only saying that I wouldn't recommend it.
The only restaurant in Chinatown I would say to stay away from is U & Me on Centre Street. The service there is so bad they make you feel like you're greatly inconveniencing them and like they're raping you for it. I can't stress how bad the service there is, it should be illegal. And the food is loaded with MSG. I used to eat there a lot (after gigs) only because it's open very late, but the last time I went there the horrendous service tipped me over the edge and I have vowed to never return. Plus that's when I saw that they re-use the left over rice in the canisters to make their fried rice dishes… Not cool. Their sanitation standards have always been frighteningly low and it's obvious once you walk in the door, but I never suspected they were going that far… I feel embarrassed to admit that I used to go there at all. Stay clear away from U & Me.