Among that list was King's Noodle Restaurant on the corner of Spadina & Dundas in Chinatown. Since moving back to Toronto this year, Michelle and I have had a couple opportunities to dine at King's Noodle.
King's is definitely a very busy place and they're exceptionally efficient at turning over tables very quickly. To give you an idea of how busy it gets, we've been asked on a couple occasions if we mind sharing a table (and we never mind) – it's common to see two or three couples sharing one of their big round tables that normally accommodate eight people in the center of the dining room. Yes, it's a super busy place, but I like that, because it forces the food to be fresh all the time.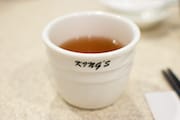 Apart from the dine-in crowd, a lot of traffic at King's is also for take out orders (both dishes and BBQ meats a-la-carte) so they're really good at getting you in the door and seated as quick as possible. They need all the space they have at the front of the restaurant! However, they're not always good at making sure you get a menu right away. And then, even when you do happen to get a menu, it's always up to you to flag them down when you're ready to order – and they don't make it all that easy either. Busy, busy, busy…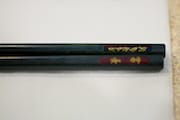 don't get me wrong – the service at King's isn't unpleasant. it's just a busy place and their focus is on speed and efficiency, not on creating a memorable dining experience. If you're looking for a quick place to eat and want to be in and out really quick, this place is perfect.
A benefit to this extremely high turnover, as I mentioned before, is that the food is always fresh. They go through so much food, there's just no other way to do it. I also like the fact that the majority of their food is cooked in the open kitchen at the front so you can always keep an eye on things. it's fresh, it's clean, and most importantly, it's delicious!
As the restaurant's name implies, noodles are their specialty. You can get their noodles in soup dishes as well as just steamed – and both are excellent choices. The noodles themselves are very flavorful and you can tell right away from the texture that these are not just any ordinary noodles… Mmm…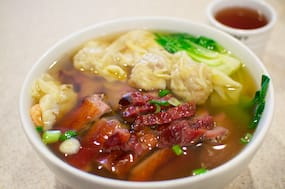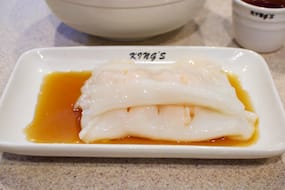 Apart from noodles, BBQ meats are another specialty of King's. In fact, most dishes are a combination of noodles and some sort of BBQ meat, be it BBQ chicken, BBQ duck, BBQ pork, BBQ octopus, etc. The BBQ duck at King's is something I crave very often – I could have it all the time! In fact, whenever Michelle and I go to King's and we don't order BBQ duck, we regret it. Not that their other dishes aren't good, no, not at all, it's just that the BBQ duck is just too good to miss!
To say that King's prices are reasonable would be an understatement. On more than one occasion, Michelle and I both have walked away stuffed on just $10 (including tax and tip). Their prices are super affordable and we often wonder how they can afford to serve this high-quality, uncompromising, delicious food at such low prices.
Here are some photos from our last visit to King's on . The photos were taken on the sidewalk outside of the restaurant from the front window to the open kitchen – hence the glare in some of them. But if you look closely, you'll also get a look into how busy they get…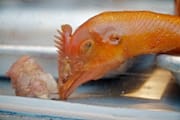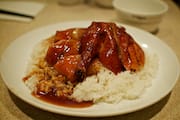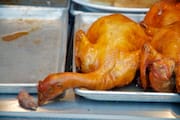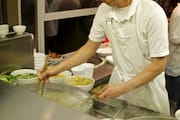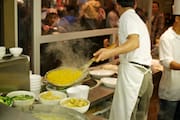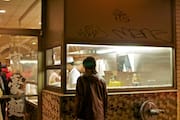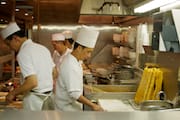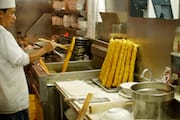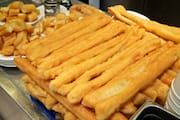 King's Noodle Restaurant
296 Spadina Avenue (Chinatown)
Toronto, ON
+1 (416) 598-1817
DineSafe
If you've never been to King's, I highly recommend you go and check it out. Let me know what you think!