I had been hearing about La Carnita's pop-ups on Twitter for almost a whole year, and though I was super interested in checking them out, I was never able to make it out to a single one. Bummer. But now that La Carnita has settled into a permanent location on College Street, I was finally able to get a taste of their food and see what all the fuss was about. You can read La Carnita's story on their website – it's not very long but it's an interesting read with lots of good links.
There was definitely a lot of hype around La Carnita leading up to my visit (there still is, actually) and my expectations were very high. But at the same time, I was a little skeptical – could La Carnita live up to all the hype?
The night we went, Michelle and I were in the process of moving some stuff into storage and I was driving close to downtown when I remembered about La Carnita opening up on College Street. I had Michelle look up the exact address on her iPhone and call to make a reservation. La Carnita doesn't take reservations though, so we had to make our way down to the restaurant before we could put our name on the waiting list. At , it was about a one hour wait for a table for two… But luckily, the hostess was in the habit of under-promising and over-delivering, so it was more like 45 minutes or so.
The small (but not limited) Mexican street food inspired menu was obviously not aiming for authenticity. Though very simple and to-the-point, everything on the menu sounded very appetizing and I remember thinking to myself – I wish I could just order one of everything!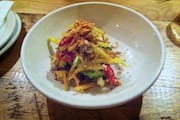 We started with the Avocado Mango Salad (w/ cilantro, lime dressing, queso fresco & pepitas – $8) which was very refreshing but we devoured it way too quickly. I don't recommend sharing this as an appetizer – the portion is too small for sharing, and the salad is worth having two anyways. The slightly green/unripe mango was sour, (as it should be) but well balanced by the creamy cheese and smooth aguacate (avocado). It was a little unexpected to find red hot peppers in a salad, but it was a surprisingly nice addition. The pepitas didn't have the impact I was expecting and got lost amongst the other much more prominent ingredients – it was somewhat of an unnecessary ingredient in this salad. But overall, the salad was exceptionally well done and I'd definitely order it again. So far, we were off to a very good start!
Next up, the Gordita (Conchita Pibil, jicama orange salsa, queso añejo, pickled onion & cilantro – $5) was very tiny – much smaller than we expected, but insanely good. (Gordita? Maybe they should call it "Flaquita" instead?) It was a little acidic (nice), very saucy, dripped a lot and was very messy to eat, but damn, was it ever worth the mess! Again, I don't recommend sharing this as an appetizer – the portion is much too small for sharing, and it really is worth ordering two of these, maybe even two each! By the time we were done with the Gordita, we knew were indeed in for a great meal. La Carnita was living up to the hype, and we were thoroughly impressed.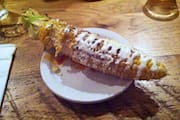 The Mexican Street Corn (Mexican crema, queso añejo, arbol & ancho chili powder – $8) was indeed an appetizer made for sharing (it comes with two whole cobs of corn) and was very flavorful. I never thought cream and cheese would work well on corn, but boy does it ever! The corn itself was nicely grilled with the odd black-charred kernel here and there (yum!), and the chili powder made it noticeably spicy (of course), but not too spicy. The corn husks on the end were knotted neatly which made it very easy to hold and eat without making a mess. So delicious!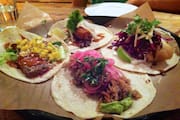 Next up, the tacos for $5 each…
The Carnitas (pork confit, guacamole, salsa verde, pickled onion & cilantro) was very flavorful, largely due to the pork of course – all the ingredients made sense and worked well together to create a powerful flavor explosion…
The Carne Asada (skirt steak, lettuce, queso añejo, mango salsa) was a little too smoky for my liking (too much chipotle maybe?) but the steak was not at all chewy, very tender, juicy, pink and cooked medium-rare, which was very nice. (I hate over-cooked meat!) The lettuce in the taco was a refreshing addition, but the apples didn't make any sense in this taco. (Was it even supposed to have apples? Oops!?) This taco had too much moisture/liquid though and fell apart much too easily. It was also a little too spicy, so I think it must have been too much chipotle on the steak, which would also explain the excessively smoky aftertaste. Needless to say, this was my least favourite of the four tacos, but at least the steak was cooked to perfection…
The Crispy Avocado & Frijoles (beans, crispy avocado, jicama, chipotle sauce, queso fresco & cilantro) taco was noticeably spicier, yet not as flavorful as the others, and the aguacate wasn't very crispy at all. We probably could have done without this taco – unlike the rest of the tacos, there was no prominent flavor in this one. It wasn't unpalatable by any means, but the ingredients didn't play off each other in an interesting way like in the other tacos. Tasty, but perhaps a little boring…
The In Cod We Trust (voltron sauce, lime crema, pickled red cabbage, green apple & cilantro) was by far, my favourite of the four tacos we had. The first words out of my mouth after taking the first bite were "Fuck me!" Yes, it's seriously that good! And even after the first bite, the magnificent flavors carried through to the very end… The deep-fried, beer-battered (and ultra-delicious) cod was light, super crispy and not at all greasy to the touch. The green sour apples weren't there for no reason – they complimented the fish exceptionally well and the balance of flavors was simply awesome. This is a very well thought out taco!
Even after such a complete meal, we decided to order dessert. After a meal like that, you have to!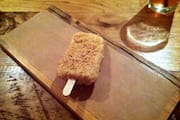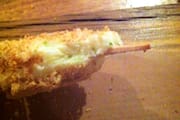 The Lime Paleta ($4) was very obviously made from scratch, using real limes. Very limey! The salt in the graham crackers made it all come alive and helped achieve a perfect balance of sweet, sour and salty. It was a nice, sweet, refreshing end to our meal. (Also, notice from the photos that they incorporated some lime zest into the paleta, hence the super limey-ness…)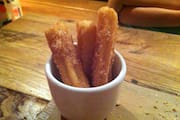 The Churros (w/ housemade cajeta – $5) came last (it would have been better to end with the paleta), and unlike the paleta, it was a very sweet dessert. Apart from the standard dusting of sugar and cinnamon, the churros were also salted, but in this case, it was a tiny bit too much salt. (But, I would rather that, than to have no salt on them at all…) Once you dipped them in the super-sweet warm caramel sauce it was less noticeable though. And still a very nice end to a superb meal.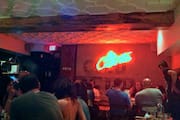 The food at La Carnita definitely lived up to the hype and exceeded my expectations. The restaurant was super busy and packed solid by a young hipster crowd (late 20s, early 30s mostly). In one word, its atmosphere could be described as "fun". But it was also extremely loud and I wished I had brought my musician's ear plugs (am I getting old?) – Michelle and I could barely hear each other speak across our small table!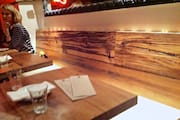 And even though the place was super busy, our server never skipped a beat. At one point, I overheard him ask another server to clear our table for us while he ran the Interac machine for a table close by. With a table this small, it was nice that they kept things clean and organized and I definitely appreciated his attention to detail. He was on top of things, and you could easily tell he was a very experienced server. And at a place this busy and popular, you have to be! He was very likable, helpful, attentive and seemed genuinely interested in pleasing his customers, not just chasing after their tip…
The staircase going downstairs to the washroom was very dark and a little scary, and once in the washroom, I was disappointed to see how messy and dirty it was.
The "word on the street" seems to be that they're still getting the hang of things ordering-wise, and they frequently run out of things. On our visit, they had run out of the toronja (grapefruit) and guava jarritos and only had tamarind left…
Our dinner for two, including tax but not tip, came to $67, which is not a cheap meal by any means. (Apart from everything pictured above, we also ordered one drink each.) it's about what I expected going into it… It is street food, but not exactly street food prices. (OK, maybe not exactly street food – maybe it's better to say street food inspired?) The fresh, quality ingredients and the attention to detail in the preparation of the food definitely deserves to be factored in though – for what you get, the prices are very fair.
The food at La Carnita is super delicious, carefully thought out and skillfully prepared. Not authentic Mexican, but definitely inspired by Mexican street food. Highly recommended.