This article has been censored at the request of Randal Arsenault (Dr. Zoo) who threatened legal action against my chartered right to freely express my own views and opinions.
While the laws in Canada do protect bloggers, and while the basis of his grievances are completely ridiculous and have absolutely no legal merit, (thanks to the precedent set by many bloggers before me), the amount of traffic I get to my blog is very insignificant and quite frankly, this is not worth my time – I have much more important things to do…
As I've made clear from the start, the views, opinions and perceptions on my blog were, and always will be, that of my own and are not affiliated nor associated with anyone else. This is my blog…
I flew into Labrador City on to play a gig at the K-Bar. Labrador City, unlike its name suggests, is actually a very small mining town.
Labrador City is extremely ugly and the best way to describe it would be to compare it to a run-down industrial strip mall. Yes, every building in town was ugly and looked like what you find in an old industrial park, from the bar/dance club we played at, the local pharmacy, even the hotel we stayed at. So understandably, I never did take any photos in Labrador City – it was too ugly for me to feel motivated enough to take my camera out for even one shot.
We did, however, stay at a cabin on Duley Lake , and while the lake and surroundings were nothing spectacular nor mind-boggling-beautiful by any means, I did take a couple photos in the simple, but interesting cabin.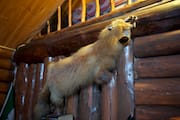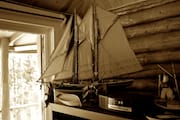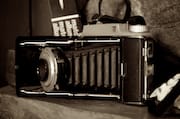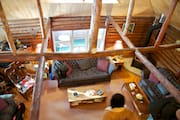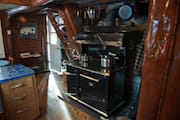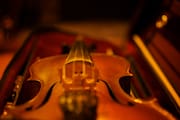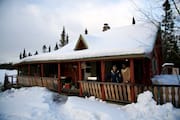 In Labrador City, I did hang out with the "locals" after both gigs at the K-Bar, and the people were extremely hospitable and very genuine. Actually, both of these nights out were a nice breath of much needed fresh air at the time, and I was given exceptional treatment by my generous hosts, so it made up for the drab surroundings.
It was nice to get a "local" perspective on things too, but unfortunately, the local perspective only served to further augment my already dismal perception of the place. It seems that everyone in Labrador City just wants to get out, as soon as possible. Most people go there for a high paying job in the iron ore mines, thinking to make a big amount of cash, and then leave. But they inevitably end up staying much longer than expected…
The locals disclosed to me that at least 90% of the town's population is in counseling on a regular basis to battle depression. At the same time, it's no secret to the locals that, unlike the rest of Canada where marijuana seems to be the "drug of choice", cocaine is the predominant drug here and it's readily available – it's just the way it is. I suppose harder times call for more desperate measures…
I feel for those people, especially the youth, stuck in Labrador City dying to get out, and I must say, I'm glad we stayed there for only three days. it's definitely hard to live in a place like that and not feel depressed, I totally understand.
Anyways, enjoy the photos from the cabin. :-)