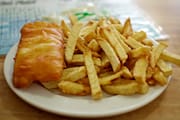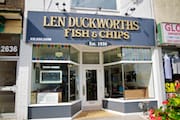 The best fish and chips in Toronto? Probably not. The food was tasty enough that I'll be back though.
In terms of the service, it was attentive and polite but nothing extraordinary. From a small shop like this, (especially at a time when it wasn't very busy), I would have liked to have seen a lot more personality, something memorable and not such a transactional approach. The service didn't leave me feeling like "I can't wait to come back here and bring my friends" it was more like the feeling of "yeah, sure, I guess I might come back again… Maybe."
Len Duckworth's Fish & Chips
2638 Danforth Avenue
Toronto, ON
+1 (416) 699-5865
DineSafe
Len Duckworth's Fish & Chips is not the kind of place I would venture across town for. But if you're in the area, it's worth stopping by and it's probably one of the better places to grab a quick lunch in the area.