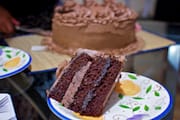 Continuing the tradition I started , I decided to bake Michelle a cake for her birthday . Last year I made Michelle a black forest cake, but this year, I wanted to make her a chocolate cake with chocolate buttercream.
I thought of all the things that Michelle really likes – chocolate, Nutella, Oreo cookies – and I thought, "maybe I can put all of that into a cake?" So the cake had a layer of chocolate fudge with Oreo crumbs, and another layer of the chocolate buttercream with ground hazelnuts. (I had to grind those hazelnuts by hand, one-by-one…) It didn't turn out tasting like Nutella as much as I wanted, (and I didn't just want to put Nutella in it either), but I think it still turned out OK. it's been about fourteen years since I've made buttercream so I thought I should use a recipe – I searched on the internet and found this one: "Chocolate Buttercream Icing" which I modified quite a bit.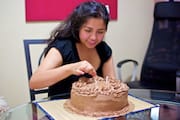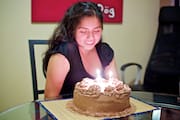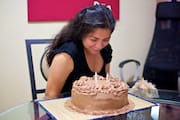 The cake didn't come out anywhere close to as nice as I had planned, (nor anywhere close to as good as I know I'm capable of doing), but I was quickly running out of time before she got home. I ended up having to cut a lot of corners and do everything in a big hurry but I wanted to make sure the cake was done before she got home from work. You could say I just "slapped it together" in a mad rush…
Apart from the cake, I also set out to make Michelle a seafood lasagna (lasagna is her favourite), but I had to leave all the shopping for the-day-of in order to not spoil the surprise. So even though I started the day super-early at 8am, I still had to do a ton of shopping before I could get started – groceries, fresh scallops and live lobsters, a baking pan for the lasagna, baking pans for the cake, a piping bag and tips, an icing spatula, box grater, the cardboard for the cake, etc. Needless to say, my plan proved to be far too ambitious within the time I had. And then on top of that, I also wanted to surprise her with a new dining table, (made possible by a generous amount of money my brother sent me for Michelle the day before – thanks David!), so I definitely had a lot on my hands, and time was not my friend.
The cooking and baking was not so bad – I think the problem is that I seriously underestimated how long it would take to do all the shopping. And I also underestimated how long it would take me to clean and peel all the shrimp and get all the meat out of the two lobsters (for the lasagna).
By the time Michelle got home, (just after six), the dining table had arrived and was set up in the dining room, the cake was in the fridge, and all the prep work was done for the seafood lasagna, but I still had to assemble it and put it in the oven. I sent Michelle out to buy some placemats for our new table while I finished the lasagna (which was also a surprise).
Anyways, maybe next time I bake a cake it won't have to be in such a hurry and I can actually spend some time trying to make it look good…