We drove past Milano Pizzeria on King Street East numerous times that weekend – what initially caught my eye was their sign that read "Italian Dishes · Hamburgs". Hamburgs? Oh, you mean hamburgers? The sign stuck out like a sore thumb after that and I couldn't help saying "hamburgs" in a funny voice every time we drove by, which was pretty often. But then I looked it up on Wikipedia and it turns out Hamburgs are a rare type of chicken! So maybe they served chicken too?
I'll admit Milano Pizzeria wasn't our first choice, but it was a Sunday afternoon and most places were closed for the day. We walked up and down King Street (the main street in Gananoque) in search of a local gem before we finally caved-in and decided to get some take-out pizza from Milano's.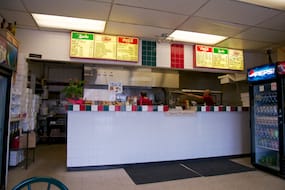 At , there were a handful of people waiting what seemed like an eternity for their food. (Mostly pick-up orders.) There wasn't a massive lineup, but it was a noticeably slow and tiresome wait.
The kitchen was run almost exclusively by older (40+?) men which seemed a little weird to me. (There's nothing wrong with that, it's just not something you see very often.) They definitely weren't standing around doing nothing though – you could see them working hard and moving fast, which means they probably just don't have any good systems/procedures in place if it takes that long. It was only an order of Spaghetti with Meatballs and a Small Hawaiian Pizza after all… Were they making everything from scratch? Was there absolutely no prep work done in advance?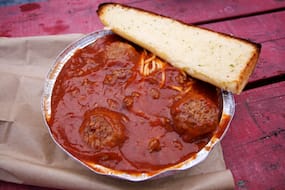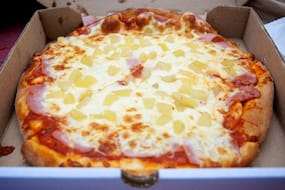 The meat sauce on top of the overcooked spaghetti was way too sweet, had too much nutmeg and tasted like it came out of a can. Not a good start. The meatballs were quite large though and had a pleasant beefy taste and good overall texture to them. Still, the meat sauce was too gross to ignore. At a small independent place like this, you expect homemade sauces, not canned crap with stuff added to it. It really was a weird tasting sauce – perhaps they also added barbecue sauce? Or chalet sauce packets? It was super gross and barely palatable.
The garlic bread that came with the spaghetti and meatballs was not much better. I like soft garlic bread, but this was way too soft, almost soggy, and should have been toasted longer. The garlic butter was made from real, roughly-chopped garlic and dried parsley flakes, but substituted margarine in place of the butter. I hate margarine – yuck!
The first word out of my mouth after tasting the pizza was "weird". The pizza sauce was so watery that the pizza slices effortlessly fell apart and had to be held with two hands. But why weird? The first bite, and every bite after that, left a very sweet and buttery aftertaste. Pizza dough made with butter? Yes, weird! Even after several bites, it was still nasty and impossible to get used to.
They were very generous with the amount of cheese on the pizza, but it was clumpy and grainy cheese, not super-stringy mozzarella like you normally get on pizza. It also didn't help that the bottom of the pizza was excessively dusted with flour – my hands were literally covered in raw white flour after just three bites… Terrible.
I couldn't help but notice that the take out menu boasted of "stone-fired pizza" but all I saw was a regular commercial pizza oven behind the counter. When I asked the guy who took my order about it, he insisted that because it doesn't cook on a conveyor belt, and because they place it on the bottom of the aluminum oven, that's what stone-fired means. Really? WHere's the fire? And sure, aluminum is a mineral, but it's not what comes to mind when I think of stone-fired pizza… Hm.
Oh, and while they do have fried chicken on the menu, it's not of the rare hamburg variety, so that answered my question about "Hamburgs" on their sign. (And yes, they do serve hamburgers too.)
Overall, I was extremely disappointed with Milano Pizzeria – it's never a good sign when you leave thinking you should have gone to a fast-food chain instead.