Back in early , (on lunch break while working at the Apple Store in Eaton Centre), I set out to look for a decent sit-down restaurant close by – I was tired of having so much fast food for lunch all the time.
I stumbled upon Mr. Greenjeans and decided to splurge and treat myself to a nice New York steak for lunch.
I'm always a little hesitant to order steak at a restaurant I know nothing about since it's very common for steaks to be over-cooked (or rarely, under-cooked too). I asked for it to be medium-rare and when it came out, I was very happily surprised to see that my steak was cooked perfectly. It was very juicy and the seasoning was perfect too. Delicious!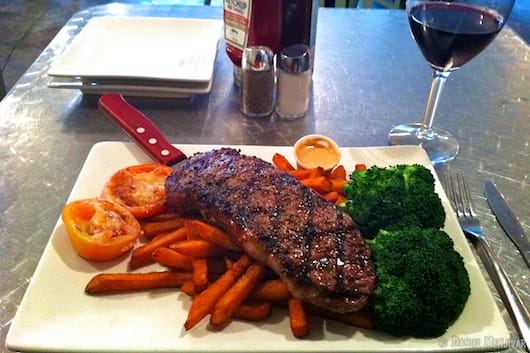 The yam fries that came with the steak were just ok – nothing spectacular and only slightly below "average". The broccoli, however, was super fresh and also steamed to perfection – very crunchy and not at all overcooked, which was nice. Obviously, whoever prepared my meal knew what they were doing.
It was so delicious, I ate everything on the plate – yes, I was very hungry (and also ordered some cheesecake for dessert), but still.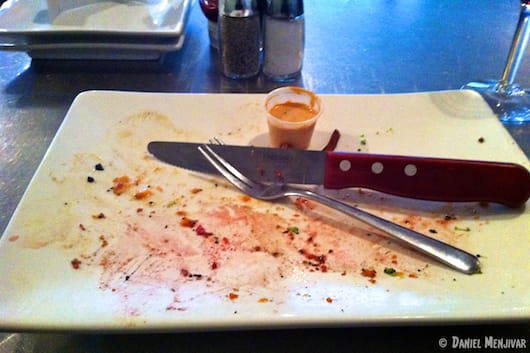 I've since read some online reviews of Mr. Greenjeans and it seems a lot of people have only negative things to say about the place. I can't say much about the food since I've only had the steak, but the steak I had was indeed very delicious and very well made.
I decided to go back the following week to try something else, but ended up having the New York steak again. While the yam fries were a little worse than I remembered the second time around, the steak was just as good as the week before (consistency is great) – so that's a good sign.
The service was nothing special and nothing memorable, which in the service industry is a bad thing. While there was nothing shockingly bad about the service, there was also no effort made to make it a positive experience either. Not by the hostesses, nor the servers I had – on both occasions. For the price I paid for that steak (not cheap) you'd expect a little more effort in delivering exceptional service.
I did have an extensive look at the menu and I'd say everything on the menu is a little overpriced, by Toronto standards. Yes, the portions are generous and very filling, but for the ambience and service of the restaurant (as well as the abundance of quality restaurants close by) I'd say it's definitely on the high end. My lunch came out to a little over $47 + tip the first week and then $37 + tip the second week, without dessert.
Like I mentioned, I can't say anything about the rest of the food at Mr. Greenjeans but I can definitely recommend the New York Steak – it was delicious and cooked perfectly. A substantial improvement in service (and perhaps a reduction in prices) would make Mr. Greenjeans a much more appealing choice for lunch…
Mr. Greenjeans
220 Yonge Street
Toronto Eaton Centre
Toronto, ON
+1 (416) 979-1212