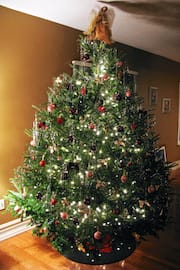 The last time my wife Michelle and I had a Christmas tree was back in 2008, a whole six years ago!
That was a live nine-foot tree that was so big that I needed to rent a one-ton moving truck to get it to the house. And once inside, I had to trim the top of it in order to get the angel to fit on top and not hit the ceiling. I remember wanting a tall tree, but I didn't consider that such a tall tree would also mean a very wide tree. Luckily, we had just moved into a new house and had tons of extra space by the fireplace.
This year I bought a Christmas tree on a whim. On the first of December, I was speaking with my physiotherapist when she told me that she set up her Christmas tree over the weekend. I thought, maybe we should get a tree this year? So after my physio appointment, I went to the Home Depot at the other end of the shopping plaza with the intention of only finding out how much it would cost to get a small tree.
That Home Depot happened to have a 7½ foot $400 pre-lit artificial tree on sale for $80 as part of their Cyber Monday door crashers, so I ended up buying the tree then and there. In Markham. The easy part was picking and buying the tree. The hard part was carrying that tree (with a super messed up and really sore right wrist) to the Viva bus stop, transferring to another bus, the subway, a streetcar, another bus and then walking home from the bus stop with the tree. It's almost a two-hour bus trip and it was a 50 pound box. Crazy? Yeah, probably… I wanted to surprise Michelle though, and I knew it would make her happy.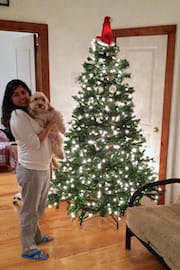 I was going to setup the tree in the living room and have it ready to be decorated by the time Michelle got home from work, but I decided to leave it in the box instead so we could put it up together. It's a pre-lit tree so it came with lights, but we still had to buy decorations to finish it. In the meantime, I put my Santa hat on top.
Eventually, we got around to buying decorations. We checked the Dollarama, Walmart and Target, but the best deals on decorations were at Home Depot. Being mid-December and so close to Christmas, it meant we also got a wicked deal on the angel too. And the super nice guy in the Christmas tree department discounted it even further for us since it was their last one.
Here are some photos of our decorated tree this year: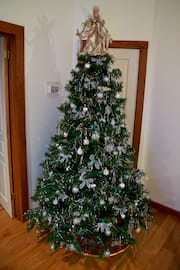 We wanted a sleek, modern, somewhat sophisticated look, so we went with all silver decorations. But now that we have it up, it looks a little too monochromatic for our taste. (There are about 50 candy canes on the tree, but they're tucked inside a little deeper than the rest of the decorations.) I think next year we'll add some reds. Michelle also wants to add little doggies on the tree…
It's nice to finally have a Christmas tree again. Merry Christmas!