, I had the opportunity to make a Peruvian dish using lamb's lung with Michelle's mom. It was pretty gross to see the lamb lung, with the trachea still attached, but apparently, we were "lucky" that the trachea was still attached because you usually can't buy them like that… Lucky?
My job was to chop up the cooked lamb's lung (and the trachea too) into small cubes. It was really easy to cut and felt very soft and tender.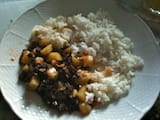 The final product, stewed with potatoes and spicy aji peppers, tasted a lot like beef liver, except with a lamb-leg-like aroma, and with a very rubbery texture, but not at all chewy. While I do like liver, I can't say I liked this, but at least I can say I tried it! The texture took some getting used to, but mostly I think it was the taste that I didn't like. Or maybe the combination of both…
What do you think? Would you try this?