I was first introduced to Phở Cửu Long Miền Tây by our neighbours on January 1. We were going to Rosewood in Chinatown for dim sum on New Year's Day, but decided at the last minute to change our plans and stay closer to home. Since then, I've been back a handful of times.

Just east of Old Weston Road on St. Clair, Phở Cửu Long Miền Tây is on the same block as two other Vietnamese restaurants. I've peeked inside the other two restaurants on every visit and they're never as busy as Phở Cửu Long Miền Tây. In fact, a lot of the time there's a line up out the door at Phở Cửu Long Miền Tây, but people prefer to wait than to go elsewhere. That's a very good sign!
First Impression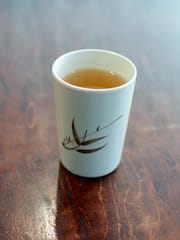 My very first impression of Phở Cửu Long Miền Tây on New Year's Day wasn't great. There was a long lineup at the door, the restaurant was too noisy, the floors were dirty from all the snow people had tracked in and the restaurant was packed so tight that it was hard to get seated at our table. But once I drank some hot tea, got settled in and acclimatized to the fast-paced hustle and bustle going on around us, it was all uphill from there.
Our neighbours spoke very highly of the Seven courses of beef (#V70 — $25 for two people), so we ordered two orders to share amongst the five of us. The seven courses were rare beef hot pot, beef rolls with tropical leaves, BBQ beef rolls, sauté beef, beef salad, stir-fried beef and beef congee. Beef salad might sound odd, but it was actually super delicious and one of the best courses. The seven courses of beef is why most people go to Phở Cửu Long Miền Tây, and with good reason. It was so good, I was already planning my next visit before we had even left.
Subsequent Visits
I also wondered what the better-known Vietnamese favourites like phở, bún, chả giò and gỏi cuốn were like at Phở Cửu Long Miền Tây, so I knew I'd have to return more than once to try it all. But after seeing the place so crowded on New Year's Day, I made a point to always visit in the mid-afternoon to avoid both the lunch and dinner rushes. Business was still steady, but nowhere near as busy.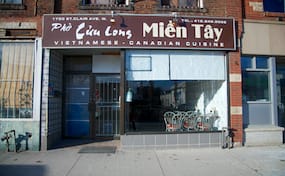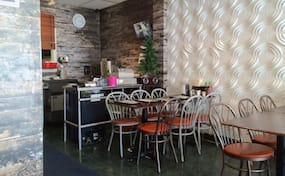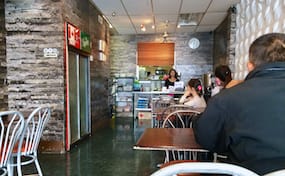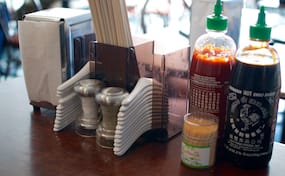 On my subsequent visits, I ordered the Gỏi Cuốn, or Rice Paper Rolls (#V03 — rice paper rolls with shrimp, pork and vegetables — $4.25) a couple times and they were always made-to-order and ultra fresh. They weren't rolled as tight as I like, but they were generously stuffed with lettuce and glass noodles and had decent amounts of both pork and shrimp.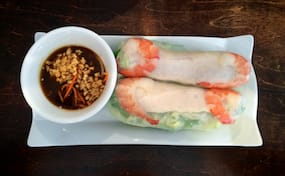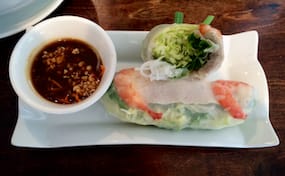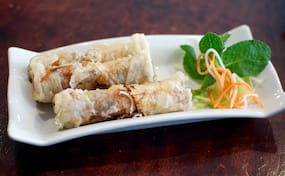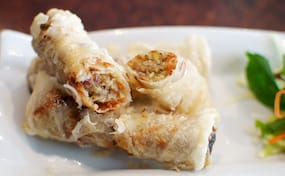 The Chả Giò or Vietnamese Spring Rolls (#V01 — with pork, shrimp & vegetables — $4.25) were way too chewy and nowhere near as good as the rice paper rolls. They were super crispy though, and definitely fried in fresh oil. But the filling was also very starchy and not what you'd expect from Vietnamese spring rolls, making them very hard to eat.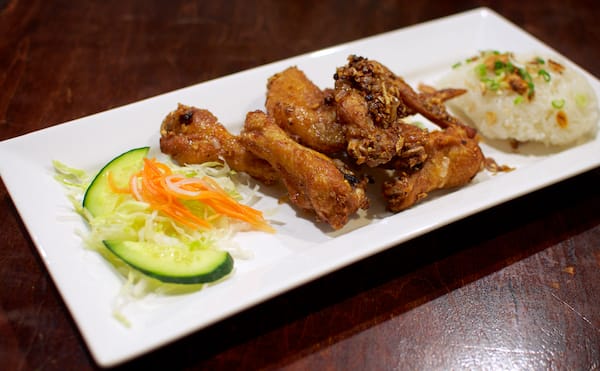 On my first visit to Phở Cửu Long Miền Tây on January 1, we also shared some Deep-fried Chicken Wings (#V12 — deep-fried chicken wings with fish sauce and sticky rice — $7.75) which could be a whole meal itself since it comes with sticky rice. I wasn't a fan of the sticky rice at all though. And despite the wings being smothered in copious amounts of burnt garlic, I did enjoy the sticky honey-coated wings enough to order them a second time on a repeat visit.
I've been on the lookout for really great phở in Toronto for more than five years[1], and the Phở Đặc Biệt (#V19 — special rice noodle soup with rare beef, beef balls, flank, tripe and tendon — $6.25 small, $7.25 large, $8.25 extra-large) at Phở Cửu Long Miền Tây is my favourite so far.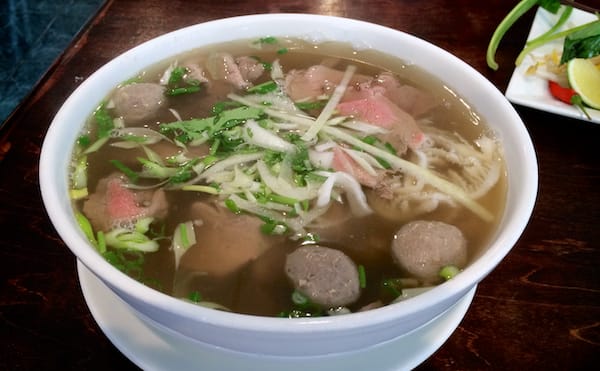 The broth was exceptional every time and tremendously flavourful; the tripe was well above average with a bit of a bite to it without being chewy; though there was nothing especially remarkable about the beef balls, they were still above-average beef balls even if they were a tiny bit too dense for my liking; the thinly sliced beef was of noticeably high quality and considerably fresh every time; and the tendon was simply to die for!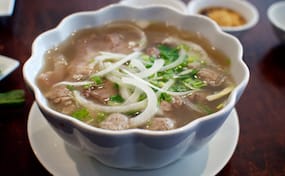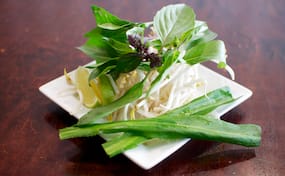 The large size (first photo) is probably more than enough for most people, while the extra-large (second photo) is exaggeratedly monolithic. And it's not just extra broth either — all the soups are abundantly filled with rice noodles. Of note, the phở at Phở Cửu Long Miền Tây comes with delicious culantro on the side, along with the standard bean sprouts, Thai basil, lime and a hot red pepper. Culantro!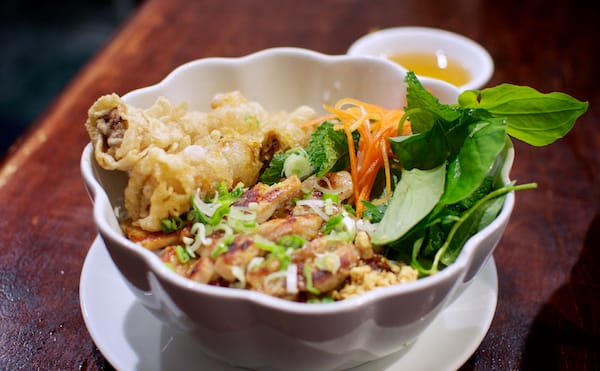 I can't say too much about the Bún, or Vermicelli Bowl (#V38 — spring rolls, grilled chicken [or grilled pork, or grilled beef] with vermicelli — $7.25) since Michelle ate it on the day that I ordered the extra-large bowl of phở (mostly because I was curious of how big it would be). But I did try a bit of it, and the freshness of all the ingredients was easily apparent. I still wasn't a fan of the chewy spring rolls though.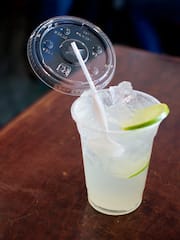 More of a dessert than an actual drink, I ordered the Fresh Lemonade (#6N — fresh lemonade with ice — $4.25) on several occasions since they never seemed to have fresh orange juice. It's a super-sweet lime drink and they put so much sugar in it that as the ice melts, it's as though you keep getting a free refill… Though I wouldn't recommend drinking this before or during your meal, it's certainly a refreshingly sweet way to end a meal. Just think of it as dessert, not a drink.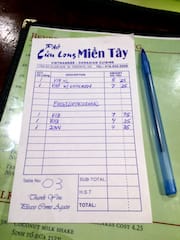 Service
On one occasion, I decided to order a mango milkshake but they were all out, so I opted for a soursop milkshake instead thinking it would taste like guava. Nope. Not at all. I didn't like it one bit and I was sure it must have gone bad, so I asked our waitress to try some. She confirmed that that's exactly what soursop is supposed to taste like and offered to exchange it for something else, free of charge. That's not the kind of service you expect at an Asian restaurant, so she really caught me off guard. She assured me that it wasn't a problem at all and I ultimately exchanged it for a coconut milkshake.
It might not seem all that fair to judge the service at Phở Cửu Long Miền Tây knowing that I was purposely going during their slower, less busy hours. But even on New Year's Day when the restaurant was packed solid, the service was stellar. In fact, the service at Phở Cửu Long Miền Tây is what I remember the most about all my meals there.
I've only ever seen one waitress at Phở Cửu Long Miền Tây, but she's a hard worker and incredibly efficient, so it's never been a problem. She patiently takes the time to thoroughly explain everything if you need it and even offers to bring photos of what everything looks like. What's more, she always double-checks your order and proactively informs you, "that comes with pork and beef, is that ok?" And if that wasn't exceptional enough, she always asks "May I?" before setting anything down in front of you, or clearing things off the table. Way, way above-average service for an Asian restaurant.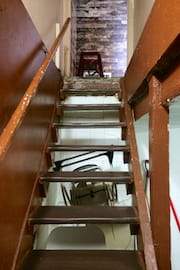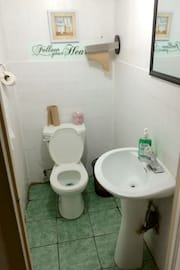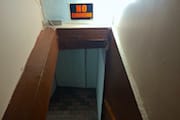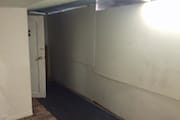 The stairs going down to the bathroom at Phở Cửu Long Miền Tây are narrow and creaky and once you're in the basement, it's very smelly, old and damp down there. I noticed that the women's bathroom has a fan while the men's bathroom doesn't… But to their credit, the bathroom has always been clean and well-stocked. Nevertheless, the whole basement could really use a renovation.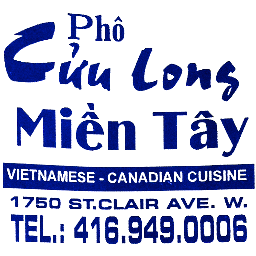 Phở Cửu Long Miền Tây
1750 St. Clair Avenue West
Toronto, ON M6N 1J3
(416) 949-0006
DineSafe
Phở Cửu Long Miền Tây serves my favourite bowl of phở that I've found in Toronto so far, and I can't believe that their extra-large size, which could easily feed three people, is only $8.25. Don't let the low prices mislead you though — the food is good at Phở Cửu Long Miền Tây. Tremendous value!