Pho Que Huong
I've been to many places in Calgary (and Toronto) for Pho, including the highly over-rated Co Do on 17th Avenue SW in Calgary. My favourite place for Pho in Calgary is Pho Que Huong in Pacific Place Mall (#628, 999 – 36th Street NE). They have an entrance from the food court as well as their main entrance at the back of the mall.
Pho Que Huong wins my business not only because their soup is the best I've tasted in Calgary, but also because they are very consistent. The service at Pho Que Huong is always attentive and ranks exceptionally high when compared to other Vietnamese restaurants in Calgary. Their prices are also very competitive. I've only tried their Pho and Deep Fried Spring Rolls, (which are also the best in Calgary), so I can't really comment on their other food – I'm sure it's just as good though.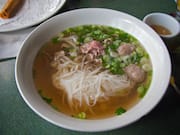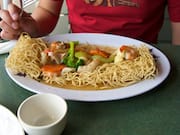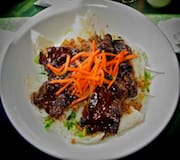 Apart from their great tasting food and courteous service, another area where they really stand out is in their cleanliness and sanitation standards. This is not your average Asian restaurant in Calgary – their washrooms have always been clean and their dining room consistently demonstrates that they really do take pride in their business.
Pho Que Huong
#628 – 999 36th Street NE
Calgary, AB
+1 (403) 207-9896