I took some photos back in of these squirrels eating pizza just outside our kitchen window on our neighbour's fence…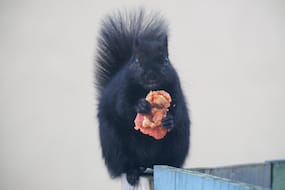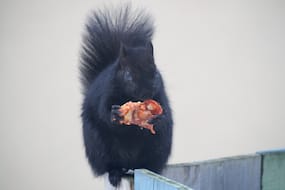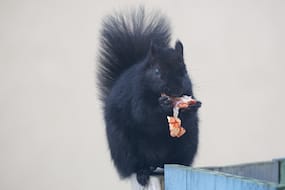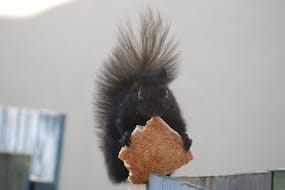 There's lots of wildlife here in Natal Park, that's for sure!
I didn't even know that squirrels would eat meat, until I had a conversation with the wildlife removal company last year when we had a raccoon give birth to her babies in our attic. Apparently, raccoons will eat squirrels, and squirrels will eat mice if there is nothing else to eat. Until then, I thought squirrels only ate nuts!
I'm sure eating pizza out of our neighbour's recycling bins isn't very good for them. But they've obviously gotten very used to picking through our neighbour's overflowing recycle bins and messy backyard though, since they're always around here. Which also means that we have to carefully watch our dogs when they go into our backyard since the squirrels will often drop food when scurrying up into the trees…