I've wanted to try to make puff pastry for quite a while now, but it takes a lot of time and patience, not to mention a whack-load of butter.
Butter was on sale at Sobeys , but our local Sobeys ran out on the first day of the sale so we had to get a raincheck, which we finally redeemed . So with a fridge full of butter, I set out to make puff pastry not realizing that I'd have to let the dough cool in the fridge overnight before I could start.
I have a couple of orders for charts that I need to finish this week, but I figured procrastinating just one more day wouldn't be a huge deal – I do work best under pressure after all. Writing charts is not something I can do with constant interruptions and I knew I'd have to get up to roll out and re-fold the dough every half-hour, so it gave me the opportunity to finally process a bunch of photos I've had waiting in my Aperture library for months.
Half-way through the long process of making the puff pastry, it occurred to me that I didn't have any plans for the puff pastry once it was done. What to do?
Here are some photos from my first attempt () at making puff pastry: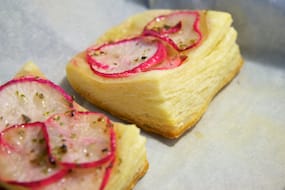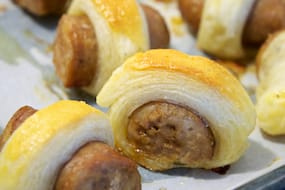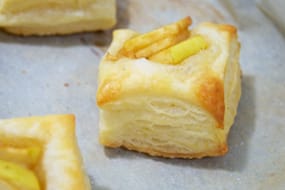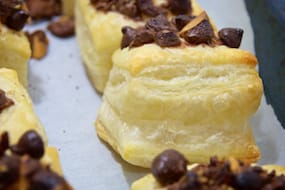 I'm quite happy with my first attempt at making puff pastry, it's actually super easy to make, it just takes time and a lot of patience. I was worried that it wouldn't puff up enough, but if anything, I think it almost puffs up too much!
I got a little distracted with editing photos as I was pre-cooking the sausage though, so I ended up filling the house with smoke — good thing Michelle was working from home today! Unfortunately, it also meant I stripped the seasoning off my cast iron pan, which took me so long to season, so now I have to do it all over again. Ugh!
Before I started yesterday, I watched a couple videos on YouTube on how to make puff pastry and then made my own recipe based on the recipes in these two videos: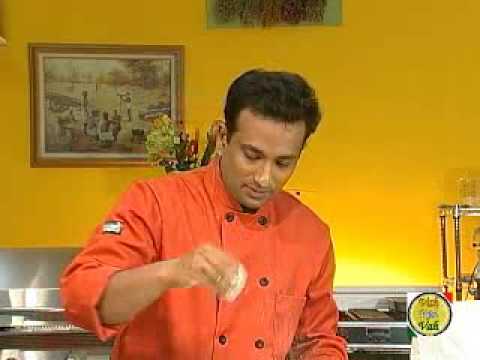 Here's my recipe for puff pastry based on those two videos:
Puff Pastry
2½ cups flour
½ tsp sea salt
4oz cold butter (¼ package)
7oz cold water (just under 1 cup) w/ 1tsp vinegar
12oz butter (¾ package)
My only criticism of my puff pastry is that it came out a little too buttery for my liking. Any more butter and it would probably have started to feel a little greasy, so I think next time I'll use 3 cups of flour instead of just 2½ cups (to increase the ratio of dough to butter) and see how that goes.
I still have a lot of puff pastry left in the fridge and I'm not sure what I'm going to do with it yet. Michelle suggested I make Beef Wellington, but I'm thinking maybe something with banana and/or caramel… Hm.
I respect your privacy and don't inundate you with obtrusive ads. If you found this useful, please consider making a donation.