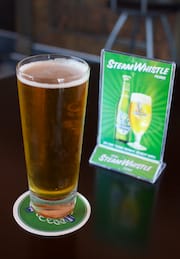 You don't have to be an expert or have to know a lot about food or the restaurant business to see something obvious from just those two photos alone. A perfectly-poured pint of beer, served in a chilled glass on a coaster, with class… No, I'm not being facetious, I'm serious. Evidently, it's not the bar side of their "Bar & Grill" that's the problem. (Maybe a little overpriced, but I'd rather pay a little extra for a beer and get the kind of atmosphere you get at Relish than pay less and get the kind of atmosphere you get everywhere else on the block.) But compare it with the other photo. There's a lot to criticize and pick apart about that plate of food before you even get to how it tastes…
You may think I'm being too hard on Relish, but when you consider what they're trying to be and the fact that they charge $15 for that plate, I'm not being too hard at all. Their service (on my three visits) was very transactional, noticeably impersonal, nothing memorable, nothing special – very below average. So you'd expect the $15 to be all for the food then, if not the service, right? Well, we eat with our eyes first.
There was diced tomato unnecessarily smothering everything on my plate; the lobster pot-stickers should have been tossed with salt in a metal bowl and then neatly placed on the plate (not salted on the plate – look at the mess!); there is no excuse for the edge of the ramekin not being wiped clean; the dill sticking out of the dip is cheesy and very amateur; the soggy piece of oddly-butchered bread under the shrimp made no sense and the whole presentation as a whole looks boring, very anemic and unappetizing. I'm not expecting a precious presentation where the food has been over-designed and played with, but at least put some thought into how the food looks… It sure doesn't look like a $15 plate of food.
When I finally tried the food, the taste was no better. My previous two visits similarly left a lot to be desired, so I wasn't expecting anything too special, but my lunch there last week was easily the worst meal I've ever had, bar none.
The lobster pot-stickers were made with real lobster meat and seasoned with good quality sea salt, so they're definitely using quality ingredients, but the taste was exceptionally bland. it's great to season the outside, but the lobster filling could have been anything and tasted as if there was some salmon mixed in as well. What about seasoning the inside? Even without the rubbery exterior that seemed like it was heated in a microwave and not deep fried to order, I still couldn't taste much flavor in the filling when I tried it by itself and it smelled fishy. What a shame.
The preparation of the shrimp was similarly shocking – I wouldn't even expect a rundown pub to serve shrimp like this. Apart from being rubbery and tasting like They'd been frozen for too long, they were prepared without any care. The sherry tasted like it had been sitting on the counter for weeks with the lid off, and I didn't really "get it" anyways. It would have been better to just stick with white wine in my opinion – the sherry seemed like it was using an ingredient just for the sake of being different. It would have been better with just white wine. I suspect that the shrimp were rubbery because they were boiled in the sherry and sat in the heat for too long. When you make this right, you sauté the shrimp in butter and garlic first, and when it's 75% done, you add the sherry/wine – this way, the alcohol has burned out and the wine has reduced sufficiently at the same time that the shrimp are fully cooked. (it's very easy to overcook shrimp if you don't know what you're doing.) But it seemed like the shrimp was just boiled in the sherry, and for way too long. Very amateur mistake.
When it came time to try the spinach & taleggio phyllo triangles, I knew it was time to call it quits with Relish. It only took one bite (which I quickly spit out) to discover that they had gone bad. Sour! I thought it might just be me, so I put it up to my nose, but that only confirmed it. Way overdue. (It wasn't the Taleggio cheese, these were obviously rotten. I even tasted a little again to be extra sure.)
Obviously, my first two visits weren't quite as bad, but they weren't anything that warranted a repeat visit either. I was desperate to fall in love with Relish and my stubbornness kept me coming back even though I knew better. Not one chance, not two, but three…
I left more than two-thirds of the food on the plate and asked for the bill. Did I say anything to the waitress? No. She only asked how everything was after I had asked for the bill but I was so appalled by the food that you could say it left me speechless… It was the first time in more than seven years that I left absolutely no tip. I payed the $26 bill (which is expensive for lunch, no?) and left feeling very ripped off and extremely disappointed. Maybe a little enraged. In fact, I had only taken three sips from the beer but I was in no mood to stick around and finish it after such an offensive meal. What a colossal failure and a serious waste of money! (I ended up going right next door to Mike's Fish & Chips and had lunch there.)
Chef-owner Joanne Clayton is a graduate of the Culinary Institute of America. I think this place has huge potential and I suspect that it was once great years ago, but time has made her lose her passion and become indifferent. I don't know for sure, but maybe. I understand that it can be hard to stay excited and fired up, but that's exactly what's missing at Relish – someone who actually gives a fuck…
Joanne was only in the kitchen on my first visit to Relish and I know for sure that she wasn't even in the restaurant on my second and third visits. I'll give her the benefit of the doubt and assume that it wouldn't have been so devastatingly bad had she been there, but that's hardly an acceptable excuse.
it's odd that after two mediocre experiences, and that colossal failure of a lunch, (which was by far the worst meal I've ever had anywhere), that I still find myself stubbornly wanting to fall in love with Relish. Oddly, I can see a lot of potential and I desperately want it to succeed; but in its present state, it definitely has a long way to go. I like what they're trying to do though, and I like the thought of having this kind of place just steps from home.
I'll probably continue going to Relish for a drink now and then, (it's much nicer than anything else on the block for a drink), but I don't see myself eating there anytime soon. Maybe never again? They need to make some drastic changes before I'll ever trust a plate of food there again.
The cool thing about Relish is the community and artsy atmosphere in the place, a place that's trying to be better than everything else in the area, without being uptight about it. They even have an open mic/jam every Sunday night which I've been to a couple times. (Not the highest level of musicianship, but a cool vibe nonetheless.) I sincerely hope that Relish can keep alive the things they're doing right as a bar, (but not let that cloud their minds), and wake up to how much is seriously wrong with the restaurant side of things.
Relish Bar & Grill is the best place to grab a drink in the area, just eat somewhere else first.