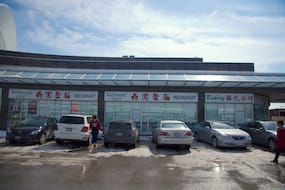 It was only a short wait until I was greeted at the front and ushered to a table. It wasn't very busy at around , so my tea was brought to me very quickly and I was presented with the menus in no time at all.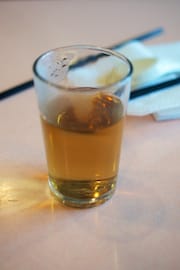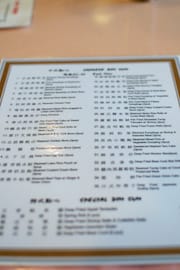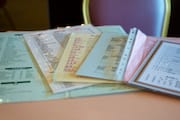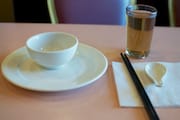 it's been a while since I've been served hot tea in a glass, but it brought back a lot of good memories. Plus, it was good to have something to drink while I scoured through more than six different menus that were placed before me. I appreciate the variety, but that's way too many menus to have to look through! It took me a while, but I was finally able to piece together my order from several menus: #290 — Shanghai Noodles $7.75, #17 — Beef Tripe $3.30, #2 — Siu Mai $3.30 and #27 — Fried Shrimp Rolls $3.30.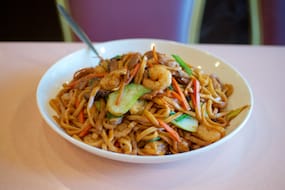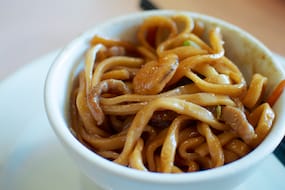 The Shanghai Noodles arrived first. I love mushrooms and the mushrooms in this dish were delicious. There was a good amount of meat and shrimp filling out the dish. Unfortunately though, the shrimp weren't cleaned at all and you could see black veins in all the shrimp — very unappetizing. Also, I couldn't help but notice that the noodles were flat, not round like you'd expect in Shanghai Noodles, and were very inconsistent in terms of thickness. Maybe it means they were hand-made? I'm not sure, but either way, neither the texture nor taste were as good as the thick round ones I'm used to. Another unexpected deviation was bok choy in place of cabbage. Overall, the dish was too saucy for my liking, fell short of my expectations and by far way too greasy. Oil city!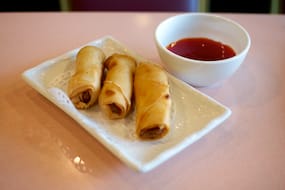 The Deep-fried Shrimp Rolls arrived second, full of big shrimp and lots of them, which explains why they were a little thicker than normal. There was also some sort of filler in there too though, but I couldn't quite put my finger on what it was. It looked like garlic, but it didn't taste garlicky, so I thought maybe potato? The sweet red sauce that accompanied the rolls was heavy on the corn starch and a lot thicker than I'm used to. It was also way too much sauce for just three rolls and I hate wasting food. Overall, the shrimp rolls were tasty but very average and mostly unremarkable.


Next to arrive was the Steamed Beef Tripe. It wasn't exactly full-out bland, but it was noticeably plain without any hot peppers and only a minuscule amount of ginger — not anywhere near enough. Much yellower than most places, the texture of the tripe was a little more rubbery than I like, but it was sliced thin and small so it wasn't too bad. The thing that struck me the most about the steamed tripe though, was how oily it was. Oil. Lots of oil. Swimming in oil! I can't stress enough how unpleasantly oily it was.

The Siu Mai, full of so much fat and chewy bits in the pork stuffing that it almost made it crunchy, was the last to arrive. I liked the strong mushroom flavor of the siu mai (since I like mushrooms so much) but I think it overpowered everything far too much. Below average Siu Mai for sure, though I did really enjoy the mushrooms.
I remembered reading online that the service at Richmond Court Restaurant was quite bad, but in my experience it was only slightly below average for a Chinese restaurant and nothing to complain about. I was there for the food not the service, but sadly, I think the service was the better part of my lunch, not the food.


I went into the bathroom to wash my hands before eating and was pleased to find a non-smelly, relatively clean bathroom with modern fixtures that looked like it was recently renovated. Easily one of the better bathrooms at a Chinese restaurant that I've seen in a while.

Though there were some redeeming qualities, I was mostly disappointed with my lunch at Richmond Court Restaurant. Being in Richmond Hill, or "Beijing" as a friend of mine calls it, I was expecting a lot better food and my memory of the place was much better than reality. Perhaps it's gone downhill over the years? I remember thinking when I left that maybe this wasn't the place I was thinking of and it just looked a lot like it – a thought that still remains with me more than two months later…
it's hard to beat $20 for all that food though (cheap!), but when I got the bill I wasn't thinking "oh wow, I can't believe it's only $20", it was more along the lines of "good thing it was only a $20 experiment"… I would have gladly paid twice as much if it meant much better food.
Richmond Court Restaurant is open very late until 2:30am on weekdays and until 3:00am on weekends and is very affordable. You could do worse, but you can also do much better, especially in Richmond Hill.