I found out about Rol San Restaurant after searching various foodie sites for the best dim sum in Toronto. While there was no consensus anywhere on a definitive "best" place in Toronto for dim sum, it definitely came up over and over again and seemed to be a good place to start.
Since that initial visit, I've been to Rol San numerous times (I've lost track of how many) and at one point, I was even the mayor of Rol San on Foursquare. I really like Rol San a lot and it was definitely a sad day when I lost that mayorship…
The dim sum menu at Rol San is not very extensive, but they do have all of your "standard" dim sum items – and they make them well. I would rather a smaller menu and have everything prepared well, than a huge menu where half of it is poorly executed…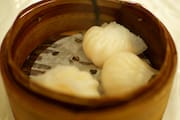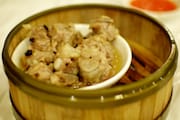 I really like the beef tripe at Rol San as well as the salt & pepper side ribs. A couple times we've ordered the mixed seafood dumplings and we've found that they're hit-and-miss – sometimes they're exceptionally good, and other times they're "just" edible… Hm. Also, the deep-fried mango and shrimp dumplings are very tasty and worth ordering, but not as good as the typical deep-fried shrimp dumplings at most places.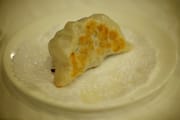 The Pan Fried Pork Dumplings at Rol San (not typically found on dim sum menus) are exceptional and I have to order these all the time. They are, without exception, the best pan fried dumplings I've had anywhere. Tasty!
Rol San also has a variety of dishes on their dinner menu, apart from dim sum, and though we haven't tried much of it, what we have tried is all very good. (It looks amazing when we see other people order it though.) The chow mein at Rol San is a large portion enough for two to four people and a great dish to order in combination with some dim sum…
The service at Rol San is fast and attentive – they're a little on the better end of what you'd expect at a Chinese restaurant, but not quite comparable to what you'd find at Lee Garden, for example.
When ordering dim sum, or any Chinese food for that matter, I am notorious for always ordering too much. I'm getting better at it, but we still find ourselves taking left-overs home everyone once in a while. I'm used to having to spend $45+ for two people like we did in Calgary, but at Rol San, $20 including tax and tip is often enough. In fact, every time we order the chow mein (around $12) I tell Michelle "remind me next time, just to order the chow mein and nothing else…"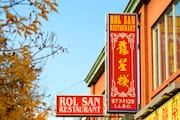 If you enjoy dim sum and don't mind eating on disposable plastic tablecloths, I'd definitely recommend giving Rol San a try. But if you've never had dim sum before, it may not be the best place to go (yet) since you have to order off the menu and there's no photos on the dim sum menu. I think everyone's first experience with dim sum should be at a place with cart service, no?
Rol San Restaurant
323 Spadina Avenue
Toronto, ON
+1 (416) 977-1128
DineSafe
If you know of other places in Toronto that are great for dim sum, I'd love to hear about it!