Salad King Packed for Lunch @ 2pm
To say the service on opening day was dreadfully slow and very disorganized is a huge understatement. The couple sitting next to me on my left waited almost two hours for one of their entrees to come out (the other took an hour). And the other couple to my right waited about an hour and a half. I was lucky that I only waited about an hour for my food, but that's nowhere close to what it used to be, and very unacceptable for lunch.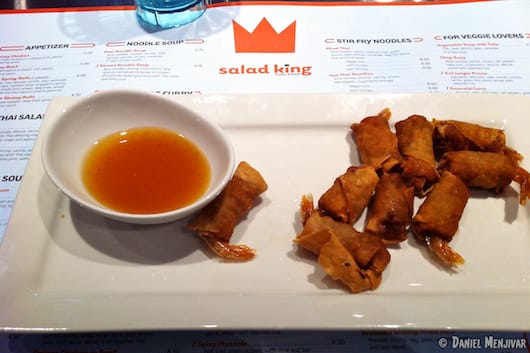 Apart from that, the high level of stress that Salad King was experiencing that day was also apparent in the food. It just wasn't as good as it used to be, but again, I figured it was just a result of not being prepared well enough on opening day. The shrimp rolls I ordered as an appetizer were overcooked (almost burnt) and the deep fryer oil was obviously very dirty by then. Palatable, but not delicious.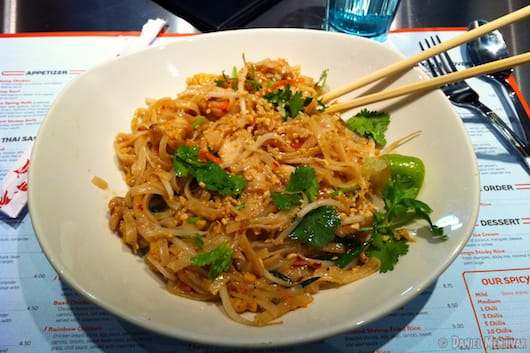 The Pad Thai I had for lunch at Salad King also left very much to be desired. It was way too sweet, had a very soft, (almost mushy), texture and while it wasn't the worst Pad Thai I've ever had, it definitely didn't make for a very good lunch. I don't know if this was the result of things not going smoothly on opening day or if it's just the way they make it there since this was my first time ordering the Pad Thai at Salad King.
I've read a couple of reviews online that suggest that Salad King is just not the same as it used to be anymore (ever since moving to the new location) and the general consensus seems to be that their previously high standards have seriously diminished. But I don't want to dwell too much on that opening day since I don't think it's entirely fair nor in any way indicative of what one should/could expect from Salad King going forward.
I definitely plan on returning to Salad King though – not based on my opening day experience of course, but based on the loyalty they've earned from me in the past. Hopefully by now they've had enough time to work out the finer details of their new space and hopefully my next experience will be more in-line with what I know they're capable of delivering.
My overall rating is based on my past experiences at Salad King and not placing very much weight on my opening day experience.
I almost forgot to mention – the new location is great; the decor and ambience are superb. Nicely re-done!
UPDATE –
I went back to Salad King last Thursday (), this time accompanied, and it seems like they have indeed had the time to iron out a lot of finer details since my last visit. The service and organization were much better this time around, but it still took far too long for us to get our food.
We ordered some spring rolls for starters and this time the oil was much cleaner than the last time when I ordered the mini shrimp rolls. While the texture of the deep fried spring rolls was perfect, their flavor was pretty bland and boring.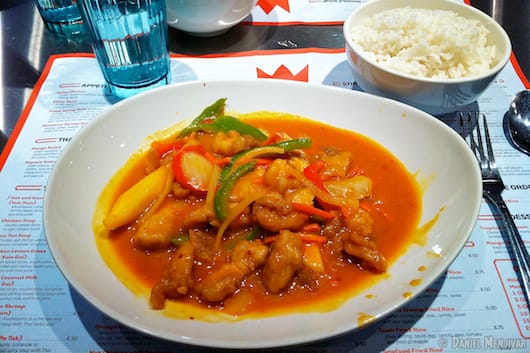 Michelle ordered the Mango Chicken and she really enjoyed it – she said she'd go back just for that, anytime. And I ordered the Basil Chicken, which was also very good.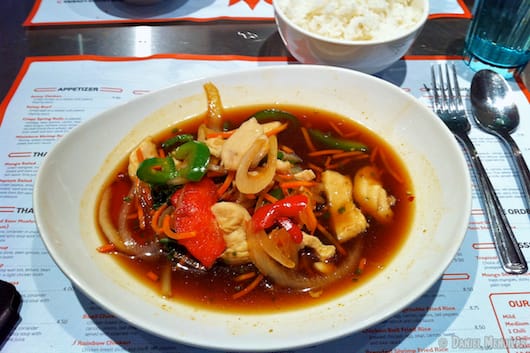 I much preferred the Basil Chicken over the Pad Thai – the "meat dishes" at Salad King are a much better way to go for sure. (At least that's what I go to Salad King for…)
After my second visit since re-opening, I'd say that Salad King is obviously trying to make improvements along the way, so that's a good sign! If you're in the area, stop by for lunch and tell me what you think…