I had decided not to sell masks. But now, I am indeed selling masks on dmstitches.ca. Getting to this point was quite a process…
When the COVID-19 pandemic started early this year, it didn't take long for YouTube to be flooded with tutorials on how to make masks. I found it entertaining to watch the mask making tutorials — so many different styles, so many different skill levels, and so many different objectives. Simultaneously, I was doing a lot of research into the efficacy of masks and reading news articles from all around the world on various different opinions and recommendations regarding masks.
I had a lot of people pushing me to sell masks, but I hesitated for months because I could see that many people were buying masks expecting that a mask would shield them from getting COVID-19. They probably won't. Most of the research I was reading said the opposite and I quickly came to the conclusion that masks do little to protect the wearer, but they are most effective as a public health initiative to prevent the wearer from spreading the virus to other people, especially when they don't know that they're carrying it in the first place.
From CNN.com:
The benefit of wearing masks in public isn't to protect you from getting sick. It's to protect others from exposure if you are sick or if you're an asymptomatic carrier.
I also knew that getting into the business of selling masks would require me to wear many hats: designer, sewer, photographer, web developer, marketer, promoter, accountant, etc., and I wasn't sure if I'd be able to handle all the work, given the considerable limitations on my health. But mostly, I decided not to sell masks because I didn't want to add to people's hysteria or appear to be trying to profit from people's misinformation about COVID-19.
And then two things happened which changed my mind…
First, I went to a Nations Grocery Store where they had signs everywhere: "no mask, no entry". I couldn't get into the store without a mask and I wondered if soon it would be like that everywhere? Whether you're on "team mask" or not, we might soon be required to wear a mask to get into many places. Just this week, Longo's grocery stores were added to the list of places requiring masks and Lyft launched a new health safety program requiring all drivers and riders to wear masks. So people are going to need masks, and disposable masks are quickly going to fill up landfills if quality reusable ones aren't readily available.
The second thing that happened is that someone sent me this video on YouTube:
It's a hilarious video of a lady trying to make herself a face mask and everything that can go wrong, does.
That's when I realized that if I have the ability to sew, and have a custom sewing business already set up anyways, I almost have a duty to make masks, so that people who can't make their own have somewhere to buy one. So, here we are.
If you're not sold on the idea of wearing a mask, here's an excellent article in The Atlantic:
The Real Reason to Wear a Mask

Much of the confusion around masks stems from the conflation of two very different uses.

Models show that if 80 percent of people wear masks that are 60 percent effective, easily achievable with cloth, we can get to an effective R₀ of less than one. That's enough to halt the spread of the disease. Many countries already have more than 80 percent of their population wearing masks in public, including Hong Kong, where most stores deny entry to unmasked customers, and the more than 30 countries that legally require masks in public spaces, such as Israel, Singapore, and the Czech Republic. Mask use in combination with physical distancing is even more powerful.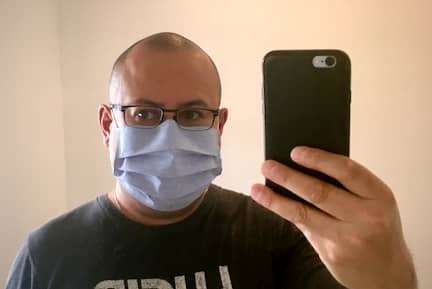 So I did more research on mask types and designs before ultimately realizing, why reinvent the wheel? Who am I to think that I can come up with a better design in a couple of days, when surgical masks have been in production for years, and are widely used not only in medical professions but in numerous other industries? Rather than try to make a custom design or some contoured shape-fitting mask, why not just make a surgical-style mask, but substituting fabric in place of paper?
The problem I found with a lot of the fabric masks available online is that sometimes they fit well, and other times they don't. What works best for my face doesn't necessarily work for all faces. So whether a particular homemade mask fits well or not is largely hit-or-miss. Sometimes they're too big, too small, too tight, too loose, or "need tweaking" in some way or another. Surgical masks with their three pleat design, on the other hand, allow them to fit more universally across multiple different face shapes and sizes, depending on how much or how little you spread the pleats.
Making surgical-style masks is a lot of work though! It would definitely be quicker and easier for me to make fabric masks without the pleats, and without trying to adhere to the design of a surgical-style mask. But of course, easier and quicker doesn't mean better.
After making a couple of test prototypes and planning out the most efficient way to make them in bulk (not one-by-one), I started by making a small test run of forty masks, mostly so that I could fine tune my production methods and see if/where there was room to make it more efficient.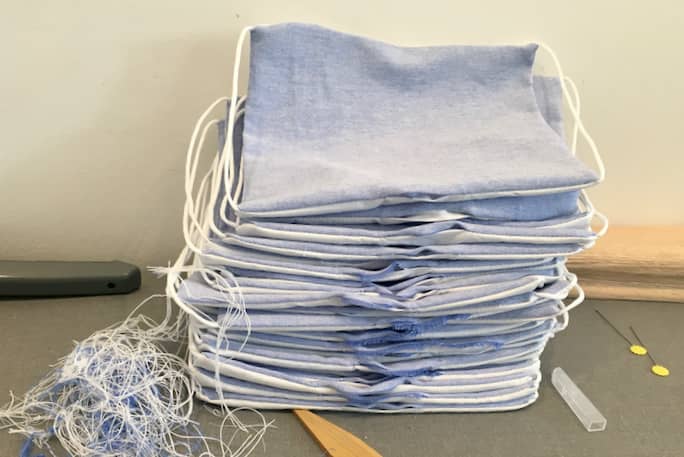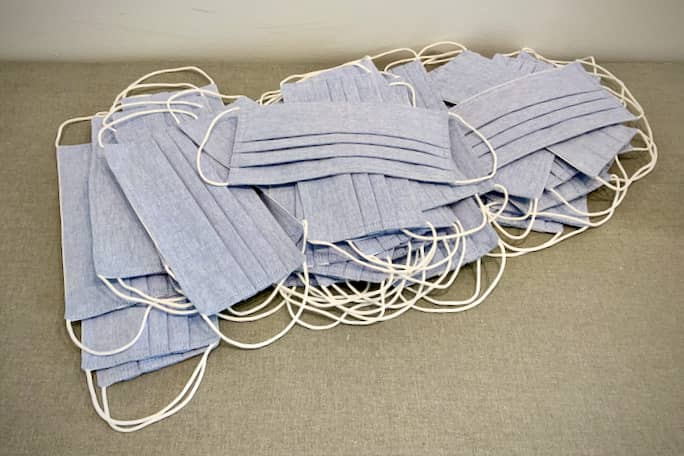 The fun part came after making that first test run and packaging them individually. I didn't realize just how much fun I was going to have taking photos of the masks, and I think they turned out OK!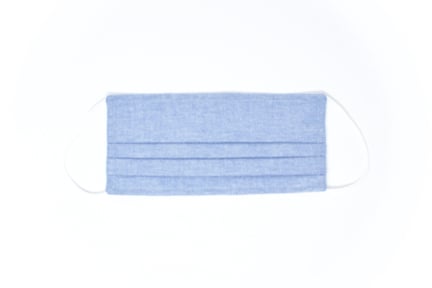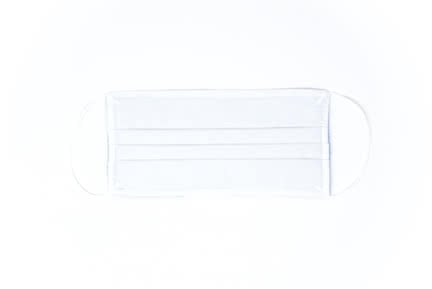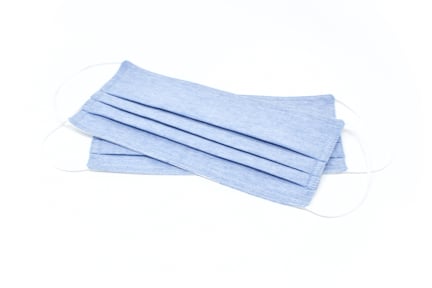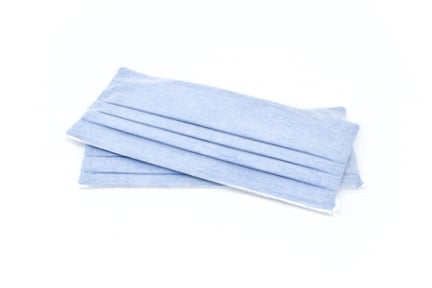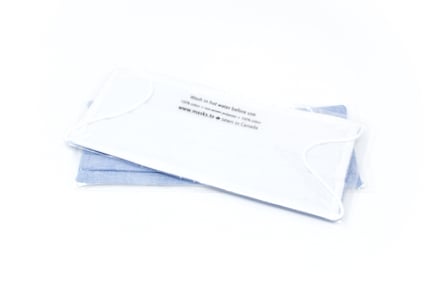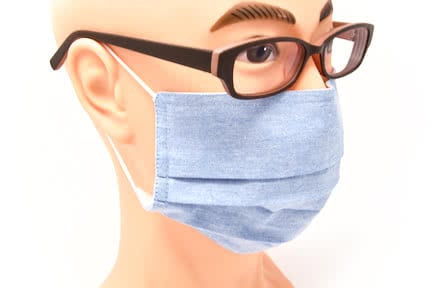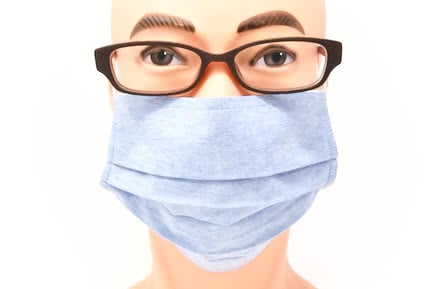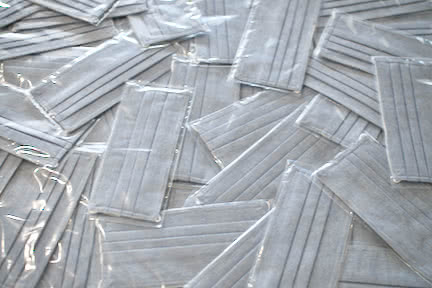 These "made in Toronto" surgical-style masks are not medical grade, but are made from all new materials (not recycled bed sheets) and are individually packaged and sealed. They consist of three layers: 100% cotton + non-woven polyester interfacing (that acts as a filter) + 100% cotton. Just like legit surgical-style masks, they have a metal nose wire and soft elastic ear loops. I've put several test masks through multiple washes in hot water with colour-safe bleach and they hold up surprisingly well.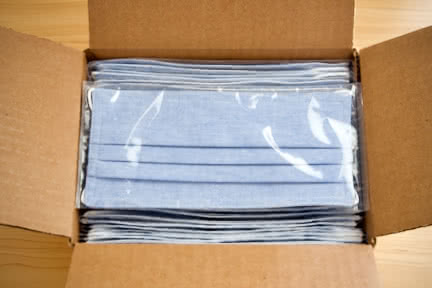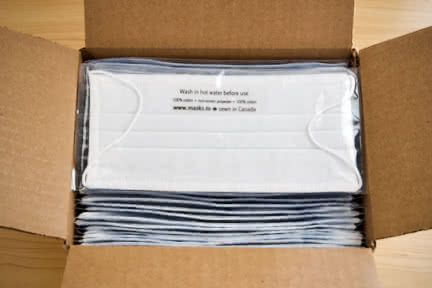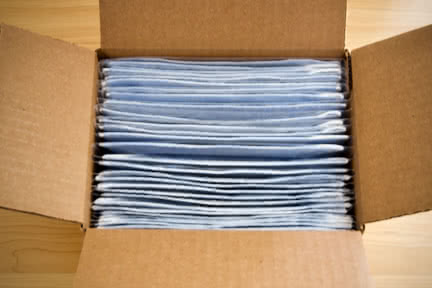 You can purchase these masks today from Frank's Pizza House in Toronto (including delivery through UberEATS and SkipTheDishes).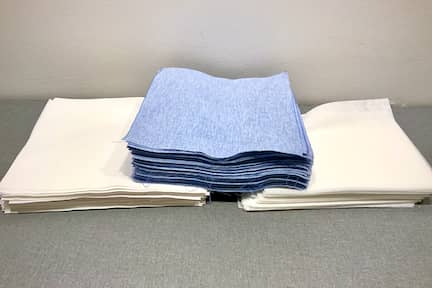 Now that my process is fine-tuned and my trial run complete, I'm making masks in batches of 100. I'm going to put much more information online in the coming days and will be launching an online store soon.