The Stockyards Smokehouse & Larder
I can't remember the last time I was this excited about a restaurant. The Stockyards Smokehouse & Larder or Stockyards for short, has quickly become my new favourite place to eat. And it's not even Chinese food!
From the homepage on TheStockyards.ca:
The Stockyards is the modern day interpretation of the family diner/BBQ joint! We offer reverently prepared renditions of comfort food and diner classics, from our 48-hour brined and marinated fried chicken, as well as authentic wood smoked Carolina style BBQ. The Stockyards respectfully embraces traditional methods of dry curing, aging and smoking that require time and patience. We hope you enjoy our effort as we are honoured to have you grace our restaurant.
I noticed Stockyards right away when we moved back to this area in April, but for whatever reason, even though it's only a short four-minute walk from home, it wasn't until mid-September that I first gave it a shot.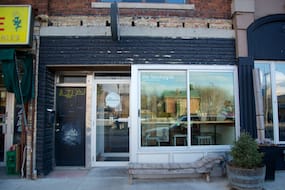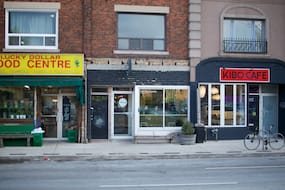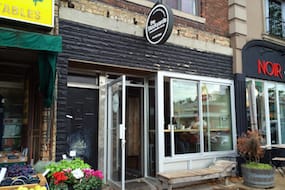 Stockyards is a small, 18-seat restaurant with minimal signage that's very easy to miss, especially with the Christie streetcar stop right in front. I attempted to eat there a couple times before September, but every time I went there was a massive lineup out the front door. On the one hand, I figured it must be really good if they have lineups like that, but on the other hand, with so many great places that I hadn't tried yet along St. Clair, I just preferred to pick another place and skip the wait. What a mistake! Stockyards is definitely worth the wait.



After a couple of visits, I quickly discovered that the best time to go is in the late afternoon after lunch. They have a steady stream of customers all day (both to dine-in as well as for take-out) but it's much less busy during off-peak hours.
During peak hours it can be insane. With huge lineups of people waiting to order, people standing around waiting for their take-out orders, plus others just waiting for a seat, it gets a little crowded near the front door. When leaving, navigating through all those people to the front door can take a while and it's been difficult to leave on a couple occasions. They could definitely use a larger place.
All the food is prepared from their open grill area (though they do have a kitchen in the back, and I suspect additional food prep space downstairs). I was lucky on my first of couple of visits that I always got a seat at the counter/bar in front of the grill, which is an experience I very much like: watching the cooks prepare the food right in front of me. I can't imagine what it's like to be seated at the front window with all those people coming in and out and crowding the front entrance. They do have some other seating as well, but now that I've gotten so used to it, I prefer to wait for a seat "at the bar" however long it takes, than to sit anywhere else.



The wait staff at Stockyards are always on top of things though, so everything runs very smoothly. Immediately after being seated they're quick to bring you ice cold water in a metal cup while you look over the menu. It's not a huge menu so they know it inside and out. They're knowledgeable, helpful and overall very pleasant and they don't hesitate to offer up their recommendations or personal favourites. The whole process — from getting you seated, taking your order, getting your drinks, bringing your food, to periodically checking up on you throughout your meal — runs without a hitch, like a well-oiled machine.
Drinks




Apart from their Homemade Iced Tea Infused With Ginger ($4), which is delicious, they also feature Boylan's sodas made with cane sugar, natural flavours and ingredients you can actually pronounce. All very good.
But it's not at all about the drinks. It's all about the fried chicken!
Fried Chicken
The Fried Chicken Dinner (4 pieces of buttermilk marinated chicken served with fries, coleslaw, and hot sauce — $15) is one their most popular items on the menu. And it's easily the best fried chicken I've ever had, anywhere. Brined and marinated for 48 hours and coated in a light Panko crust, it's perfectly crispy on the outside and succulently juicy on the inside. Insanely juicy, actually. I never knew fried chicken could be that juicy!



The Fried Chicken Dinner comes with such a huge mountain of super-crispy, blanched then double-fried French fries that it can easily be shared between two people. Once I discovered that I could also order just the chicken without the fries, I occasionally ordered the fried chicken as a side to one of their sandwiches… I wish they would sell individual drumsticks and not only four-piece orders, but that's a very gluttonous request, I know.
Everyday before 3pm they also serve Fried Chicken Over Belgian Waffles (with chilli maple molasses citrus glaze — $15 for four pieces). Wow! I could drink that sweet & spicy glaze by the glass. It pairs with the chicken exceptionally well.

The made-from-scratch Belgian waffle had a great flavour, but texture-wise I was hoping for a much more crispy exterior. If you enjoy light, soft and fluffy waffles (as I suspect most people do) then you'll love these waffles.
My order also came with fresh thyme sprinkled on top, which is a great addition. I just wish they were a little more subtle with the thyme and not so heavy-handed, but I'm being very picky. Either way, the chilli maple molasses citrus glaze was so good, I could eat that with anything. Can't get enough!
By October, I was on a mission to try everything on their menu, but it was always hard to not order the fried chicken dinner. Everything else on the menu is quite superb also, but the fried chicken is off the charts!
Griddle-Smashed Burgers
If fried chicken isn't your thing, you can't go wrong with any of the "Griddle-Smashed Burgers" at Stockyards.
My first burger at Stockyards was The Beast Style (two mustard-seared patties served with secret sauce, caramelized onions, lettuce, American style cheese and pickles — $14) which I ordered with just a single patty and added bacon. Simply delicious! Quality beef, awesome thick-sliced smoked bacon, caramelized onions that are to-die for, and oh yeah, they make their own cheese! Grilling the burgers with the mustard rather than putting it on later really does make a difference. You gotta try it!




On another visit, my wife Michelle ordered their Green Chilli Pimento Cheese burger (smoked jalapeño, cheddar, mayo, butter lettuce — $9) and was nice enough to share a couple bites with me. She liked the burger a lot so I imagine it must have been hard to share. It was so good actually, that we both forgot to snap a photo of it until it was already half-gone. We devoured that burger so fast! An incredible combination of flavours.
A new addition to Stockyards' burger menu is The Dirty Thirty (stuffed with house-made smoked cheddar and blue cheese; topped with onion frites, pickles, and house mayo — $11). There are only thirty of them available daily, and they all sell pretty quick.


Wow, what a burger! It's a stuffed burger so the cheese is inside the beef patty. I was expecting the blue cheese to be really strong and overpowering but it wasn't. Instead, the blue cheese was very subtle and barely there, making for a lighter-tasting burger than I was expecting. Even if you don't like blue cheese as much as I do, you'll like this burger. I got mine with bacon added and it's now my favourite burger. Sure, it's a little messy to eat once you bite into the beef patty and release all the cheese, but who cares… it's delicious!
Sandwiches
My first sandwich at Stockyards was the Pulled Beef Brisket (oak and hickory smoked beef brisket with Stockyards BBQ sauce, mustard, house slaw — $12). By then, I had seen them prepare this sandwich numerous times so I was really looking forward to it.



The generous amount of beef brisket was exceptionally tender, juicy and much more flavourful than I expected, while the sesame-topped crusty French bread was the perfect choice for this sandwich.
On the other hand, their house-made coleslaw is a little too sour for my liking, not to mention its pungent apple cider vinegar aroma. (It's not a sweet coleslaw by any means.) So with the mustard, their unapologetically-vinegary BBQ sauce and strong apple cider coleslaw all together in the same sandwich, the sliced pickles were completely unnecessary. My first bite was amazing, but it's a really big sandwich so by the end of it, it was starting to get a bit too sour. Don't get me wrong, I still ate every bite of it (pickles included) and licked my fingers afterwards, but unfortunately the last bite wasn't as good as the first. A little minor tweaking is all it needs.
My next sandwich, the Pulled Pork (slow smoked shoulder over apple and oak, with Stockyards BBQ sauce & house slaw — $8.50) though very similar, was surprisingly much better. From beginning to end, it took a lot of restraint to not swallow it whole!


Perhaps it was the absence of mustard and pickles? Or maybe just the fact that it was pork and not beef? Either way, just like the crusty French bread was the perfect choice for the beef brisket, this super-soft bun was also the perfect choice for the pulled pork sandwich. Just looking at the photo makes me want to go get another one!
I was reluctant to try the Grilled Cheese sandwich (Stockyards smoked cheese, green apple, caramelized onion, served on thyme-scented sourdough — $9) because I thought it was a shame to come to a place like this and order something so simple and boring. But boy was I wrong!
Stockyards makes their own cheese, then smokes it, then processes it to get processed cheese for this sandwich. That's a lot of work!


I expected the caramelized onions to be a great addition, that's a no-brainer. And I expected the green apples to be a nice touch but they were in fact a much better addition to the sandwich than I could have hoped for. Wow.
The ultra-gooey cheese was rightfully the star of the show though. Can you actually tell that the cheese is smoked? Yes, absolutely. Best grilled cheese ever!
BBQ Ribs & Chicken
The BBQ ribs and chicken at Stockyards are all about timing. You can only get them on Tuesdays, Fridays and Sundays after 5pm, and they usually sell out within an hour! Why? Here's what they say on their website:
Q: Why do we only sell our BBQ ribs and whole BBQ chickens only on Tuesday, Friday and Sundays after 5pm?

A: Since our smoker is the only wood fired cooker in Toronto, we cannot "set it and forget it" as you can with electric and gas smokers. We smoke our brisket, pulled pork, bacon and sausages on the other-days of the week. The smoking process can take up to 18 hours.
Sounds amazing, and from what I saw as I was leaving the restaurant a couple of times, it looks amazing too!




The timing is indeed a challenge, but I was finally able to try the ribs at Stockyards for the first time last week. I called from Bathurst & St. Clair at 6pm and lucky for me, they still had lots of ribs left. The stupid streetcar couldn't come fast enough! Hurry!
I ordered the Half Rack of BBQ Ribs ($14) while Michelle tried the (single) Beast Burger for her first time. I didn't get any fries with my ribs because I knew her burger would come with a mountain of fries large enough for the both of us to share. It was a good call, a half rack of ribs is a lot of ribs!


Knowing that they put so much time and care into their BBQ ribs, my expectations were indeed very high, but nevertheless, Stockyards still managed to blow me away with these ribs. Holy [insert expletive of choice here]! Ridiculously good.
The BBQ sauce comes on the side, but the ribs don't need it — they're succulent, flavourful and juicy enough as they are. And not only are they incredibly juicy, but they're also tender and easy to chew off the bone without being mushy and losing all texture. Perfect. They were so good I had to insist that Michelle try them right there and then, but at the same time, the thought of giving up a whole rib to her was painful. I took a bite from her Beast Burger to make it a "fair" trade and it was super delicious no doubt (she was in love with that burger), but it still hurt to give up a whole rib. They're too good to share with anyone!
A mere four days later, I was back at Stockyards, this time with a friend. They had already run out of BBQ ribs by the time we got there, but they still had some BBQ chicken left.

I ordered the Fried Chicken Dinner and my friend ordered the Pit-Smoked Half Chicken ($9) with a side of fries. We swapped a piece of chicken each so I got to try the BBQ chicken. Like the ribs, it comes with the BBQ sauce on the side but I ate my piece without. The barbecue flavours deeply penetrated the chicken and you could easily taste the hickory smoke. Very nice. It wasn't anywhere near as juicy as the fried chicken, but not at all dry either. Though I can totally see this being someone's preferred choice, the fried chicken is still my favourite.
My friend couldn't get over just how many fries were in front of him. Everything at Stockyards is served in a cast iron skillet lined with checkered deli paper, so however much room is left in the pan, they just fill it with a plethora of fries. They don't skimp out on the fries at all!
Garlic Mayonnaise
My friend also thought to ask for mayonnaise with the fries, something that had never occurred to me in my countless visits. (Personally, I prefer ketchup with potato fries.) They apparently make a garlic mayo (from scratch, of course) at Stockyards as a base to their many other mayos. I still remember the look on his face when he turned to me and exclaimed, this is the best mayo I've ever had in my life! We were seated at the bar and one of the cooks heard him repeatedly moaning and groaning wow as he started to eat, so he asked, the chicken really is something, isn't it? only to find out he hadn't even tried the chicken yet… What!? You gotta try the chicken man! Funny.
I tried a bit of the mayo and yeah, it was an exceptional mayo. We commented to each other that it's crazy that it's just a base to their other mayos!
I knew I had to take some mayo home to Michelle along with the large heap of fries I was expecting to have left over. But when I got home she had just finished eating, was feeling full and not in the mood to try anything. I insisted she try at least a little bit, so she did, just to appease me. And once she started, she didn't stop. She couldn't stop!
Garlic mayo at Stockyards… Who knew!?
I still have (only) two items on their lunch/dinner menu that I haven't tried yet: the Vegetarian Portobello Burger (griddle-smashed house smoked mushroom with butter lettuce, house mayo, ketchup, pickles and onion — $7) and the B.A.T. sandwich (bacon, arugula and fried green tomato, lemon aioli, on sourdough — $9.75). They also have separate menus for breakfast and brunch that look just as tempting as their regular menu. Oh, and as of recent, they've been making their own all-beef-brisket hot dogs as a daily special that I also haven't tried yet. I'm looking forward to trying all of it!
Service
One of the things that has stuck out to me on my many visits to Stockyards is how well all the staff seem to get along. They work very well together and it looks as though they truly enjoy being there. It seems like a great place to work and that's reflected in the service.
It's a super busy place during peak hours, so you have to have a certain level of experience to work at a place like that. I can't imagine it's easy, but without fail they've always been cool, collected and very customer-focused. And they make it look so easy too!

There's only one small (unisex) bathroom at Stockyards but I've never had to wait to use it and it's always very clean. Considering how busy they are, and the fact that it's only one shared washroom, keeping it that clean is impressive.
Stockyards is a very small place and it's really all about the food, so there's not a whole lot of extra room for frivolous decorations or cutesy ornaments. Nevertheless, they've still managed to create a casual, relaxed and very inviting atmosphere. It's not at all stuffy nor uptight, but not too rustic and informal either.




Stockyards has been around since 2009 and has gotten a lot of well-deserved recognition every single year. Early on when I was debating on trying something other than the fried chicken, one of the wait staff was kind enough to let me know that Macleans magazine says that these are the best burgers in Canada! I don't doubt it.

On the walls near the entrance of the restaurant, you can see numerous accolades for their fried chicken, many notable reviews and lots of great press coverage they've gotten over the years. And hey, Guy Fieri was nice enough to graffiti their wall and let you know he ate there too! Haha. (But seriously, don't let that dissuade you from checking it out.)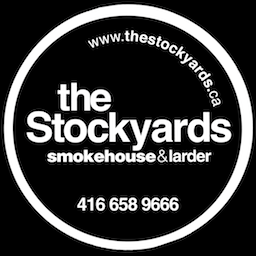 699 St. Clair Avenue West
Toronto, ON M6C 1B2
(416) 658-9666
DineSafe
I've never written a review this long before, but everything I've tried at Stockyards has been a real winner worth writing about! My new favourite place to eat!