Won Ton Soup
I decided to make Won Ton Soup the other day. I've never been one who likes to follow recipes – I sometimes look up recipes to get ideas on ingredients or twists, but I don't ever pay much attention to the quantities – I'm pretty good at figuring that out on my own. I can't say that I found any great recipes or anything interesting – not any different than what I was already planning anyways. The won tons turned out pretty good especially given the fact that it was my first time making them. My only complaint is that I used a little too much ginger in the filling, but it was still very good.
Here's my (adjusted) recipe for the won ton filling (quantities are approximate – I measure with my eyes):
1 tsp minced Ginger
¾ cup chopped Green Onion
1 cup sliced Water Chestnuts
½ small Red Pepper
2 Chinese Mushrooms (stems removed)
4 White Musrooms
2 tbsp Soy Sauce
1 tbsp Oyster Sauce
⅛ cup Chinese Cooking Wine
1 tbsp Sesame Oil
½ tsp Ground Pepper
½ tsp Paprika
½ tbsp Corn Starch
1 lb Finely Chopped Raw Shrimp
1 lb Ground Pork
Combine all ingredients (except pork & shrimp) in a food processor and process until smooth. Transfer to mixing bowl and mix in pork & shrimp. Makes enough won tons to generously serve about 12 adults, or 9 Canadian adults, give or take a fatso ;-)
In terms of how to assemble the won tons, I'm no expert in that department. Actually, I've never done it personally – I've always delegated that task to someone else (thanks Michelle, Alex & Mom). But there are many great sites with directions that can help you with that part of it. The only thing I can tell you is that when you're assembling the won tons, place the finished ones on a greased sheet of wax paper. If you don't grease the wax paper (canola oil is fine) then the won tons will stick to the wax paper.
For the broth, I took the easy way out this time around and used Knorr's powdered Won Ton Soup broth. (Actually, I fried some green onions in sesame oil first and then added water, soy sauce and the powdered broth.) It was decent. After cooking the won tons, we added white Chinese noodles, Chinese mushrooms, baby bok choy and snow peas just before serving. We also bought some BBQ pork and some BBQ duck to add to the soup. If your going to add noodles, cook them separately first or you'll get too much starch that will cloud up your broth. After draining the noodles and seeing the cloudy water, I was glad I didn't make that mistake.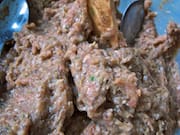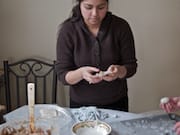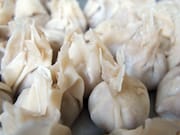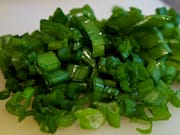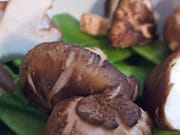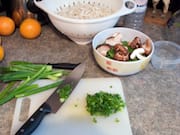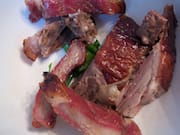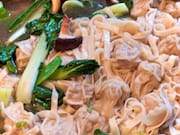 I was looking through these photos after dinner one day (I made Chinese food again – Sweet & Sour Pineapple Prawns, Pork Dumplings, Yang Chow Fried Rice with Seafood and Baby Bok Choy with Chinese Mushrooms) and I realized that when we made this soup, I forgot to take the stems off of the Chinese mushrooms – oops! don't make the same mistake – it makes the soup taste a little acidic.