After procrastinating all evening until it got too late to start making dinner at home, Michelle and I reluctantly decided to try out Basil Thai Kitchen literally just around the corner from our house. We've had Thai food many times before (good and bad) so our hesitation wasn't trying something new – it's just that around here on the Danforth between Woodbine and Main, there aren't a lot of great dining options and every place we've tried close by has ended in regret. But late that Friday, () just before closing time, we went to Basil Thai Kitchen and discovered a diamond in the rough.
We've passed by Basil Thai Kitchen countless times – it shares the block with many other "restaurants" that all look like the kind of places most people would walk past in a hurry to get to the next block… But unlike all the other "restaurants" on that block, Basil Thai Kitchen is the only one that actually looks like a restaurant more than a bar, and the only one you won't find overflowing with low-income blue-collar drunks in search of the cheapest beer they can find. So yes, when I say "a diamond in the rough" I really do mean rough…
The Food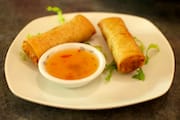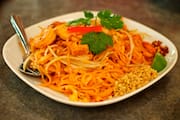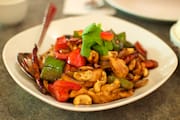 The food at Basil Thai Kitchen was remarkably good and a very sharp contrast to what you'd expect in those surroundings. All this time, we'd been judging a book by its cover and really missing out!
While the Pad Thai was much saucier than I'm used to (but not soupy), it was still one of the best Pad Thais I've had. The taste was marvelous, the texture of all the ingredients was spot-on and it was prepared exceptionally well overall.
The cashew chicken was obviously prepared with very fresh ingredients and was generously packed with both cashews and chicken. A lot of places try to cheap out on this dish and give you more onions and peppers than anything else, but this wasn't the case at Basil Thai Kitchen. Plus, the peppers and onions were very crunchy and not overcooked. My only complaint was that the whole dish was a little too salty (too much soy sauce) and we had to eat it with a lot of rice, but overall, it was very flavorful and still prepared well enough that it was easy to forgive.
The spring rolls we ordered were decent but nothing spectacular. I expected it would be served with plum sauce, but in its place was a slightly-spicy, very runny sauce – almost like the fish sauce you get with Vietnamese spring rolls, but not as good. While the spring rolls weren't the highlight of our meal, it was nevertheless still an appetizing start to an otherwise spectacular meal.
It was no surprise to us, then, when Basil Thai's owner told us that once people try their food they keep coming back – his only challenge seems to be getting people through the door the first time. He also told us that they've been there for seven years and that he recently received a phone call telling him that they had been voted the Best Thai Food Restaurant in East York, which doesn't surprise me either. Indeed, the food on our plates was not at all the caliber we expected – it almost felt out of place…
The food at Basil Thai Kitchen will surely have you going back for more, I have no doubt about that. But this is the food service industry, so food is only half of the equation…
The Service
So what about the service? Fortunately the service wasn't bad, but without doubt, it could also have been much better. that's a bad thing, but it's also a good thing…
The owner of Basil Thai Kitchen has a great personality, and we discovered when we were leaving that he truly has the potential to deliver an exceptional experience – it's unfortunate, however, that we didn't discover this until we were ready to leave…
To be fair, I did say that we went to Basil Thai Kitchen just before close – they close at 10pm and we arrived just before 9pm. I understand that people want to go home at the end of a long day and I'm always considerate of that and try to respect closing hours. But at the same time, I've never felt like I was being kicked out of place before, until this experience at Basil Thai Kitchen – and it was still a-quarter-to-ten by the time we left.
They hovered over us way too much as it got closer to closing time, and they cleared Michelle's plate before I was done – that's a big no-no! Then they hovered even more and stayed close-by waiting for me to finish. Once I put my fork down, they rushed in to pick up my plate and ask if they could bring me the bill right away. Did they have somewhere to be? Why didn't they tell me before we sat down? What about dessert? There were still more than twenty minutes left before closing time!
You'd be an idiot if you couldn't pick up on that hint, so we skipped dessert and let them bring us our bill. I could see in the mirror along the wall that they all had their jackets on already and were huddled together in the kitchen, anxiously waiting to go home. So how could I order dessert if they already had their jackets on ready to leave anyways? Not cool.
Yes, the food was great, but the way the experience ended really left a bad taste in my mouth, which is very unfortunate.
Like I said, we discovered upon leaving that the owner is actually very personable and a super nice guy. They definitely have what it takes to deliver five star service, but for whatever reason, they don't seem to be realizing their full potential. It is the food service industry and its obvious that their success is a result of their food, but if they want to take it to the next level, they're going to have to play catch up to get their front-of-house more in line with the standards being set in the kitchen. (Maybe that's why they called it Basil Thai Kitchen and not Basil Thai Restaurant? Hm.)
The Ambience
In terms of ambience, especially for having been in business for seven years, you can see that only the minimal amount of effort has been put into the decor and into creating a pleasant dining experience. It was very clean though, and I did have a quick glance inside the kitchen and it looked well taken care of, so that's a good sign. But the fact that the owner sat at a desk in the dining room the whole time was weird – I'd move the desk to the back or into the kitchen or something – it gives off the wrong vibe. The dining room has tons of potential, but it definitely needs work.
The menus and take-out menus from Basil Thai Kitchen are also ugly as hell. The take-out menus give you the impression that it's just another greasy Asian takeout place with unauthentic recipes that are designed to turn a quick profit and nothing else. (Which is far from the reality.) And their dine-in menus are only slightly better than that. In contrast, however, I was shocked to see that not only do they have a website, but it's actually pretty decent too! Menus, branding and decor are very important, (but it's not the end of the world, I know).
The Prices
The prices at Basil Thai Kitchen are very cheap for what you get. We ordered their Prix Fixe special for two, which included the Pad Thai, Basil Chicken and spring rolls for $22 – it would easily be enough for three and we ended up bringing some of it home. (There was no way we were going to leave it!) The Prix Fixe special we ordered had multiple options for starters and two mains – that's just what we ordered.
Overall
So would I go back to Basil Thai Kitchen? Definitely. The food is definitely worth a return visit. I'd like to see them invest some money into decor and into creating a better dining experience for their customers, but it's not going to stop me from going back for now. More urgently, however, I'd like to see them bring out more of their personalities when serving customers. They have the potential to deliver an exceptional experience – a memorable experience – but I'm not sure why they're just not doing it…
And now, a little bit of a comparison…
Basil Thai Kitchen is literally around the corner from our house. Not even a one-minute walk. But months ago, Michelle and I walked fifteen minutes along Danforth all the way to "Thai on Danforth" which looks very esthetically pleasing from the street as well as inside. (We never considered going to Basil Thai Kitchen.) And the Pad Thai at Thai on Danforth was easily one of the worst I've ever had. The service wasn't spectacular either, but it was very personable. I never wrote a review about Thai on Danforth because I had nothing positive to say about the food, but even still, I wanted them to succeed. Why? Their stellar personality. They also did a lot in terms of decor and had created a very unique atmosphere inside the restaurant – they were at least trying to create a memorable experience…
I never left Basil Thai Kitchen with that feeling of "I hope they succeed" though. They were too focused on pushing us out the door that I never really got to know them… If Basil Thai Kitchen could learn from "Thai on Danforth" – personality, service, decor – and couple that with their food, They'd have a winning combination!
The Pad Thai at Basil Thai Kitchen is also, without question, phenomenally better than the Pad Thai at the super-popular Salad King in downtown Toronto. Hands down. But Salad King has invested serious cash not only into their facilities and decor, but also into marketing and branding. Serious cash.
In one word: Basil Thai Kitchen – food; Thai on Danforth – atmosphere; Salad King – marketing. I'd rather eat at Basil Thai Kitchen, be seen at Salad King, and hang out at Thai on Danforth… Something to think about?
One last thing – Basil Thai Kitchen is not licensed for alcohol. While it would be nice to have a glass of wine with my meal, I can understand why they aren't jumping on this and getting licensed right away. There are already too many "restaurants" on the block that have been overtaken by drunks – I'd probably want to keep alcohol off the menu too… At least for now.
(The first image of Basil Thai Kitchen from the outside is from Google Street View. No, Toronto doesn't look that green and lush in March.)