Ting in a Glass
Though I had already ordered in my mind by the time I sat down (I knew I was going to have the Ox Tail), I still had a good look through the menu to see what else they offered – I decided to order some jerk chicken wings off their appetizer menu.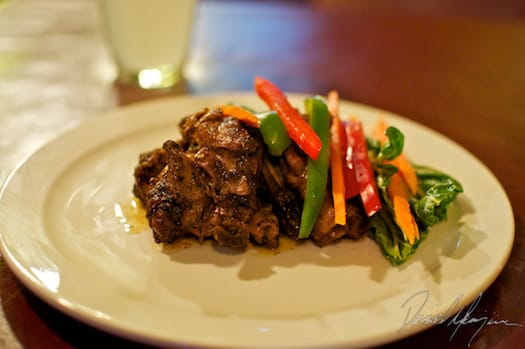 The jerk chicken wings were actually a terrible start to the meal. I've had jerk chicken many times before, but these wings were super greasy and were oozing oil onto the plate. You could tell that they were reheated in a microwave, probably from frozen, and were definitely a couple days old. While some parts of the chicken wings were soft and falling apart and had lost all texture, other parts were hard and chewy – freezer burn maybe? Not a good start at all. (And yes, they were spicy – maybe too spicy for most people's taste, but I'm used to it.)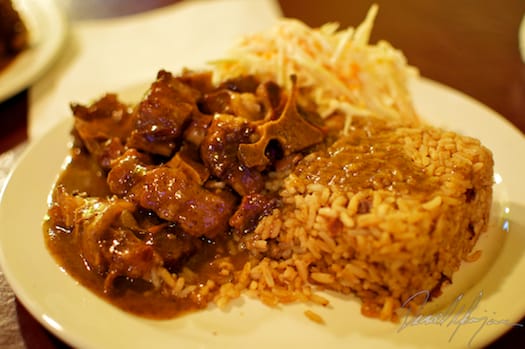 Ox Tail always puts a smile on my face and I'm always interested in tasting the subtle differences in the recipes of various establishments. I can't help but to compare it to other places – that's normal, no?
Well, the Ox Tail at Cool Runnings was probably the worst I've ever had, but to their credit, I like to think that I've been spoiled with great Ox Tail… don't get me wrong, there was nothing wrong or offensive with the Ox Tail (unlike the chicken wings) but there was just nothing about it that would ever make me want to go back. In fact, I remember sitting there with Michelle and both of us saying to each other that next time, it's probably worth the long subway ride to go up to Albert's Real Jamaican Foods on St. Clair & Vaughan…
The coleslaw that came with the Ox Tail was actually really good though and probably the best thing on the plate. The rice and peas, however, that's a whole other story. If I had to guess, I'd say they made some Uncle Ben's Minute Rice in the microwave (with lots of butter) and then mixed in the beans afterwards – it's much better when you actually make the rice together with the beans…
I was really hoping that Cool Runnings would be stellar since it's so close to home, but in the end, Michelle and I decided it really is worth making a trip out to Albert's next time… Too bad. (In fact, I remember we agreed that even just a plate of rice and peas from Albert's, with no Ox Tail, would be worth the trip. Add Ox Tail to the mix and there's no contest…)