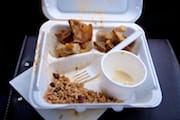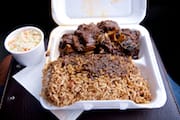 The spicy beef patty ($1.50) was very well made, had a nice texture overall and was noticeably fresh. The filling was smooth and full of flavor but it could have used a lot more spice/heat for my preference. The pastry was notably soft and not too thick nor chewy like the ones you find in the subway. For the most part though, while it was unquestionably an above average Jamaican meat patty, there was nothing very memorable nor shockingly exceptional about it.
The Ox Tail Dinner ($11.50) was much spicier than the spicy meat patty, but not so spicy that it was unbearable. (Been there, done that.) The ox tail meat was packed with flavor, super tender and fell off the bone with little effort. Indeed, there are a lot of bones (it is ox tail after all), but there's always a lot of meat on the bones at Albert's and the portion is so large you definitely won't leave hungry.
The accompanying rice and peas are best described as awesome. Seriously, just the rice and peas alone would make anyone happy (and satisfied). I recently discovered that you can actually order just rice and peas with ox tail gravy for $5.75 – it comes in the same size container as the Ox Tail Dinner, packed solid with rice almost to the point of overflowing, (way more than enough for two people), and is topped with a generous helping of ox tail gravy that's rich in shredded ox tail meat. So good!
The thing about the Ox Tail Dinner at Albert's is that every bite keeps you coming back for more and it's hard to stop eating once you've started. Dealing with the bones and getting the most out of them is easiest with your hands though, so be prepared to wash up right after you eat – your fingers will get super sticky real fast. The portion really is quite large too – Michelle and I always share a single order (large) and occasionally still have some rice left over for our dogs…
Unfortunately, the coleslaw that came with the Ox Tail Dinner was nowhere near the quality of the rest of the food. It was littered with a ton of black pepper specks (that's what white pepper is for!), but more offensive was the excessive sweetness – way too much sugar in there! I could also taste a lot of bitter/sharp cabbage stems, which is never what you want in a coleslaw. You can see from the photos that I still finished most of it anyways, so it's not unpalatable, but next to the exceptionally good ox tail meat and the shockingly-good rice and peas, it's very out of place.
Albert's has expanded quite a bit since we moved away from the Bathurst & St. Clair Area in 2006. It used to be that entrance was off of St. Clair and the limited space encouraged more take-out orders than dining in, but they've since taken over the much larger space that the Coffee Time used to occupy at the rear of the building (off Vaughan and next to Dutch Dreams), in addition to keeping their original space. Apart from now having a much larger kitchen (for catering, apparently) and the entrance being moved over to Vaughan, they now have a lot more space for dining in – you can now sit at a proper table to enjoy your meal and even order a beer or two while you're there…
Here's a photo I took of the original Albert's location during a heavy rain storm in 2006, and some photos of what it looks like now in 2012, after the changes: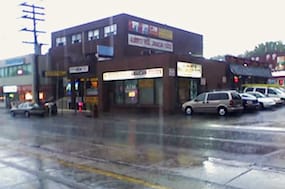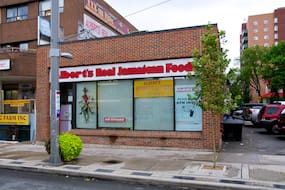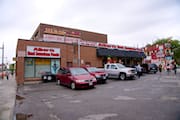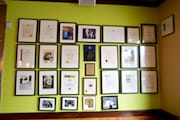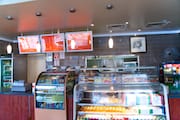 I do find myself missing the character of their old space, but the new layout is much more functional and makes a much better first impression.
don't be intimidated by Albert's – the food is fresh, very delicious and super tasty! it's affordably priced and you definitely won't leave hungry.