The photos online looked really good and I couldn't believe that I had been passing by this place every two weeks for more than a year and never noticed it. But you don't really expect to find good dim sum outside of Chinatown either, or at least I don't (unless it's up north in the 905's).
Even though it was only a couple blocks away, there was no way I could walk there in my current state of health, so I got on the bus and got off two stops later. Once I got there and saw the place from the outside, it was no wonder that I had passed by this place (on the bus) countless times and never noticed it. it's very hard to notice…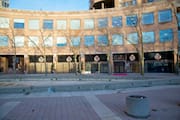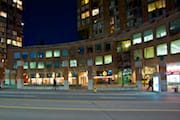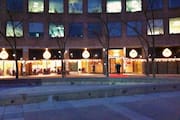 Once you're inside it's a whole other story though! Impossible to miss. The decor is very lavish and over-the-top – definitely living up to the "fine dining" part of their name, but it's not at all what you expect for dim sum. I stood in their grand entrance and took it all in – what a superb first impression!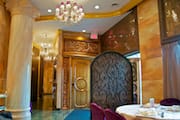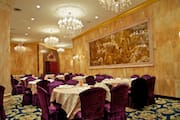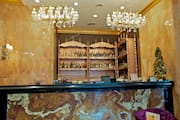 Super high ceilings, lots of chandeliers, marble everywhere, gold finishes, royal-purple padded chairs – definitely fit for a princess! I was in jeans and felt very under-dressed for the place but there was only one other table in the restaurant at the time and my server who greeted me at the door didn't seem to mind. Good thing – my first impression blew me away and I knew I was in for quite a treat!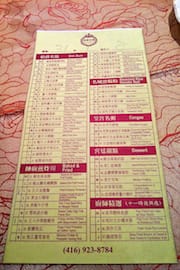 I arrived only minutes before 4pm – my server let me know that they only serve dim sum until 4, but this time he'd let me go ahead and order off the dim sum menu anyways, as long as I was quick to order. No problem.
There are no carts at Crown Princess, (which I really like when I'm in the mood to try something new but not sure what to order), but on this first visit, I just wanted to try their interpretations of the basics anyways, for comparison purposes.
The place setting for one was definitely fine dining – gorgeous china (bowls and plates), chopstick holders, a real tea cup on a saucer, a gorgeous tea pot with intricate finishes – details, details, details… Everything I'd possibly need to enjoy my meal (even hot sauce) was there in front of me before I could even finish filling out my order sheet. Usually I find myself forgetting to ask for hot sauce until the last minute and then having to anxiously wait for it – so it was nice to already have it on the table before I even started eating and not have to ask for a change.
Just like their tea pot and fine china is not what you get at most dim sum places, their food is also not the same as most – it's still what you'd expect of dim sum, just very refined and kicked-up a couple notches.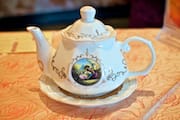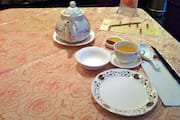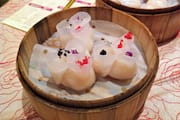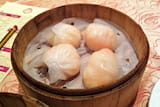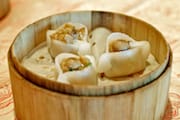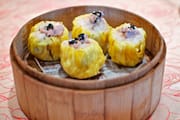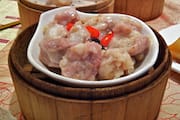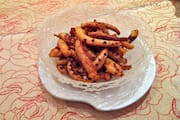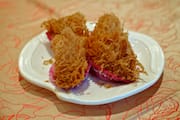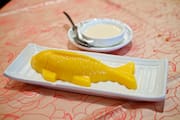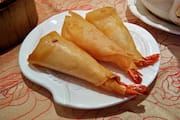 The tagline on Crown Princess' website reads: Featuring Cantonese fare and sumptuous delights, an unforgettable eatery experience. Well, my meal was definitely sumptuous, delightful and very unforgettable!
My Har Gow Shrimp Dumplings ($5.30) were a cut above any other Har Gow I've had; the Steamed Scallop & Shrimp Dumplings ($6.30) looked amazing, had a sumptuous texture, were undeniably fresh and unbelievably delicious; the Fried Octopus Tentacles ($5.30) were full of flavor, crispy on the outside and soft on the inside – not at all rubbery; the Spare Ribs with Black Bean Sauce ($3.10) were beautifully presented with black beans and chilies in the centre and were somehow better than anywhere else I've had them.
The only dish that wasn't what I expected was the Crispy Jumbo Shrimp with Mayonnaise Sauce ($6.30) – I flagged my waiter down asking for the mayonnaise sauce thinking that he had accidentally forgotten to bring it, but it turns out, it was already inside. Really? The result was a million times better than anything I could have imagined and a week later I still find myself obsessively craving these. Inside the crispy wrapper were four very large shrimp in a warm fruit cocktail mayonnaise sauce. Impossibly delicious!
The food was so good on my first visit that before I had even left, I was already planning a return visit. Even in my poor state of health, barely being able to get out of bed on some days, I still managed to make it back two days later (by planning my whole week around it).
On my second visit, I repeated my first order and added four more dishes. (I know, that's a lot of food for just one person. And yes, I did finish it all.)
When handing my order to my server (the same server as on my first visit) I asked him if there was anything special that he thought I should try. He looked at my order sheet and then suggested I try the "Zen" Vegetarian Dumplings ($4.30) – he said they were very good and kind of like a "house specialty". They were very good indeed – they were the first thing that came out and I quickly devoured them before realizing where I was and I had to remind myself to slow down. Definitely recommended.
The Goose Liver and Caviar Siu Mai ($6.30) were the least remarkable of my additions, but that doesn't tell you much – what I should tell you is that they were the best Siu Mai I've had anywhere. The goose liver was a great addition to Siu Mai, not to mention the caviar. The Crispy Taro and Mushroom Dumplings ($6.30) came presented beautifully and just the memory of them makes my mouth water – truly outstanding. They somehow managed to get a very strong mango taste in the Mango Pudding ($4.30) without making it too sweet, which was a great way to end a meal; the presentation was indeed very fine dining while the portion was notably larger than most places (enough for two to share).
Just as I was finishing up, I got a text message from Michelle wondering what we were going to do for dinner, so I decided to order her a Yeung Chow Fried Rice ($18.00) to go. The rice was not at all greasy nor sticky and had generous quantities of BBQ pork and very large shrimp. It was prepared skillfully with notably fresh ingredients and was just as mouth-watering delicious as the dim sum I had.
it's not uncommon to find "fine dining" places that charge you a lot only to cut corners with the food or deliver less-than-stellar service, but this is not the case at Crown Princess. The attention to detail is impeccable and you can tell that they are definitely trying very hard.
One indicator I use to judge the service at a restaurant, as I've said in my reviews many times before, is whether the experience was memorable or not. A week later, I still vividly remember my experience and even remember my server's name – Dave, (who happens to be the restaurant manager). Dave was a little hard for me to understand at first but not in a way that made it feel like a struggle – he's very personable and you can see that his desire to serve is very genuine and a natural part of who he is. He definitely tries hard to make sure his customers leave happy and for not being the owner, he sure does care a lot about the place!
To give you an idea of the attention to detail – after I left (the second time) I looked back inside and noticed he was spraying the front entrance down with some deodorizing spray. Maybe not a huge deal, but how many restaurants have you seen this at before? Also, when he was running back to the kitchen to return my empty bamboo steamers on one occasion, I noticed he paused at a table and carefully looked it over. To be honest, it looked fine to me, but he returned to fix the tablecloth since it wasn't perfectly centered. Details, details, details. Also, on my first visit, (I had arrived just at the cut-off time for dim sum and the restaurant was empty), I noticed Dave was eating lunch with the kitchen staff at the far back of the restaurant. He interrupted his own lunch several times to get up and check up on me – and every time he made sure he put his suit jacket back on before coming to my table. It wouldn't have bothered me if he came in just his shirt and tie, but to Dave, that wasn't good enough. that's attention to detail!
The service at Crown Princess on my two visits was impeccable – it paved the way for an exceptional fine dining experience, just as their name indicates. But what stands out the most about the service (on both visits) was the personable and casual nature of my server that was void of any uptight or stuffy aftertaste you normally get with fine dining. It was attentive and friendly service fit for a prince(ss).
One last note – the bathrooms. I've never talked about the bathrooms in any of my reviews before, but the bathrooms at Crown Princess deserve a mention. The restaurant's decor is definitely over-the-top and luxurious and the bathrooms are, surprisingly to me at least, no different. Not only were they the cleanest bathrooms I've ever been in at any restaurant, (and the most luxuriously designed), but they're also full of small details that make a world of difference. For example, the toilet paper wasn't the cheap, thin commercial stuff; the hand dryer was a high-tech Dyson (which I'm told isn't that uncommon – I guess I really don't get out enough…); the doors to the stalls were grandiose and regal; and did I mention it was super clean?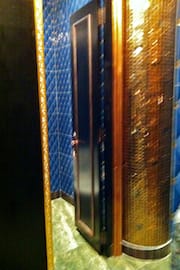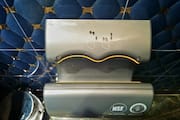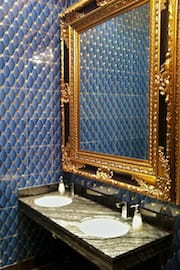 Photos only ever tell part of a story – I highly recommend going down to Crown Princess to experience it for yourself.