I've passed by Sandy's Restaurant (on the southeast corner of Woodbine and Danforth) countless times and from the outside, it doesn't look like a very nice place to eat. Maybe I'm starting to get a little desensitized to this area, or maybe I'm just starting to get a little more open-minded, but whatever it is, I finally decided to give Sandy's a try last week, and I've been back two more times since then.
I suppose that's a good thing, but at the same time, I'm not about to recommend jumping on the subway and going out of your way to visit Sandy's. If you're in the area, it's better than it looks, very clean and not the worst option in the area…
I've blogged quite a bit about how much I like authentic Chinese food, and in my article "I love Chinese Food!" I wrote:
Yes, I love Chinese food, but not the watered-down North-Americanized Chinese food that you'd find in a food court at a mall (like sweet and sour balls, spring rolls, ginger beef, brown soy sauce fried rice, etc.), but the real deal authentic Chinese food. (it's not at all the same thing…) it's pretty hard to find sometimes and then even when you do, you still have to know what to order.
The Chinese food at Sandy's is definitely not the most authentic you'll find in the city, (and nowhere as good as King's Noodle Restaurant in Chinatown, for example), but when only half the menu is Chinese food and the other half is Western "Canadian" food, it's obvious that they're trying to appeal to very conservative palates. There's even a whole section on the menu dedicated to "sweet and sour" dishes…
Just like East Side Mario's isn't really Italian food, or how Taco Bell isn't really Mexican food… but sometimes you're in the mood for a Mexican Fries Supreme, or sweet and sour chicken balls anyways.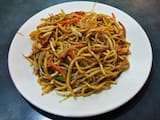 On my first visit to Sandy's I ordered #106 – "Shanghai Noodles" Daily Special ($6.99), which comes with a coffee, tea, or orange juice. I was expecting something similar to what you'd find in a food court and my expectations weren't far off from what I was served, but for what it's worth, I'd say it was slightly better than what you'd find in a food court. Real shrimp, BBQ pork and no cabbage as filler. There were bean sprouts in it though, but just enough that made it a pleasant addition rather than a filler. My first visit brought back memories of Wok n' Roll Bistro in Calgary, but probably because it's been a while since I've had North-Americanized Chinese food that wasn't trying to pretend it was anything else. Either way, it was good enough to pique my curiosity and want to return to try their "Canadian" dishes.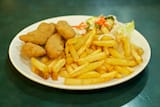 On my next visit to Sandy's, I ordered the Chicken Fingers with French Fries and Coleslaw ($6.99), and a glass of Orange Juice ($1.50). The chicken fingers were moist and tender, but not what you normally expect with chicken fingers – I was expecting more of a crunchy breaded texture, but they were very soft and seemed almost battered. It was also a little odd to have so many pepper specks in the flour mixture, but I like pepper so it was all good.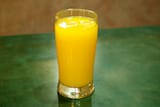 The only plum sauce they have comes in packets (Wing's) and it was a little annoying to have to squeeze it out onto my plate to dip the chicken fingers. I suppose I could have asked for a ramekin to squeeze out a bunch of packets and make it easier, (and I probably should have), but I didn't. The fries were also very good (likely frozen and out of a bag though), but their coleslaw definitely wins the prize for the worst coleslaw ever. Actually, you can't really call that coleslaw. It was just soggy sweet pickles with pickled carrots and julienned lettuce (not cabbage) on a bed of iceberg lettuce. Super sour to the point of being inedible and the farthest thing from coleslaw I've ever seen. Good thing the portion of chicken fingers and fries was big enough that I didn't need the coleslaw anyways.
On my third visit to Sandy's I went with Michelle and she ordered the chicken fingers and fries – she liked the fries but found the chicken fingers "bland" and agreed that the coleslaw was an inedible disaster. I was still curious about their Chinese dishes, so I ordered a Wonton Soup ($2.99), Spring Roll ($1.50) and Cantonese Chow Mein ($9.75). Yes, that's a lot of food!
I was pleasantly surprised to find little strips of BBQ pork at the bottom of my wonton soup but the wontons themselves were very weak, like what you'd get at a cheap all-you-can-eat Chinese buffet. They had too much water chestnuts, no shrimp, a grainy texture and definitely weren't packed with flavor – in fact, there are some really good frozen wontons (made in Richmond Hill or Markham?) that you can buy at the Sobey's by our house that are infinitely better. Their broth, on the other hand, was very delicious and I drank it all up, which I don't normally do, anywhere.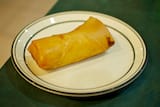 The spring roll was… a typical spring roll. Just very big and thick – apart from the size, there was nothing very memorable about it. Good though.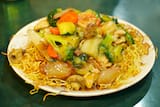 The Chow Mein was a lot bigger than I expected and I was pleasantly surprised to see that the egg noodles were cooked perfectly – there was a perfect balance between soft, saucy noodles in the middle of the plate with very crunchy and crispy (but not burned) noodles on the edges – just how it should be. it's too bad that the vegetables were soggy and very overcooked though, otherwise it would have been a lot better.
On my first two visits to Sandy's Restaurant (both times in the late afternoon) there was a lot of traffic coming in and out, mostly for pickup orders. It was great to see that they have a lot of regular customers and they remember everyone's favourite order. Which means, either they have a really good memory and are very customer service focused, or, their regular customers order so often that it makes it a no-brainer to remember – but either way, it's a good thing, no? The service on all three of my visits was attentive without being overbearing and it was obvious that they recognize the importance of providing good service…
Above everything else, the thing that sticks out the most about my three visits to Sandy's Restaurant is the affordability. Most places in this area are priced relatively low and Sandy's is no different – less than $10 including tax and tip for a decent meal – only, at Sandy's that also includes a drink…
Again, I'm not about to recommend jumping on the subway and going out of your way to visit Sandy's Restaurant, but it's a decent option if you're in the area.
Sandy's Restaurant accepts cash only, but there is a Scotiabank, TD Canada Trust and Royal Bank on the corner of Woodbine and Danforth. Still, these days who carries cash anymore? Even if I had to pay $1 extra in Interac/terminal fees every single time, I would prefer it over "cash only" – wouldn't you?