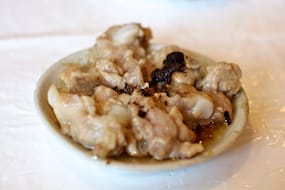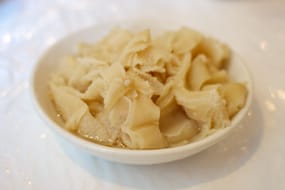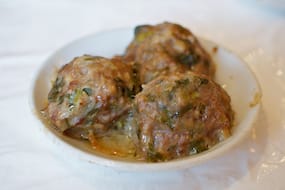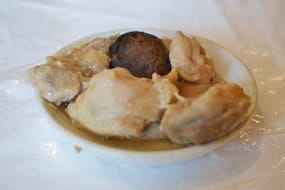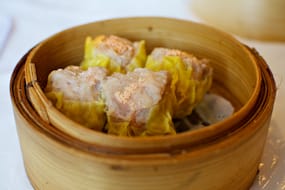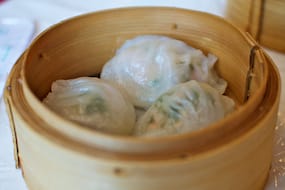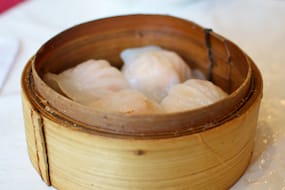 The first time I went to Forestview, I went alone and it was during the peak of lunch time. For dim sum, I prefer having cart service, (which Forestview provides), over ordering off a menu. Everything came out fresh and piping hot – they get super busy for lunch so they have no other choice but to serve everything fresh.
It didn't take me long to figure out that none of the dim sum ladies at Forestview speak English very well – my kind of place! For the most part, they didn't really show me what was on the carts though. I think they assumed, since I wasn't Chinese, that I would just want Siu Mai, Har Gow, a bunch of deep fried stuff and nothing more, so it was a little difficult to get what I really wanted.
I asked one of the cart ladies for "tripe" and she nodded, "Yes, chive. Chive. Chive!" as she forced these shrimp and chive dumplings on me. LOL The shrimp and chive dumplings were good though.
It occurred to me to pull out my iPhone and use Google's translate app, (which I'm using to learn to speak Mandarin), and I typed in "beef tripe" and showed the Chinese translation to the waitress. She nodded at me and went to get another lady (who had the tripe on her cart) but I could see that she didn't want to come over and they were arguing over what I had really asked for. (Is it so weird for a non-asian to order tripe?) When she finally came over, she wanted to confirm and re-confirm many times that I indeed wanted tripe before serving me up a massive portion of it. It wasn't the tripe I was used to getting at dim sum (see the first photo above) but it was very delicious. Wow!
A couple dim sum items at Forestview are a little better than at Rol San, but for the most part, I prefer Rol San's dim sum. The prices at Forestview are noticeably cheaper than at Rol San though.
And if the lower prices weren't already low enough, during off-peak hours they have "dim sum happy hour". Instead of $2.50 for most items, it goes down to $2.00 each…
Four days later, I went to Forestview again, but this time with Michelle. We went on in the early afternoon, so it was during happy hour prices. I told Michelle that if that had been my first visit, I probably wouldn't go back. The restaurant was much quieter (maybe only five or six tables) and the dim sum the second time around was not fresh at all, nor was it as hot. Sure it was cheap, but I would have preferred to pay full-price and get the same quality and service I got the first time, than to have lukewarm leftover dim sum that looked like it had been sitting on the cart all afternoon. (It probably was.)
The dim sum at Forestview is good enough that I can recommend it, plus I'm a little biased towards cart service for dim sum. it's worth checking out if you haven't, but I highly recommend going during peak lunch hours when they're busiest. Oddly, you'll not only get better food during their lunch rush, but you'll also enjoy better service…
Forestview Chinese Restaurant
468 Dundas Street West
Toronto, ON
+1 (416) 597-0319
DineSafe