Hidden Gem: Nube Pasajera
In a recent blog post, Hidden Gems in Music, I had written about discovering small hidden gems within songs that I hadn't heard in a long time. I find myself coming across these "gems" quite often lately, so I've decided I should share more of them and start a series of blog posts, similar to my restaurant reviews. I don't intend on reviewing full albums or full songs but occasionally I do come across small sections in individual parts that catch my attention…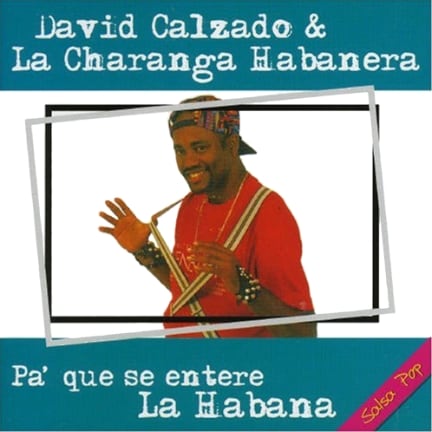 I was recently transcribing and re-orchestrating Charanga Habanera's "Nube Pasajera" for a client in Norway and came across another of these. I've heard this song countless times over the years but I had never paid much attention to the piano. From start to finish, the piano part is nothing short of exceptional and if you listen carefully for it, you can easily hear a lot of it, especially closer to the end. But at the beginning of the tune (after the opening montuno and coro) there is a horn section right before the first verse where the piano part is absolutely gorgeous. I can't believe I had never caught this before, but it is buried under loud horns and then vocals come in on top of it too, so it's pretty hard to hear if you're not specifically listening for it…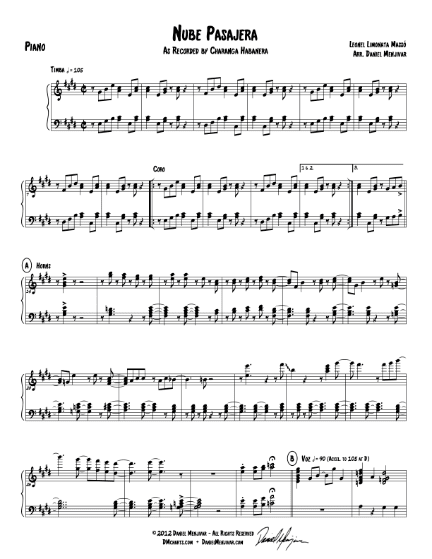 You can listen to a clip of the original recording, but I also created a short clip from Finale so you can hear just the piano part in case it's too hard to isolate on the original. You'll have to excuse Finale's lack of groove though… Also, if you can read music, you can view a sample of the first page of the piano chart by clicking on the thumbnail image — both audio clips start fading in about four bars before rehearsal marking A on the chart and continue past mark B. The audio clips also include part of the first verse where it's mostly just piano accompanying the vocalist and that's not hard to hear on the original recording at all, but it's still very nice playing nonetheless so I included it in the clips anyways.
It's a shame this is buried under the horns… The piano playing on the rest of the tune is exceptional as well — there are lots of hidden gems scattered throughout the piano part on this song and the montunos at the end are aggressive and masterful…
The amount of work it was to transcribe just the piano part on this song was equivalent to roughly three complete charts with four horns, piano, bass and percussion. Well, maybe not exactly, but it definitely was a lot more work than I had expected to do for just this one song. I didn't mind the extra work though, since it's a song that I actually like and transcribing it was both fun and rewarding. In the future, I'll have to pay better attention before quoting a price, but this is so hidden that it would have been hard to catch in advance anyways.
This song is from Charanga Habanera's 1996 album, "Pa' Que Se Entere la Habana" and you can buy it on iTunes.