About , I went to Hue's Kitchen for lunch, just south of Yonge and Bloor in Toronto.
I arrived just after twelve noon, which is a busy time for Yonge & Bloor with all the office buildings in the area, but I was seated right away and didn't have to wait at all so I was off to a good start.
It took me a while to order though, partly because I was a little indecisive that day, but mostly because I wanted to thoroughly look over the menu and see everything they offered. Several waitresses came by several times to check up on me and see if I was ready to order, so if you're in a hurry for lunch I suppose that's a good thing. In my case though, while I didn't have an unlimited amount of time that day, it did seem like they pushed me to order a little too hard – it would have been nice of them to make some recommendations, or offer to help me decide on what to order instead of making it so transactional…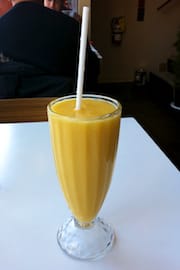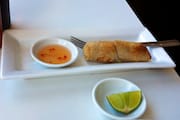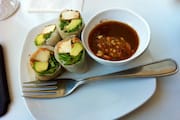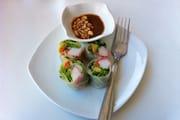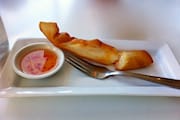 When I finally ordered and started to get my food, they got my order wrong and sent me some tofu salad tolls instead of the crab rolls I had ordered (I hate tofu), but they were quick to fix the mistake and bring out the crab ones in a hurry. (So no, I didn't actually order as much food as the photos suggest…)
It was also really weird that every plate came with a fork, almost like it was part of the plating or garnish. I only needed one fork thank-you-very-much, but whether I wanted it or not, every plate came with an extra fork…
The little bit of the tofu roll I tasted was gross, but that's probably because I'm not a fan of tofu. The rest of the appetizers (crab roll, chicken spring roll and deep-fried shrimp roll) were decent, but nothing spectacular, nothing memorable. (The mango smoothie was super thick and made with real mango though, so that was a great start.)
The main reason I went to Hue's Kitchen in the first place was for some Pho.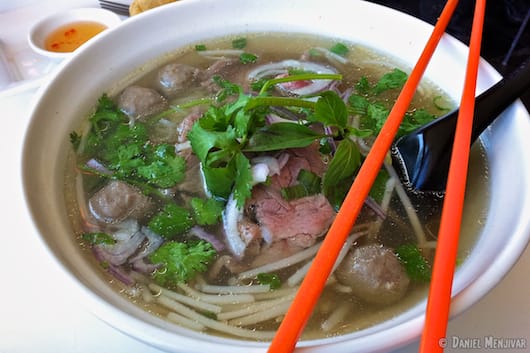 The flavor of the broth left very much to be desired and was far below average. The beef balls were $1 extra, but I can't see myself having this Pho again without the beef balls. As for the "AAA rare beef" (which they do a good job of advertising on the menu) it was, sadly, nothing special – at least I didn't notice any comparable difference in quality to other Pho places I've been to. If anything, I'd say that the meat at other places is actually much better… (Maybe I've been spoiled?)
It was nice to have prompt and efficient service at Hue's Kitchen, (especially around lunch time when most office workers are in a hurry to get back to work), but it felt way too rushed and borderline rude. And then, they brought me my bill half-way through my appetizers, which only added to this feeling that they're just trying to get people out as fast as possible. At King's Noodle Restaurant in Chinatown they do this too, but they wait just until you're almost half-done your meal before giving you the bill and it doesn't come across as a kick out the door.
It shouldn't surprise anyone that the service at Hue's Kitchen is not the main attraction. If anything, I'd say it's the quick eats, for cheap. My total bill for all that food (and mango smoothie) came out to $18.50 including tax, tip and interac surcharge and the portions were very large. (I probably ordered enough food for two people.)
Overall, I'll likely never go back to Hue's Kitchen – the service was just too bad for only mediocre food. The reality is that there are tons of places on Yonge Street (including a myriad of Vietnamese places) that are a better bet. I'm more likely to "try my luck" somewhere else than return to substandard food and below-par service.
Hue's Kitchen
774 Yonge Street
Toronto, ON
+1 (416) 967-0404
DineSafe