The food was definitely very authentic and tasty, but it was also really hard to figure out what to order since most of the menu was in Chinese and no one there spoke English well enough for me to ask for suggestions off the menu. (The dumplings were indeed fabulous though.) Nevertheless, at the end of the day, Michelle and I both decided that we probably wouldn't return anytime soon, not because of the food, but because the cleanliness of the place was questionable. Too bad.
---
I was sick on and Michelle and I had already decided to spend the night at home with our three dogs anyways, but I still felt like eating out (if nothing else) so we headed down to Lee Garden for some dinner that night.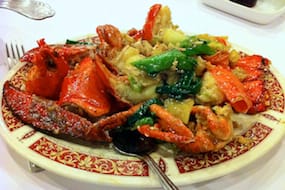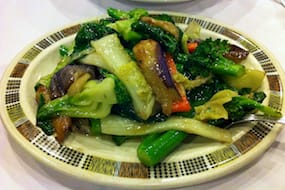 I hadn't had lobster in a long time so when I saw that Lee Garden had lobster with ginger and green onions on the menu that night, I just couldn't pass up the opportunity.
I just can't get enough of Chinese food, and since I've been having so much of it lately, I've also been making sure I try out new things every time.
The other day Michelle and I went to Rol San (also in Chinatown) – Michelle was in the mood for Cantonese Chow Mien, and I was in the mood for dim sum… I decided to try my luck at writing out the Chinese characters for Cantonese Chow Mien on the dim sum slip and when our waiter came by I asked him, "What does this say?" to which he responded "Cantonese Noodle". I guess he thought someone else wrote it for me, but when he realized I had actually written it myself, he was impressed enough to go and show one of his coworkers. Neat.
Anyways, I love Chinese food – if you know of any places around Toronto that I should check out, please add it to the comments section below.