Yes, I love Chinese food, but not the watered-down North-Americanized Chinese food that you'd find in a food court at a mall (like sweet and sour balls, spring rolls, ginger beef, brown soy sauce fried rice, etc.), but the real deal authentic Chinese food. (it's not at all the same thing…) it's pretty hard to find sometimes and then even when you do, you still have to know what to order.
I bumped into these two Chinese girls at the Apple Store in Eaton Centre who had some delicious smelling food with them – they had just come from eating at a place in Chinatown and had some take-away leftovers in a bag. Their food smelled so good that I just had to ask them where the food was from. After verifying my sincere desire to seek out authentic Chinese cuisine, and after them explaining to me that it wasn't a place that catered to Western palates, (actually, I believe the word they used was "Caucasian"), they reluctantly wrote the name of the place down for me in Chinese characters. It has no English name, so they also gave me directions on how/where to find it.
I go to Chinatown quite often but I had never heard of this place before so I was excited to check it out. I finally got a chance to go with Michelle one day – we were able to find it by matching the characters that the girls had written down for me with the sign outside the door. Once inside, I wondered how I'd ever check-in on FourSquare, but thanks to FourSquare, I was able to find out that the English name of this place is Chinese Traditional Buns.
When you first walk in the door you see that they hand-make the noodles from scratch there, (by tossing them in the air and slapping them against a flat surface), and I was excited to try them. Apart from the noodles, we also ordered some fresh shrimp and pork dumplings, which were very tasty.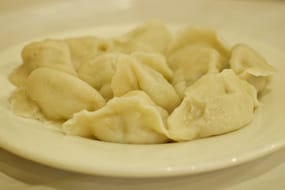 The food was definitely very authentic and tasty, but it was also really hard to figure out what to order since most of the menu was in Chinese and no one there spoke English well enough for me to ask for suggestions off the menu. (The dumplings were indeed fabulous though.) Nevertheless, at the end of the day, Michelle and I both decided that we probably wouldn't return anytime soon, not because of the food, but because the cleanliness of the place was questionable. Too bad.
---
I was sick on and Michelle and I had already decided to spend the night at home with our three dogs anyways, but I still felt like eating out (if nothing else) so we headed down to Lee Garden for some dinner that night.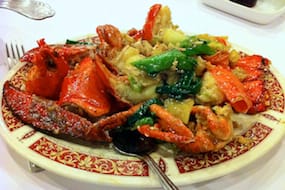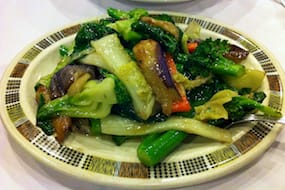 I hadn't had lobster in a long time so when I saw that Lee Garden had lobster with ginger and green onions on the menu that night, I just couldn't pass up the opportunity.
I just can't get enough of Chinese food, and since I've been having so much of it lately, I've also been making sure I try out new things every time.
The other day Michelle and I went to Rol San (also in Chinatown) – Michelle was in the mood for Cantonese Chow Mien, and I was in the mood for dim sum… I decided to try my luck at writing out the Chinese characters for Cantonese Chow Mien on the dim sum slip and when our waiter came by I asked him, "What does this say?" to which he responded "Cantonese Noodle". I guess he thought someone else wrote it for me, but when he realized I had actually written it myself, he was impressed enough to go and show one of his coworkers. Neat.
Anyways, I love Chinese food – if you know of any places around Toronto that I should check out, please add it to the comments section below.