Tamal de Pollo
I started by ordering one of the Chicken Tamales. I've had a big craving for tamales lately and Michelle and I have been toying with the idea of making some at home. (They're a lot of work.) While their chicken tamales aren't anywhere close to as good as the ones we used to make for sale in Calgary, it was still a very good tamale, and it definitely satisfied my craving. (At least temporarily.)
Every country in Latin America has their own version of tamales, and every province, city and town has their own way of making them too. Maybe even every family. They vary quite a bit.
The chicken tamales at Mi Pueblo were typical of tamales from El Salvador, but it was also the first time I've had these kind of tamales with cilantro in them. I could also taste a stronger than normal presence of green pepper (as if they were fire roasted and then blended into the corn flour) but both were very welcome additions. In fact, Michelle and I have thought about incorporating these ideas into our own tamales when we actually get around to making them.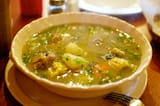 Being the glutton that I am, I also ordered a Sopa de Res (beef soup) to preface the pupusas – it was prepared very traditionally and was exceptionally delicious. It was a very large portion of soup (typical) and they were surprisingly very generous with the meat and vegetable ingredients too.
Of course, you can't go to Mi Pueblo without ordering some Pupusas – or at least, that's always been my main attraction to the place.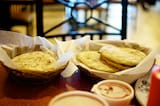 Apparently I've gotten used to the tiny pupusas you find in Calgary, (under the excuse that smaller pupusas are the only way you can keep them profitable) because I found the pupusas at Mi Pueblo to be quite large for the $2.50 price. They're also super generous with the fillings (cheese with loroco, chicharrón, squash, beans, or revueltas/mixed). Overall, I was very impressed with not only the portion size, but also the quality of the ingredients and their preparation. Very well done.
In terms of the curtido and tomato sauce, they were nothing spectacular but it's worth mentioning that the portion we were served (extra charge if you want more) was much more than enough for the pupusas we ordered. In El Salvador when you go to a Pupuseria, the curtido and tomato sauce are already on the table and are unlimited, but the concept of portioning them and charging extra for more is very common in USA and Canada. They're just condiments, so to me it's like charging extra if you want more ketchup, but I understand that a lot of people abuse this to the point that it makes it hard for restaurants to remain profitable.
The pupusas at Mi Pueblo are some of the best I've had in Canada (outside of my own family, of course) but even more impressive is how well they're priced…
Lunch for two people came out to $32 including 13% HST and that turned out to be more food than we could finish. (Apart from the tamale, soup and six pupusas, we also ordered two drinks.)
Like I mentioned, there's so much they're doing right at Mi Pueblo that it's hard to find anything negative to say. Being very picky though, there are a couple things I can mention… The bathrooms are in need of a reno, my horchata was a little too sweet, and I personally don't like getting curtido or tomato sauce in styrofoam containers – having some kind of stone or ceramic containers for these would be much better. But again, I'm being super picky here.
Mi Pueblo Restaurante
20 Bradstock Road
Toronto, ON
+1 (416) 744-4127
DineSafe