This article has been censored at the request of Randal Arsenault (Dr. Zoo) who threatened legal action against my chartered right to freely express my own views and opinions.
While the laws in Canada do protect bloggers, and while the basis of his grievances are completely ridiculous and have absolutely no legal merit, (thanks to the precedent set by many bloggers before me), the amount of traffic I get to my blog is very insignificant and quite frankly, this is not worth my time – I have much more important things to do…
As I've made clear from the start, the views, opinions and perceptions on my blog were, and always will be, that of my own and are not affiliated nor associated with anyone else. This is my blog…
After leaving Goose Bay and driving eight hours through blizzard conditions from Halifax, we finally arrived in Sydney, Nova Scotia.
I seriously thought Mike & David were pulling my leg when they told me Dr. Zoo's bandleader intended to have five adults (including one psychotic female) share a single hotel room for two nights, but it turns out, the rumors were true! There's so much wrong with that, where do you even start? Seriously.
However, I was glad to hear that while Mike and I were driving across Nova Scotia, David (the guitar player, and a great guy) protested the idea and eventually succeeded in getting the bandleader to splurge on a second room… It was bad enough to not have a room to myself and being forced to share a room, but now it would be three grown men sharing just one hotel room. I must say though, Mike and David are both great guys and while neither of us were totally OK with the situation, we were all totally OK with each other. (We also felt bad that Mike had to share a room with the bandleader and his alcoholic, compulsive-liar girlfriend for two nights in Labrador City – that's just weird. Poor guy.)
So when we finally arrived to the hotel in Sydney, exhausted from our nightmarish eight hour drive, we found yet another surprise. Three grown men, one hotel room, and only one bed. This just keeps getting worse and worse, no?
I was, understandably, getting really worked up and ready to blow up any second, but Mike and David were miraculously able to calm me down and persuade me to sleep on the hide-a-bed couch while they (reluctantly) shared the bed. That was the last straw and if it wasn't for those two, I would have driven myself to the airport and paid for my own flight home right there and then. Again, there's so much wrong with that situation, where do you even start? Oh, but it does get worse! We later found out that while our room had only one bed, the bandleader and his girlfriend enjoyed two queen beds in their room, plus a hide-a-bed couch too… Madness.
Anyways, it turns out the only reason we were in Sydney was to do a single twenty minute showcase for the East Coast Music Awards on night. that's right, twenty minutes. LOL But we did also end up playing an extra half hour at the Crown & Moose in the Delta Hotel later that night as well.
Mike paid an extra $250 out of his pocket to change his flight and leave the next day, so the second night was only two grown men in one hotel room, with only one bed. haha
Actually, the following day, after the drummer had already left, the bandleader arranged to do a radio show and instead of playing bass, he wanted me to bang on garbage pails and recycle bins in place of drums or percussion. I'm serious – not kidding at all! Undoubtedly, there are some screws missing in that man's head, I have no doubt about it now… I took my bass, but ended up standing around watching them perform as a trio instead – fine by me.
The next day, I embarked on my drive from Sydney back to Halifax to return the rental car. It was great to finally break free, and I took advantage of the opportunity to explore Nova Scotia (a little bit) and take some photos along the way.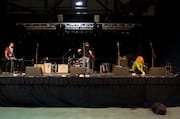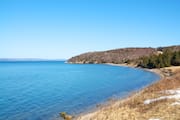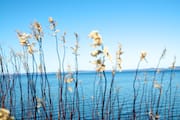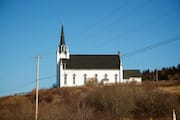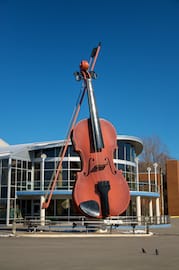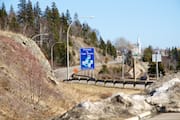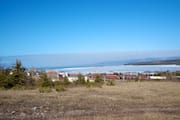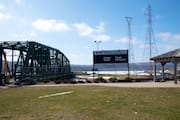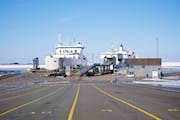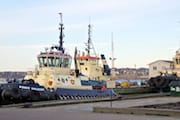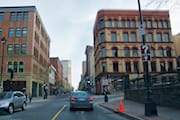 Anyways, I hope you enjoy the photos and I hope you were at least entertained by my stories :-) It was great to land in Toronto and I'm definitely happy to be back home.