The new Lawrence O'Brien Arts Centre, which was the hub for the festival, is a beautiful facility of which the residents are justly proud. The center's lobby is adorned with student artwork, but the artwork is very well done and still allows a feeling of elegance, especially the large mural which is impossible to miss.
When I was first hired to play bass with Dr. Zoo on this tour, I was originally told that we would be playing one 45 minute show per day, and that during the festival in Goose Bay, our performances would be in a theatre to an audience of children. However, this was not the case at all and was actually very far from the truth. (Consequently, I've learned that taking people's word at face value, at least with this bandleader, doesn't cut it, and it will be the last time I do any tour without a contract. In the past, I've found musicians and bandleaders to be pretty honest and trustworthy though. it's unfortunate really.) The truth was, that this festival involved 9+ hour full days of working with children in hands-on workshops, performances and clinics. And the amount of bass playing I did was minimal. Instead, I was enlisted to sing and play guitar, play congas and percussion, and even facilitate classroom workshops with little notice (actually, no notice). Surprise!
When you agree to a fee based on one 45 minute show per day and then are faced with 9+ hours per day of workshops, performances and clinics, it's a huge problem. And a huge breach of trust. don't get me wrong though, I don't have anything against working with kids. Actually, I very much enjoy working with kids, but childhood education is not something I take lightly. To me, it's not something you do in haste and fake your way through – it requires lots of preparation and planning to do it right. I take working with kids very seriously, and I think far too many people focus only on making it a "fun" experience (which is very important) that they forget to make it an educational experience too.
So even though Dr. Zoo was hired as a performance group for the Creative Arts Festival, the majority of the classroom workshops we did, apart from having very little educational value, turned out to be an impromptu social studies class on Africa. Geography, culture, biology, zoology, but definitely no focus on the creative arts reason for which we were there. It all came down to a lack of preparation, a lack of focus and a serious lack of desire or interest. Wow. And when we did follow up the Africa classroom lectures with music, they were always unplanned acoustic jams reminiscent of what you'd hear at a pub at the bitter end of a long amateur night. Even in hindsight, I still fail to see how we provided any educational value at all…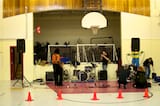 When I wasn't playing congas, or singing and playing guitar, and when I actually got to do what I was hired for and got to play bass, we usually had to scramble at the last minute to put together a P.A., find instruments and gear and set-up at the last minute. Each day, you'd think we were surprised that we had to perform – there was no planning done in advance by the bandleader to set us up for success for the following day. And sadly, rather than taking ownership for his deplorable failure as a leader, we all had to listen to him blame it on the festival coordinator, day after day. Yes, it was all very last minute, all with terrible results. I'm pretty sure I blew about three bass amps on this tour, (and I felt bad, but what can you do when you're expected to play next to a drum set and fill a gymnasium with a 25 watt practice amp?) These gymnasium performances were so disorganized and involved so much unnecessary work that after half a week of this, I actually preferred to play congas and do the monkey show workshops instead. Yikes. (And to think all it would have taken is a couple phone calls the night before!)
To make matters worse, (yes, they can get worse), the festival contractually required all visiting artists to attend student plays in the evening. The idea behind the festival was that the artists come to share their art with the students during the day, and the students then share their art with the visiting artists in the evening. I get it, and it's a cool idea. My issue is not with the festival at all, but rather, the fact that I enlisted to do a tour of one 45 minute show a day, and I agreed to the fee based on that premise. So now, with this new obligation (which the bandleader was aware of, but conveniently neglected to mention until it became an issue), it now became way too much. As a result, I only went to the plays on two nights and took a much needed break from the bandleader on all the other nights.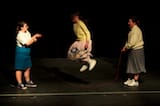 The majority of the student plays were created and scripted by the students – and most plays were about suicide, death, or very dark issues, which is apparently very common for this festival. (Maybe common issues for Labrador teens? If you read my article on Labrador City, you might understand why…) it's not a competitive festival, yet the audience was forced to sit through a half-ass adjudication after every play. I understand the importance of feedback for the students, but I felt it was very unnecessary for the comments to be made public – perhaps it would have been better to provide the feedback backstage?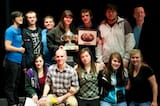 Anyways, this year, the High School Drama Festival overlapped with the Creative Arts Festival, so I did make it out to two of the High School plays. The play put on by Menihek High School (from Labrador City, I think) was not student-scripted, but more importantly, was exceptionally well done. It was actually entertaining! It turned out, this was also the play that won the High School Drama Festival, which is a competitive festival… Apart from winning the trophy, the students won the right to represent Labrador in the provincial drama competition.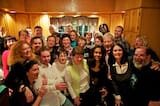 On evening, I was invited over for dinner at Jake & Barb Leyte's house, where Mike, the drummer and David, the guitar player from the band were staying. (I think I forgot to mention, we weren't staying in a hotel in Goose Bay, rather, the festival enlisted volunteers to billet the visiting artists.) While it was only take-out pizza and a salad, and not the typical home-cooked meal that David and Mike kept bragging about, it was sadly, the best meal I had in Goose Bay for the extent of my stay. Yes, take out pizza! In fact, I lost 20 pounds in nine days in Goose Bay – the late night soirees which followed the evening performances were my only chance to eat since my hosts/billets never had food at home, and the closest place to grab something to eat was a 20KM walk… (Not to mention the brown-bagged lunches provided by the festival which were the victim of many bird feed jokes, just to give you an idea.) Usually, when a bandleader tells me that accommodations will be provided and food expenses will be reimbursed, it means just that. Not a last minute surprise "change in plans" when you land in St. John's, and an unfortunate "I'm sorry, I won't be able to reimburse you for food on this tour." In hindsight, I should have flown home there and then. Terrible. (BTW, I'm not kidding – I lost 20 pounds in the nine days I was in Goose Bay. My billets may not have had food at home, but they definitely had a scale. LOL)
Later that Saturday evening, we performed a gig at Maxwell's, the local pub, which incidentally, is the nicest place to have a sit-down dinner in all of Goose Bay, according to the locals. Yes, the pub! Anyways, we were lucky to have a sound man for the show, and I will forever be grateful to the sound man for lending us his gear and providing all the equipment for the show. I don't even want to imagine what it would have been like without that! I do, however, have a very funny story to tell about him…
While sound checking for the show, for some reason the sound man really wanted me to use his cheap $50 Behringer D.I. instead of my $300 Radial JDI, the world's best passive direct box, bar none. Why? I'll never know. But when I had my D.I. plugged in, he kept complaining that the level was way too low and he wasn't getting a clean signal. So I switched to his D.I, turned my EQ all the way down (which is 15db cut at 4khz, 250hz and 50hz) and turned the volume to the bare minimum. All of a sudden, he was happy and said he was getting tons of signal. LOL I then suggested he leave the mixer settings alone and that we try my D.I. again, which he reluctantly agreed to, sort of. When I plugged in my D.I., I cranked the EQ (15db boost x 3) and cranked the volume all the way up. "Ah, I'm not getting any signal out of that D.I. – it's not coming out clean" LOL. I decided it wasn't worth it, it was a pub gig after all. Still, why he so badly wanted me to use his cheap Behringer D.I. will always be a mystery…?…
I ended up blowing his practice bass amp on that gig as well and the band had to cut the first set short since there was a big stench of electrical smoke coming from the bass amp. (I told him I could smell smoke at the sound check, but sometimes people just don't want to listen.) I ended up playing the gig using one of his JBL EON monitors as a bass amp, which was actually the best "amp" I had played on that tour thus far…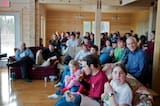 On the afternoon, there was an afternoon concert at the local ski lodge, which due to a lack of planning and organization, some acts carried on way too long and the event had to come to an unnatural, abrupt end so people could rush home and watch the olympic hockey game. It also meant that some artists, who spent hours preparing something special for the event, didn't get to perform. Ah well, it least it ended with an unplanned acoustic sing-a-long jam with Dr. Zoo, right? LOL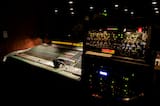 We ended our week in Goose Bay with a theatre performance, which apart from having a real sound man for once (who was drooling over my D.I. – LOL), was actually the same material as the bar gigs and the same material we did for the school gymnasium performances, all presented the same way and definitely not the show people were expecting… But Dr. Zoo is a pub band, not a theatre band by any means, so what else can you expect?
In our nine days in Goose Bay, "Shalamoo Bubblegum" quickly became a number one hit with the kids (and adults too), and understandably so. it's a very catchy tune and very entertaining. It was actually written (and sung) by Mike McDonald from Newfoundland who was also subbing in on this tour as the drummer. Mike is a great guy and always a barrel of laughs – I look forward to recording this tune with him in the coming weeks! In the meantime, check out a recording of it from our theatre gig with Dr. Zoo on the audio page of my music site.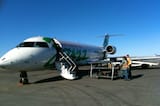 We left to Halifax on another small plane, but you could tell that this plane was much better maintained since it didn't feel so "ghetto" up in the air. But leaving was only half the battle…
Our fearless bandleader, once again at the last minute, informed us that a mistake was made on our tickets (the drummer's and mine) and we were actually scheduled to leave on , not like the rest of the band. Instead of doing the sensible thing and just putting us up in a hotel for the night, and having us leave on Friday, he had me go back to my hosts/billets and ask them if I could please stay an extra night. If that wasn't bad enough, I also had to ask for Mike the drummer to stay on their couch for the night as well. Sheesh. Why was I asking for the bandleader again?
Although my billets were perfectly willing to put us both up for the night, we now had to pack all our luggage and head to the airport (on Thursday) to try to get on the plane anyways, knowing that we'd probably end up staying the night in Goose Bay and have to head to the airport the next day all over again anyways… But no, apparently, the bandleader had done his research and found out that there were indeed seats available on the plane headed to Halifax, but the problem was overbooked flights from Halifax to Sydney, until the following afternoon…
After sitting in the airport in Goose Bay, anxiously waiting to find out our fate, and then to add insult to injury, having to watch the bandleader casually munch on a salad in front of us with no sense of urgency nor any regard for anyone else's time, instead of getting off his ass and trying to get us on the flight right away, yes, after all that, we were finally and barely able to get on a plane and were headed to Halifax. With full knowledge that we would be stuck in Halifax for the night anyways…
Before we landed in Halifax though, someone got the bright idea that we should rent a car and drive from Halifax to Sydney, and that it would probably be cheaper or at least comparable to paying for a hotel for a night. Normally, I would be compensated extra for the time I spent driving, but given all the events leading up to this, I knew not to expect as much. Either way, Mike and I didn't protest the idea of driving to Sydney since we both agreed it would give us a much needed break from the bandleader and his alcoholic, compulsive liar of a girlfriend, who was the fiddle player on tour with us. (Compulsive liar you ask? don't get me started – too many stories behind that. Seriously, don't get me started.)
So when our plane landed in Halifax, I graciously extended my corporate rate with National to the bandleader, but, given the events leading up to this, and not having even a drop of trust left, I made up the excuse that my credit card was maxed and forced the bandleader to put the car rental on his card. Wouldn't you? Shortly after we were on our way to Sydney, which I was told would be a four hour drive. But when you lie this much, pretty much anything you say, true or not, becomes hard to believe. I should have known better… As soon as we left the airport, we saw a road sign indicating how many kilometers it was to Sydney, and we immediately knew we were in for a six hour drive. Unfortunately, along the way we encountered a really bad snow storm, so our six hour drive turned into an eight hour drive through blizzard conditions, the only view being the numerous cars that were flipped over in the ditch along the way… But we did arrive in Sydney, safe and sound, a little over eight hours later.
You'll have to check back for rest of the story…