Dustbot
Back in the mid-to-late 80's, I had this small robot made by Tomy called Dustbot. Here's a short description from TheOldRobots.com:
Dustbot ® - 5409 ; SO-G ® by Tomy ® 1985

Dustbot ® 5409; SO-G ® was the first robot to feature a built-in vacuum cleaner. Dustbot's large eyes flash red and his arms move creating a sweeping action for the broom while his vacuum functions. He really vacuums; he picks up small pieces of paper, dust, crumbs, etc.. He senses any edge and turns away, for he is the robot with a brain, that vacuums.
I don't remember how or when I got that robot and I only vaguely remember playing with it. It was about the same size as Googie and I think I may have taken it apart at some point…?… What I do remember clearly though, was that the box it came in had photos on the back of the other robots in the product line, including the top-of-the-line Omnibot 2000.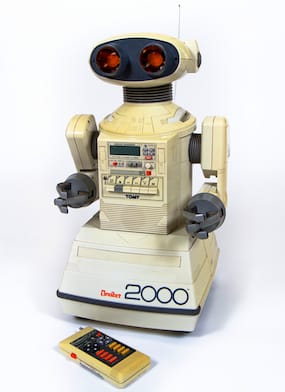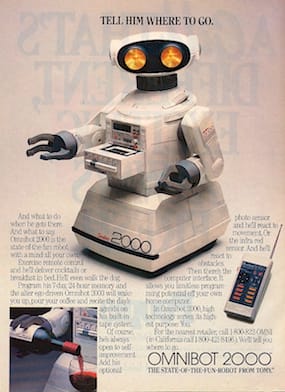 I wanted one, and I wanted it bad! It was all I could think of and all I could talk about for weeks, maybe even months. Yes, I was a stubborn child and when I wanted something I wouldn't give up easily…
Daniel, what do you want for dinner?

Nothing. I want Omnibot 2000.

Daniel, do you want to go to Bullwinkle's for your birthday?

No. I want Omnibot 2000.

Daniel, come watch The Muppet Show on TV!

No, I want Omnibot 2000.
I was relentless! In fact, twenty years later, my family still uses "Omnibot 2000" as a metonym for my determination, or some would say, my stubbornness…
Here's a television ad for Omnibot from 1984 (Omnibot was much smaller and had less features than Omnibot 2000):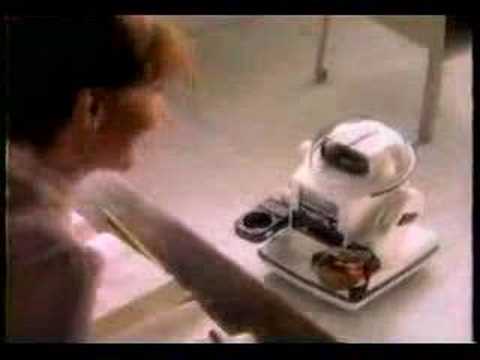 Wow! Sometimes I wonder what things would have been like if I actually got one of these as a kid. Maybe I would have become more interested in robotics or computers and eventually pursued a career in IT? Or maybe I would have ruined it within the first couple of days trying to program it to pour me a glass of juice?
Sure, it came with a detachable serving tray and supposedly you could program its arm to get you a drink from the fridge, but I remember the feature I was most excited about was the cassette deck. Not only could you use it to pre-record commands, but it also played back regular music tapes too… And if that wasn't enough, it even had a built-in alarm clock!
After looking at some random videos and searching for information on Omnibot 2000 the past couple of days, I realize that I probably would have been a little disappointed. Back in 1988 before the days of the internet (when general information was much harder to acquire), all I had to go by was the small photo and brief description on the back of my Dustbot box, and maybe the odd ad on TV. (That is of course, until I actually saw one in person on my eighth birthday at a department store… I don't remember which store – my mind has been trying to block out the traumatic memories of that day for years now.) My limitless childhood imagination surely far exceeded the technology commonly available at the time. And looking back, I think what I really craved was companionship – I wanted Omnibot 2000 to be my friend…
From TheOldRobots.com:
Omnibot ® 2000 - 5405 by Tomy ®

Tomy ® has created many toy robots throughout the years and in the 80's created a line of small personal robots. They don't have a true onboard programmable computer but are fun nonetheless. The top of the line was the Omnibot which could pour drinks on a special serving tray. The programming is done by recording the movement commands to a regular cassette tape which can be played back at certain times by using the built-in clock.

Years produced: 1984 - 1988 ; Original price: $600.00

[…]

Remote Features: The Master Control Unit (MCU) has an antenna with its power switch & indicator. It has a button to push in to talk through its microphone to the robot in which the robot will respond with eyes flickering. It has all the buttons to control the robot as follows: LEFT side of remote has arm up/down, wrist left/right, finger open/clamp, head right/left; RIGHT side of remote controls movement of robot to go forward/reverse, left/right turn, then the gear change in speed; also buttons for tape start/stop, Omnibot sounds, light on/off key.
What? The original price was $600!?
To put things into perspective, back in 1988 the minimum wage in Alberta was $4.50/hour (up from $3.80 the previous year) and $4.75/hour in Ontario (up from $4.55 in 1987). that's about half of what it is now, so Omnibot 2000 was roughly $1200 in today's dollars. Crazy! No wonder I never got one.
Nowadays you can still find working Omnibot 2000's for sale online. I saw one listed on eBay the other day – it was barely used and in mint condition, apparently found in an attic in the original box complete with manuals, packaging and accessories – going for about $300 with only a couple hours left in the auction. Hm.
There's still a small part of me that wants one for nostalgic reasons, (I wanted one really bad as a kid), and I've joked with Michelle that I'd have so much fun chasing our dogs around the house with it. And then there's the part of me that never wants to kill my fantasy of Omnibot 2000 by actually having one…