I pass by Pho Hung in Chinatown all the time. After reading many positive online reviews, I've had it on my radar of places to try for quite some time. I finally went to Pho Hung .
The first thing that caught my eye when I walked through the door was how many awards for "Best Vietnamese Restaurant" or "Best Pho in Toronto" they had on their walls – tons. And the second thing that caught my eye was how dirty the place was. This is the dirtiest restaurant I have been to in Toronto's Chinatown so far (yes, even dirtier than the traditional Chinese buns restaurant I had blogged about before). The restaurant was so dirty and it was obvious that sanitation standards were very low here, but I thought I'd give it a try anyways. The hoards of awards on the walls and the abundance of rave reviews I've read, (and the fact that I was seriously craving a good bowl of Pho), made me momentarily exercise poor judgement, so I stayed anyways and decided to give the place a shot in spite of its red-flag-raising appearances.
I ordered Shrimp Salad Rolls and Deep Fried Pork Rolls to start, followed by the #1 Special Pho (with the works – well done beef, rare beef, tripe, tendon, beef balls, etc.) While it might not have been the absolute worst meal I've ever had, it was darn close. Pho Hung is hugely over-rated – I don't get it at all…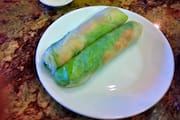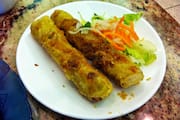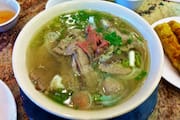 I had to wait quite a long time for any food to come out, which was a little odd since the restaurant was practically empty. And when my food did come out, despite making it absolutely clear to my server that I wanted the rolls to start and the soup to follow, it all came out at the same time. Even if you can forgive this, the service was still some of the worst service I have ever encountered – not in-your-face rude, but it reeked of "we don't give a fuck."
While Asian restaurants are notorious for focusing on quick turnarounds at the expense of proper service, the service at Pho Hung was exceptionally deplorable, even while being unnecessarily slow. There was more staff (both in the kitchen and in the dining room) than there were customers…
And the food was nothing to write home about. Nothing worth a revisit, that's for sure. The salad rolls were some of the worst I've had – seriously, how do you get that wrong? The deep fried pork rolls take the prize for the worst rolls ever. I asked my server if they always look like that and he assured me that this was normal. When I asked if I could get them re-made, he insisted that they would come out looking exactly the same, and walked away. They looked old, stale and very unappetizing, but that's just what the food is always like at Pho Hung, apparently. Needless to say, they were pretty gross, chewy and very oily as if it wasn't the first time they were "reheated" in the deep fryer.
The pho was no better. The tripe (which I normally can't get enough of in Pho) was very chewy like rubber bands and uncharacteristically tasteless. (The tendon was very tender and full of flavor though, and was the only saving grace to the whole meal.) The beef was nothing special and very below-par compared to many other phos I've had in Toronto. The beef balls had a very gross grainy texture and were surprisingly void of flavor – usually it's the beef balls in pho that have the most identifiable flavor… The broth was similarly bland and lacked any depth – almost as if it was out of a packet, except super oily. This isn't pho, this is an embarrassment to Vietnamese cuisine! How does this place get all these awards, and how do you explain all the rave reviews? It doesn't make any sense at all.
Pho Hung was a huge disappointment and they got so much wrong at a time when they weren't even busy. Their lack of sanitation standards is very alarming (I could go more into detail, but there's no point) and that alone doesn't deserve giving them a second chance. (The place was so dirty, they almost didn't even get a first chance.) There are just too many places serving a decent bowl of pho in Toronto that it's impossible to justify this mediocrity. Terrible.
If you're in the area, I highly recommend eating elsewhere. And even if you're madly craving a good bowl of Pho, taking the TTC elsewhere is the most sensible thing to do.