I came across Pho Mi Gia Phung by searching on my iPhone when I was close to Toronto's East Chinatown earlier this month. A lot of the online reviews gave high praises to the food so it seemed like a safe bet. And when more than one of the tips mentioned a patio, it sounded even more like a great choice on such a hot day.
Being able to park right beside the patio and have our three dogs wait in the car within eyesight was a definite bonus. Just , we found a completely empty patio so we got to pick any table we wanted. We were greeted, got menus and were served iced water in no time at all, so we were off to a really great start.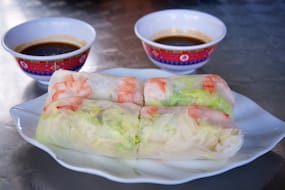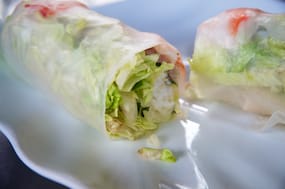 The first of our appetizers to arrive was #A02 – Goi Cuon (Fresh salad rolls with shrimp & pork – 2 for $3.95) and right off the bat, I was very disappointed to find old, brown lettuce in the salad rolls. I thought the menu said they were supposed to be fresh? The shrimp were big though, the pork was very flavorful and it was not too heavy on the mint. But the peanut sauce that accompanied the salad rolls didn't have enough peanuts and was way too sweet, almost as if it was candy. Not very good salad rolls at all.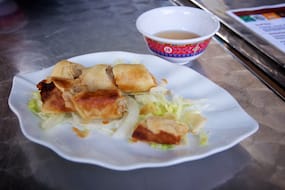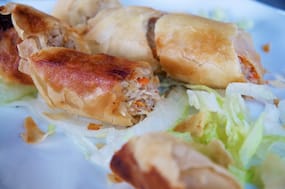 Our second appetizer, #A01 Cha Gio (Deep-fried pork spring rolls – 2 for $3.75) were a little over-fried and burnt in some places but after the salad rolls my expectations were very low, so I was just happy that they weren't chewy. Decent rolls, but nothing spectacular.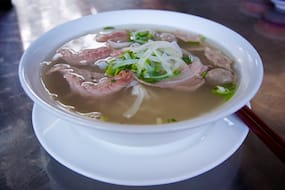 My pho, #B01 Pho Dac Biet (Special pho with rare beef, well-done flank, beef balls, tripe & tendon – medium for $5.95) arrived sans bean sprouts, basil, lemon/lime, nor chili peppers, but I was promised they were on their way out. They never came…
Needless to say, after the two appetizers I was already forced to lower my expectations significantly, so I wasn't expecting too much from the pho, but I didn't expect the beef balls to taste so old! They tasted like they were previously frozen, thawed and then sat out on the counter all day. Definitely not fresh. At all.
The rare beef tasted as fresh as the beef balls which was yet another disappointment, but the tendon was the worst offender in the freshness department. The tripe was a little better, but also a little too chewy. The well-done beef was the freshest, and obviously then, the best-tasting of the lot. All this in a very plain and watered-down broth. And I don't mean it was a simple broth, I mean it was seriously lacking flavor. Pho? Hm.
Apart from the bean sprouts, basil, lime and chili peppers never making their way out of the kitchen, I also ordered some chicken wings which never came out, but I suppose I should feel lucky that they were forgotten.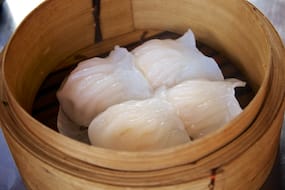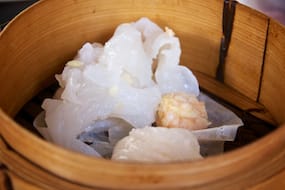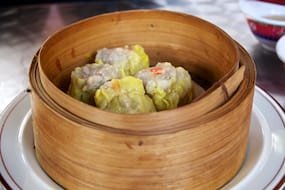 Michelle wasn't in the mood for Vietnamese so she ordered some dim sum – Har Gow & Siu Mai ($2.99 each) which fell apart way too easily and looked just as mediocre as everything else tasted. I couldn't compel myself to try them, so I can't comment on their taste, but Michelle ate very little of them and left most of it behind…
I won't deny that sitting on the patio in the middle of summer was super nice, (and it was a very nice patio too), but I would expect better food from even a run-down pub.
The service, unfortunately, was no better. By the time we finished our meal the patio was full and the service staff seemed very confused and overwhelmed. Sure, the patio was a little full but it wasn't packed, and the restaurant inside was completely empty. I had a clear view of their kitchen from my seat on the patio and there were way too many people just standing around doing nothing, looking confused and stupefied. Yes, it was stupid!
it's never a good thing when you leave a restaurant not knowing who your server was, or how many servers you had. 4? 3? 2? There were just too many people working, who had no clue what they were doing, and with no clear direction to guide them. it's an obvious case of incompetence and inexperience – they were just running all over the place!
The truth is, it's difficult for me to speak so negatively of the service because the staff was super friendly and obviously trying very hard, but I also get the feeling they know they were in way over their heads… I'll give them the benefit of the doubt and assume it was just an off night, but what an off night that was!
The best part of our meal at Pho Mi Gia Phung was the individually wrapped guava candies that came with the bill – gotta love those guava candies!