In my article, "Ten Places to Eat in Toronto", I mentioned my love for Da Maria Pizzeria in Toronto and Martin Aller-Stead wrote a comment:
[…] the Stromboli Inn on Kensington just west of 10th Street NW used to have the best pizza in Calgary, bar none.
Well, I looked for the Stromboli Inn for quite a while after that and, not being able to find it, I had figured that it probably doesn't exist anymore. And then just the other day, I found out that The Stromboli Inn is now Pulcinella – owned by the same family and now in the hands of the younger generation. A good friend of mine had actually introduced me to Pulcinella in and I've been back several times since then, most recently .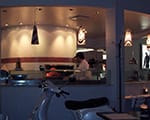 I remember my very first impression of Pulcinella was that it was a very up-tight kind of fine dining place but my numerous visits since then have helped me to see it more a little more as a casual type of place. (I think the place has also changed a bit since then.) The restaurant was completely renovated to make it more modern and "cool" but many of the old elements were preserved in some way or another – the tables were made from gorgeous wood that was in the rafters for example. There's a small waiting area just as you walk in the door; the bar takes up most of the front part of the restaurant; and the large, $30,000 wood-burning pizza oven made with stones from Mount Vesuvius is the focal point of the dining room, of course. You also can't miss the Vespa bike in the center of the dining room nor the large black and white photos that cover the walls in huge oversized frames. True to their name, Pulcinella's decor is mostly black and white – simple yet elegant. The pristine, sophisticated decor and cool atmosphere of the restaurant set a very nice mood while elevating your expectations.
Most of the times I've gone to Pulcinella, I've ordered either a bottle or a glass of wine. (You can see their wine list on their website.) However, last time I went I was surprised to find out that water and wine are pretty much all they have. They don't have margaritas and their selection of "girlie drinks" is very minimal – it was never an issue until the last time I went though. I also ordered a beer last time (I hardly ever drink beer) and was surprised to find out that they don't have much selection of beers either (not even Heineken) – I wasn't asking for anything far out or "exotic", but it still took my fifth choice to find a match… Hmm. You'll be fine as long as you order wine or water though.
I've had a couple of the salads, soups and appetizers at Pulcinella and they are all very good. Not spectacular for this kind of restaurant, but definitely very good. The last time I went the calamari was very different though (compared to only 4 weeks prior) and I really disliked it. The calamari was cut into extremely large rings (being lazy maybe?) and it didn't do it any justice. Every other time I've gone the calamari has been great though, for whatever that's worth. I also order the Bruschetta Misto quite often – the roasted red pepper bruschetta is very unique, very memorable and very addictive – I highly recommend it.
I was doing some research on authentic Italian pizza (and specifically in Calgary) and came across a blog on WordPress.com, "Are you gonna eat that?". In a review of Pulcinella, the author writes:
Pulcinella is one of only 20 restaurants outside of Italy that gets the stamp of approval from the Associazione Pizzaioli Napoletana, which stringently guards the historic Neopolitan pizza tradition. The thumbs up is given after training with the group in Italy, and after it's approved the restaurant blueprints and equipment lists. Flour and toppings have to pass the standards of Italian governing bodies. Them's some hard core pizza rules.
Napoletana pizza has a thin crust and is slightly charred on the bottom to add to the flavor – when it's done right, the charring really does add flavor and it's absolutely delicious. The problem is, Pulcinella sometimes goes too far with the slightly charred part and the result is a black charcoaled pizza crust. I've had exceptionally good pizzas at Pulcinella, but also exceptionally bad, burnt pizzas. it's been hit-and-miss. The last time we went I specifically asked the waitress – "Can you please ask the kitchen to not over-burn the bottom of our pizzas?" – and it seemed to work. The crust was perfectly charred and not at all overdone. Maybe the secret is that you have to ask?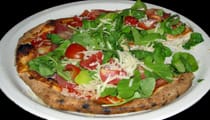 The reason I go to Pulcinella, if I had to bring it down to one menu item, would be the Speck e Rucola Pizza (tomato sauce, mozzarella, cherry tomatoes, arugula, speck (smoked prosciutto), parmigiano, basil). The tomato sauce, made from crushed tomatoes, is very light tasting and allows the freshness and quality of the other toppings to really come through. I highly recommend this pizza – with the exception of only Michelle, everyone I've ever been to Pulcinella with loves this pizza (Michelle just doesn't like the saltiness of the prosciutto).

I previously mentioned that Pulcinella has been changing over time and one of the unfortunate changes they seem to have been making is in regards to quality. I've definitely noticed that they seem to be cutting more and more corners. (I really hope the calamari goes back to how it was – I'm betting it was just laziness or an untrained prep cook's "mistake". At least I hope so.) The Cotto e Fungi Pizza (tomato sauce, mozzarella, prosciutto cotto (ham), mushrooms, parmigiano, basil) used to very very good, but now they are using a run-of-the-mill cheap deli ham that just isn't the same as it used to be. it's still a good pizza and much better than your average Calgary pizza but it's nowhere as good as it used to be. Also, the last time I went I was flabbergasted to find canned mushrooms on the pizza. that's just inexcusable. I don't care what the reason is, that's inexcusable. (We ate it anyways but all the while in shock and dismay.)
The service at Pulcinella has never been blow-me-away-spectacular nor has it ever been at least memorable, but I've always had a friendly and courteous server and the service at Pulcinella, in my experience, has never been anything to complain about. Very average.
Overall, I would say Pulcinella needs to work on being more consistent in the kitchen and I would like to see a return to their previously high standards. Nevertheless, I still recommend Pulcinella – it's definitely some of the best pizza you can have in Calgary. If you don't have appetizers, one person can easily eat a whole pizza, maybe even two if you're really hungry. It used to be a phenomenal value for your dollar but given their recent cut corners I'd say it's now only a "good" value for what you get. Any more cut corners and you could start to consider it expensive. (And for those that care, yes, the washrooms have always been very clean when I've gone.)
(My overall rating of 4/5 stars is based on the average of all my visits to Pulcinella. However, my last visit was closer to 3/5 stars – I hope they go back up to their previously higher standards…)