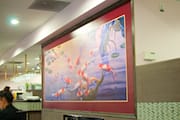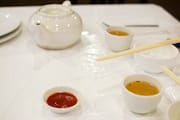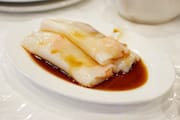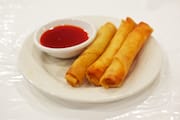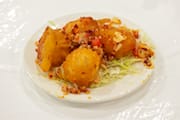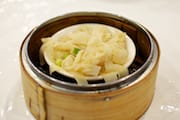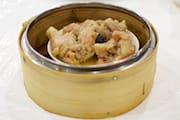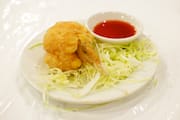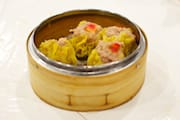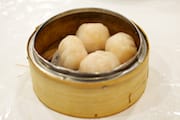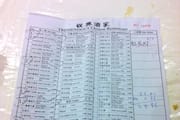 Well, it's definitely not the best dim sum I've ever had, but it's not the worst either. For the price, it's a great bargain – the staple dim sum dishes all had a good overall taste and were well-prepared for the most part. It didn't taste like bargain dim sum…
Having had so much dim sum over the years though, (some good, some bad), I can be a lot more critical…
The Shrimp Rice Rolls ($3.10) were the worst of the lot – there was hardly any shrimp (the shrimp were super tiny) and it was mostly rice dough that was both too thick and too sticky. The Deep-fried Shrimp Rolls ($2.60) on the other hand, were full of shrimp, the oil was noticeably clean/fresh and they were fried to perfection – not over-done at all. Very delicious!
The Spicy Deep-fried Har Gow ($3.10) were the highlight of the meal – the mixture of sautéed garlic, red peppers, onion and pepper flakes sprinkled on top was a perfect accompaniment. They were a little on the salty side, but super tasty and packed with so much flavor that the saltiness was easily forgivable. (Just looking at the photo above makes me crave these – too good!)
The Beef Tripe ($2.40) was a little too chewy and absent of any heat/spice (it's better when they steam this with chopped jalapeño), and the wrapper on the Steamed Har Gow ($2.40) was a tiny bit too thick and sticky. Not so much that it was gross and inedible, but enough to notice it.
The Steamed Spare Ribs ($2.40) and Pork Siu Mai ($2.40) were both prepared traditionally – nothing spectacular nor out of the ordinary.
Unfortunately, by the time we (yes, we – I went with Michelle. You didn't think I ordered this all for myself, did you?) got the Stuffed Crab Claw ($3.60), we were already full. I did take a bite out of it to see what it was like though, and it tasted like old, smelly seafood that had been out too long and re-frozen a couple times (freezer burn too). I thought maybe it was just me being too full, but Michelle took a bite and confirmed that it was definitely not fresh – she spit it out into a napkin almost immediately. I never said anything to our waiter(s) and didn't send it back but I probably should have – not for the sake of complaining, but just so that They'd know to check the rest of them and not serve them to anyone else…
There are many great dim sum places in the GTA – I wouldn't consider Tremendous Chinese Restaurant to be one of them, but their prices are definitely a great bargain. Apart from my comments on the crab claw and shrimp rice rolls, keep in mind that I'm being super picky in my criticisms – for the most part, the dim sum at Tremendous Chinese Restaurant is decent and respectable.
So, a little over a week after that visit, we found ourselves in the far west-end of Toronto again and were looking for somewhere to eat. I was badly craving the spicy deep-fried har gow anyways, so we once again made the drive to Mississauga to take in some more of Tremendous Chinese Restaurant's cheap dim sum. You can see from the photo below (taken with an iPhone) that we stuck to the basics and ordered pretty much the same things.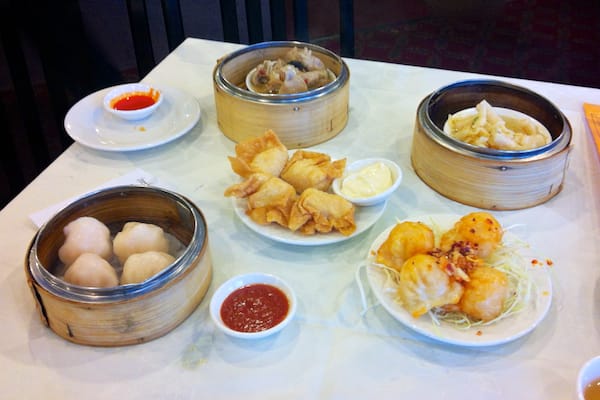 The only new thing we ordered was the deep fried shrimp dumplings which were very well made and once again, the frying oil was noticeably clean and fresh. The accompanying mayo sauce was noticeably sweeter than I'm used to, but in a good way.
Also, the second time around, I decided to try the spicy har gow with some of the cabbage it was sitting on – what a great idea! The cabbage was very thinly shredded and I realized it was definitely not just a garish (nor was it there just to soak up the oil) – it greatly enhanced the flavor of the spicy har gow, and I now crave these even more! Mmm…
The service at Tremendous Chinese Restaurant, on both occasions, was very typical of a Chinese restaurant of this size: quick and attentive until you order, and then they mostly stay out of your way. Respectful and patient service, not rude at all, but void of any personality or charm and very transactional…
Tremendous Chinese Restaurant is tucked away in an industrial-looking strip mall and feels like it's in the middle of nowhere – it can be hard to find if you don't know where you're going, especially if you're not familiar with Mississauga. The prices are so cheap though, that when you finally get there, it gives you that exciting feeling of finding a bargain…
Tremendous Chinese Restaurant
3550 Wolfedale Road
Mississauga, ON
+1 (905) 803-8778
For the price, most of the dim sum at Tremendous Chinese Restaurant is a good bargain. Their spicy deep-fried har gow alone make spending the gas to drive from Toronto worth it. And if you get lost on the way there, don't worry, they don't close until 5am.