One of the things I like about having a blog is the archival aspect of it. Every so often Michelle and I will go back in time and read some old articles, and we're reminded of the many experiences we've lived through over the years. We've had a lot of great adventures in the past eight years, (eight years together as of ), so many in fact, that it's hard to keep track of them all and very easy to forget. So when I'm writing my articles, I'm not only thinking about the audience I'm writing for, but I'm also thinking about how I want to remember the experiences when I look back years later…
I recently added a featured articles section to the archives page, but for lack of a better idea of what to call it, I labelled it "Best Of…". They're by no means the most popular articles on my blog and depending on what you're into, maybe not even the best articles I've written. But as I went through all my old blog articles to select which ones to feature, I had to stay mindful of the fact that the articles that brought me back the best memories weren't necessarily the most feature-worthy…
Back in for example, I included a photo slideshow in my article "Drumheller & Waterton – May 2008" which brings back a lot of fond memories. Similarly, the photo slideshow in my article "Winter 2008 Road Trip" from documents one of the many marvelous road trips Michelle and I have taken together over the years… They're not the greatest photos, some of them are even pretty bad, but it was all about documenting the experience, not about showcasing the photos.
So, I've been meaning to share these photos I took in Banff this past for quite some time. (You may remember in my first blog post this year, "DM Blog 2013", I mentioned that I had a list of 25 topics for future blog articles…) I've been debating on whether to even share them anymore since so much time has already passed, plus, they're not exactly photos that I'm very proud of. But nevertheless, I still wanted to have something on here that would remind us of the experience the next time we're perusing the archives…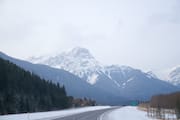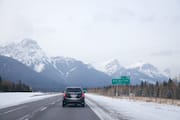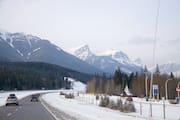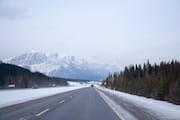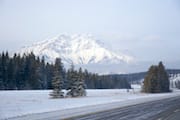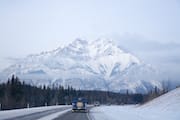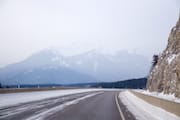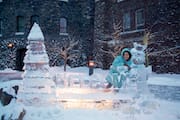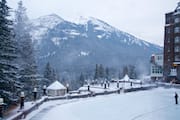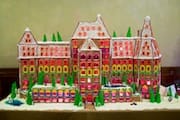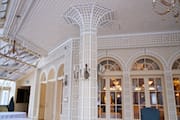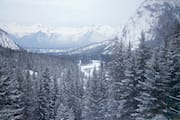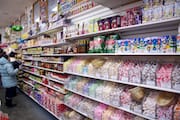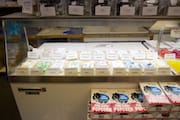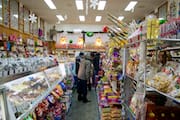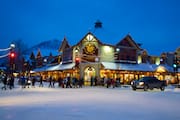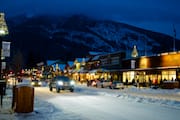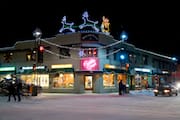 Michelle and I have been to Banff in all seasons and it's a gorgeous place to visit at any time of the year, even in winter. I was able to snap some quick photos on the drive there while Michelle took the wheel for a bit, but it was her very first time driving in snow so I was more focused on looking far ahead and making sure Michelle was doing okay…
My health wasn't all that great when we went either, so I wasn't able to accompany my family on their hike up Johnson's Canyon. Plus it was way too cold for us anyways, so Michelle and I stayed behind and watched a DVD in the rented minivan. But it wasn't very long at all before my family returned from their hike and we were on our way to the town.
I hadn't been to Banff in a very long time, so visiting the Banff Springs Hotel, walking through the tourist shops downtown and, of course, making a trip to the candy store, was an excellent way to spend the day. We left relatively early in the evening just as it began to snow.
While I drove back to Calgary through the snowfall in the pitch-black night, listening to my Dad laugh hysterically as my family watched a movie in the back of the van was by far the most entertaining way to end the trip… Good times!