Ever since moving back to the St. Clair West area in late March, Michelle and I have been checking out as many places along St. Clair as we can.
Though she's only been there once so far, Michelle's favourite place on St. Clair West — by a long-shot — is CocoaLatte, just east of Christie. The fact that CocoaLatte has Nutella everything surely has something to do with it. Nutella croissants, Nutella lattes, Nutella gelato, Nutella crepes, Nutella waffles, etc. As for me? I can't get enough of their cute cuddly bear that stands outside their front door…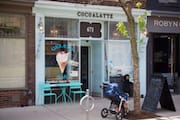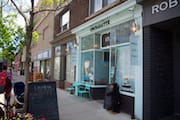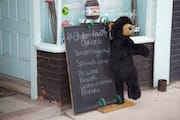 We went for a quick lunch in early May on our way to get some groceries at St. Lawrence Market and ordered their Avocado BLT (avocado, crisp bacon, cheddar cheese, romaine lettuce, tomatoes and mayonnaise), mine with a double espresso, and Michelle's with a Nutella latte.
It all starts with a good #espresso #Rufino #latteart pic.twitter.com/BFuty5c4CT

— Cocoalatte Toronto (@CafeCocoaLatte) February 9, 2014
By then, we had already been following their @CafeCocoaLatte account on Twitter and had admired many photos of their impressive latte designs, so Michelle thought to challenge them and ask for a design of a dog on her Nutella latte. Enrique, (one of the co-owners of CocoaLatte), apologized that it looked more like Chewbacca than a dog and promised to work on it "for next time". He probably could have designed a pile of poo on top and Michelle would have still devoured it anyways. Nutella!



The Avocado BLT sandwiches were delicious and you could tell that every detail was carefully thought out. Their choice of bread, the cheddar cheese, the generous amount of avocado, everything. An exceptional sandwich, no doubt! The soup was also skillfully prepared, noticeably fresh, well seasoned and unexpectedly very light. A nice compliment to the sandwich for sure. For my preference though, I would have liked it to be a much heavier soup — a little bit of butter and cream would have given it that extra depth I wanted. But nevertheless, I could appreciate that theirs was a much healthier preparation…





And as if our lunch wasn't delicious enough already, we quickly discovered that Enrique's hot sauce was to die for! I thought, he should bottle this stuff up and sell it!, and apparently they do for a mere $5 a bottle. So good!
I returned in mid-June for a very late lunch and ordered a peach milkshake made with their in-house gelato, and their special of the day, Roast Beef Sandwich (roast beef, sautéed mushrooms, caramelized onions, dijon mustard, Swiss cheese) with a side salad. Again, another exceptional sandwich packed with lots of roast beef and bursting with flavour. Surprisingly, the citrus vinaigrette on the salad was much better than I expected. It was a perfect, refreshing compliment to the spring greens, and though I probably could have drank it straight from a bottle, I was grateful for their restraint: the salad was not over-dressed and left me wanting more. That's a good thing!
As great as the food was at CocoaLatte on both of my visits, what I remember the most is how exceptional the service was. This is a place that very obviously understands that customer service can either make your business, or break it. Not only were the staff friendly and smiling but even on our first visit they were so inviting that they made us feel like we were already regulars there. Like we belonged and like they were sincerely happy that we were there, even if just for a short while…
Even more impressive is the fact that they made us feel this way at their busiest, during their weekend lunch rush while the café was full! They weren't just filling orders and working their way through a queue, no, they had everything completely under control, were creating memorable experiences while building relationships with their customers, and looked like they were actually enjoying serving their patrons. Wow!
What's more, their attention to detail is impeccable. There are a lot of children living in this area and many of their customers come with their kids, so what do they do? Supply a stack of children's books at their entrance, of course! During our lunch, we also watched them bring a chocolate muffin to a kid, sliced up into smaller, easier to handle portions, along with a stack of extra napkins. Small details for sure, but it's the attention to those small details that makes all the difference.

The bathroom at CocoaLatte, located in the basement and complete with a change table, was easily the cleanest bathroom I've ever been to in any food establishment. (Crown Princess still takes the prize for the most luxurious bathroom I've seen, but now CocoaLatte takes the prize for the cleanest bathroom.) Kudos!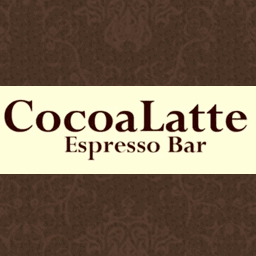 671 St. Clair Avenue West
Toronto, ON M6C 1A7
(416) 792-8696
DineSafe
Many of their Twitter photos of Costa Rican inspired food has had me drooling, while Michelle keeps dreaming about having their Nutella crepes, so I'm sure we'll be back to CocoaLatte very soon!